Cape Malay Vetkoek Recipe is a sweet or savoury delicious treat that is a big part of South African cuisine. Vetkoek is a fried dough bread and is an intricate part of South African culture. The name Vetkoek is derived from an Afrikaans word and means fat cake. The dough is round, similar to a doughnut without a hole. Cape Malay Vetkoek Recipe is made of yeast and is deep-fried and then the Vetkoek is slit and filled with a sweet or savory filling such as mince or cheese or pork or even syrup, jam, or honey. Crispy on the outside and soft and fluffy on the inside, this delicious bread is an anytime treat.
How to serve Cape Malay Vetkoek Recipe?
Vetkoek is usually served for special occasions and barbeques as they are easy to prepare. Traditionally they are served along with some mince or cheese and apricot jam-filled within them. As Vetkoek is eaten as either savory or sweet, most locals eat it as a sweet bread with jam for breakfast and as a savory, treat during the rest of the day.
Curried Mince Cape Malay Vetkoek Recipe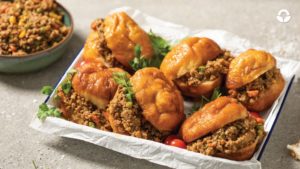 Ingredients to make Cape Malay Vetkoek Recipe
For the Vetkoek
All-purpose flour 5 cups

Salt 10 ml

Sugar 30 ml

Instant yeast 7 gm

Lukewarm water 2 cups

Oil to deep fry
 For the curried mince
Ground beef 500 gm

Olive oil 15 ml

Onion 1 

Garlic 3 cloves

Ginger paste 5 ml

Smoked paprika 2.5 ml

Black pepper 5 ml

Coriander powder 5 ml

Cumin powder 2.5 ml

Curry powder 15 ml

Tomato paste 30 ml

Apricot jam 30 ml

Water ½ cup

Potato 1

Peas ½ cup

Carrots ½ cup

Salt to taste
How to make Cape Malay Vetkoek Recipe?
Take a large bowl and add in the flour, yeast, salt and sugar.

Slowly add in the lukewarm water and keep mixing it until you have a cohesive or shaggy dough.

Transfer the dough to a clean smooth work surface and dust your hands with flour. Now mix the dough until it is all well combined.

Knead the dough well for at least 5 mins and then transfer to a bowl and cover with plastic wrap and let it proof for at least 40 mins.

Now take a large pot and pour enough oil into it to deep fry and let it heat to at least 350 degrees F.

Divide the dough into small balls of equal size and flatten it.

Now place a few of these flattened balls into the oil and deep fry until they are golden brown flipping them halfway.

Once done, place them on a wire rack so that the excess oil drips off.

Now to make the mince, start by chopping the onions and setting them aside.

take oil in a large pot and let it heat on high flame.

Now add the mince to the pot and fry until it has completely browned.

Now add in the chopped onions and fry until they are soft.

Finely dice the garlic and add it to the onions along with the ginger paste, cumin powder, coriander powder, curry powder, black pepper, and paprika and stir it continuously, allow it to cook for at least 5 mins.

Pour in the tomato paste and cook for 2 mins 

Once it is done, reduce the flame to low and add in the water and the jam.

Add a little bit of salt and cover and let it simmer for 30 mins.

Dice the potatoes and add them to the pot along with the peas and carrots and mix it well and cook for 30 mins or more until the water has evaporated and the curry is thick.

Now slit the vetkoek and put a generous filling of curried mince into it and enjoy!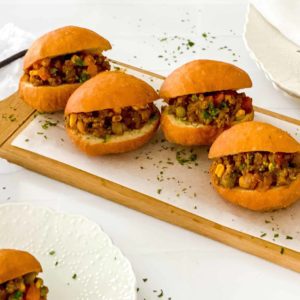 Important Points to Remember While Cooking Cape Malay Vetkoek Recipe
While frying the dough, you may notice that it quickly rises to the top due to the presence of air in the dough. Therefore you may need to press down on it in order to allow both sides of the dough to brown equally.

Fry only a few of the Vetkoek at a time to avoid overcrowding the pot.

Adjust the curry powder according to your preferred spice tolerance.  The consistency has to be thick, if after simmering for 30 mins, the curry is still not thick, then Let it simmer for a long time until the desired consistency is reached.
Summary
Thank you for joining us for the Cape Malay Vetkoek recipe! We hope you enjoyed making and eating this traditional dish. If you have any questions or comments, please feel free to reach out. Until next time, happy cooking and enjoy your Vetkoek!