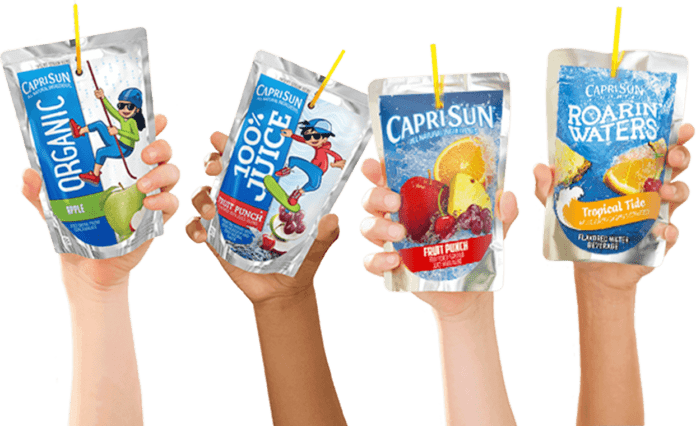 Fruit drinks are always preferred over colas and sodas. Especially for children, even doctors recommend opting for fruit drinks to keep them hydrated and energized. However, choosing the right fruit drink can be a challenge many faces. But you need not look any further.
Capri Sun Nutrition Facts You Won't Like To Miss!
Capri Sun is one such fruit drink that nutritionists have backed as they are known to use natural ingredients to make fruit juice. However, there are more benefits and nutritional facts about Capri Sun that you should consider before purchasing. Capri Sun is considered a healthy drink formulated for younger minds, especially children. However, there is no age concern about who wants to consume Capri Sun.
Capri Sun seems to get some of the favourite fruits together in a pouch and makes nutrition accessible to the young ones in a fun way. One thing worth noting is that keeping children in mind, Capri Sun has no added preservatives, added flavours, or artificial colours. So, you can consider Capri Sun to be a healthy alternative, especially when compared with high fructose syrups available in the market. The drink is sweetened naturally by using sugar more beneficially rather than artificial sweeteners.
Capri Sun Calories – (The nutritional content of 1 pouch (177ml) of Capri Sun)
How many calories are in a Capri Sun? The precise values may be seen below. Let's try to understand the calorie content in grams in this fruit drink.
The following is the list of the nutritional content of 1 bag (177ml) of Capri Sun as available in the market.
Calories – 50

Sodium – 15mg

Total Carbohydrates – 14g

Citric Acid

Natural flavour

Fruit

Filtered Water

Citric Acid

Total Fat – 0g

Calcium – 1mg
Here's a more detailed chart on Capri Sun nutrition facts for reference.
Also, you can try the Capri Sun Fruit Drink which is made with no added sugar and comes without artificial colours, flavours, preservatives or high fructose corn syrup.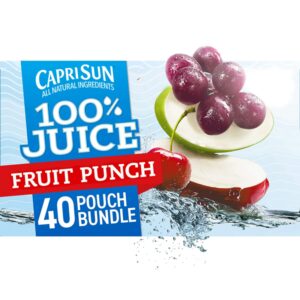 Interesting Facts about Capri Sun Nutrition
As listed above the nutritional contents of Capri Sun, let us also evaluate the nutritional benefits of Capri Sun. Please note that Capri Sun's nutritional benefits would mostly revolve around children because the drink is mainly for younger kids.
While going through the nutritional content of Capri Sun, you will realize there is no mention of artificial preservatives. This makes Capri Sun stand out from the rest of the fruit juices available in the market. It uses natural fruits for taste and colour; it completely avoids using artificial preservatives and dyes. There is no use of chemicals, making it a healthier choice, especially for your children.

Even Nutritionists think that for healthier growth and development of your children, always create a more beneficial relationship between your child and fruits. Capri Sun makes this relationship possible in a healthy way, while your children can have fun and get nutritious juice also. Some Nutritionists refer to Capri Sun as having a "Clean Recipe".

Capri Sun is better than the colas or sodas available in the markets. The sugar content is less, and there are no artificial preservatives or colours. This makes a very relevant advantage which, as of now, only Capri Sun enjoys in the market.

Even though there are no artificial preservatives used in Capri Sun, you don't have to worry about how to preserve and refrigerate it. And this has been made possible by making the pouch of Capri Sun using a combination of plastic and aluminium. So the bag itself intends to keep the contents of Capri Sun safe and relaxed, even when not refrigerated.
Some Additional Capri Sun Nutrition Facts
Unlike other energy drinks or juices, Capri Sun does not have caffeine to give you that extra energy boost.

Capri Sun was founded in 1969 under its previously famous name, Capri-Sonne.

Since the beginning, Capri Sun has been distributed and manufactured in a pouch.

The very first flavours of Capri Sun were lemon and orange.

Today there are almost 15 or more flavour variants available in Capri Sun.

Capri Sun is meant for immediate consumption. If the fruit juice package accidentally opens, then it is advised to finish the drink within the next 2 hours.

Capri Sun contains 50-70% of fruit, depending on the flavour you opt for. Thus, making it more nutritious and good for health-conscious people.

Capri Sun is referred to as a "Clean Recipe" by many Nutritionists' considering there are no added preservatives or colour in the making of the juice. This makes it more nutritiously valuable.
Bottom Line
There are a lot of fruit juices and sodas available in the market. Thus, it becomes more critical for you to direct your children towards a healthier alternative, preferably without any added colours or preservatives. Capri Sun is one such fruit juice that has gained popularity because of this very factor. Using fruit and not opting for corn syrup has made Capri Sun a famous and most sought-after fruit juice in the US. So, what are you waiting for? Grab a packet for yourself and enjoy the nutritional benefits.