Everyone has a different definition of comfort food. However, you will agree that soups have always been a comfort food. Whether you drink it hot or cold, soups play an essential part in the food cycle. 
Amazing Pho Nutrition Facts You Won't Like To Miss!
Pho is a traditional Vietnamese soup that has gained popularity worldwide in recent times. The soup is usually prepared with a meaty broth, various herbs, rice noodles, and chicken, beef, or tofu. Pho is commonly consumed during the winter seasons to keep you warm from the cold weather outside. The ingredients of Pho may vary from restaurant to restaurant. But the nutritional value of the soup is something you should consider.
Now, Let's have a look at the amazing Pho nutrition facts chart in detail.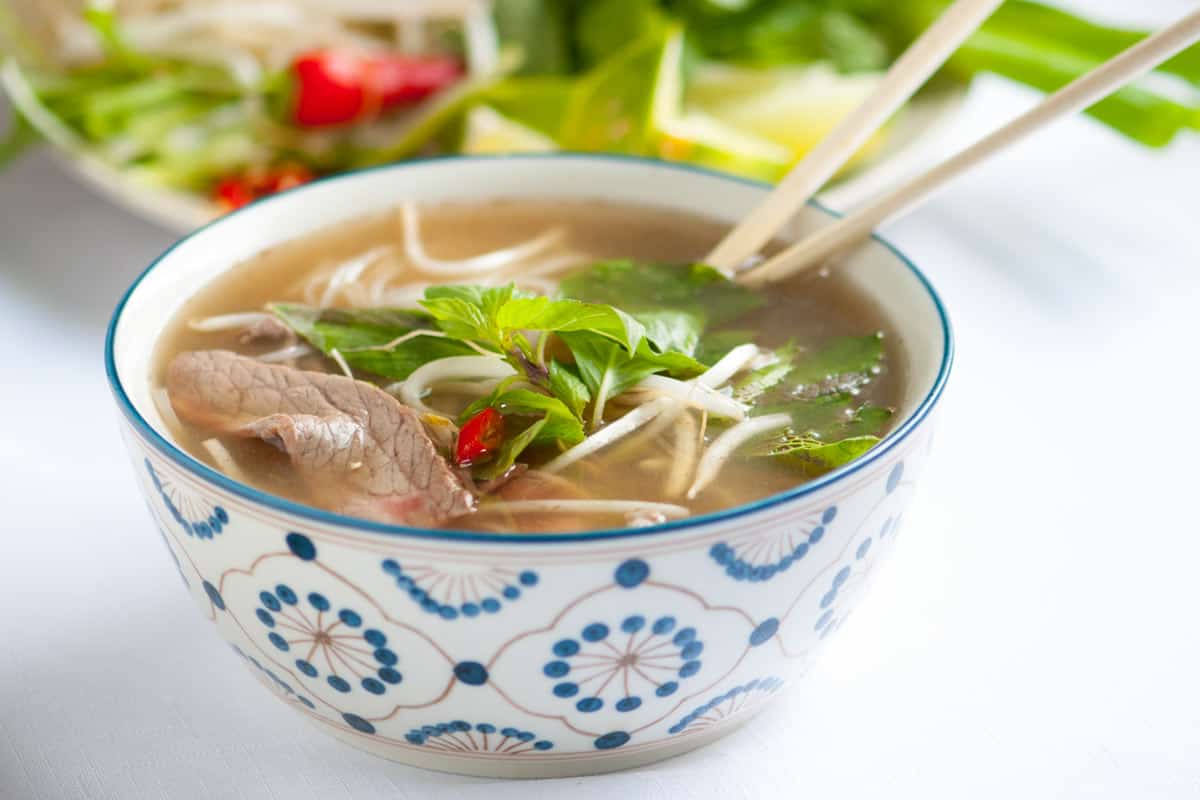 Pho Calories – (The nutritional content of one serving of Pho soup)
How many calories are in a Pho soup? The precise values may be seen below. Let's try to understand the calorie content in grams in this Vietnamese soup.
Calories: 215.

Sodium: 1200 mg.

Fat: 5.47 g.

Fibre: 1.22 g.

Carbs: 25.2 g.

Sugar: 1.93 g.

Protein: 15 g.
Here's a more detailed chart on Pho nutrition facts for reference.
You will also get vitamins, minerals, and nutrients such as Vitamin A, Magnesium, and Iron in your Pho soup. 
Interesting Pho Nutrition Info And Facts – Benefits Of Pho Soup
Pho has often been considered for its health benefits. The soup is responsible for keeping you warm and cosy on a cold-weather day. Also helps in protecting you from winter illness, cough, and cold. Consumption of hot soup promotes immunity and helps you fight against any diseases. However, the nutritional benefits will ultimately depend on the ingredients used to prepare the Pho Soup. 
Ginger is an essential and crucial ingredient used in preparing Pho soup. Ginger has some health benefits you can get while you choose to opt for Pho soup. Ginger acts as an antioxidant and an anti-inflammatory, beneficial for anyone feeling down and under the weather. Ginger is known to be good for nausea, joint pain, and weight loss.

Pho soup is also suitable for any stomach pain. Ginger is an essential ingredient. However, the comfort and the soothing qualities Pho adds after consuming the soup is worth noting. The vitamins and the nutrients help keep your stomach filled and help you fight any diseases. Your gut stays strong and healthy.

Pho soup is also known to be a joint pain reliever. Pho soup makes use of bone broth. Bone broth typically comprises glucosamine, collagen, and chondroitin. All these are known to promote joint health. Even though these are present in small amounts in the soup, this is an advantage as Pho soup supports good health and pain relief.

The traditional Pho preparation is an excellent source of protein. Whether you enjoy Pho with beef or chicken, or you prefer a Pho filled with vegetables, they are a fantastic source of protein in your diet. For vegans, you can opt to add Tofu in your Pho. Tofu may not be as nutritious or a great source of protein, but it takes on the broth, which is filled with vitamins and nutrients. 

Pho is considered low in calorie count, especially when compared to other meals you opt for in your breakfast, lunch, or dinner. Pho is a 500-calorie bowl of noodle soup. This is way less when compared to other meals you consume throughout the day. If you opt for the vegetable or the vegan alternative, the calorie count decreases further. If you are planning to start a healthy diet, or if you are planning to lose some weight, Pho is an ideal choice for you. It will keep you energized throughout the day and has a low-calorie count. Thus, prevents you from gaining weight and helps curb your cravings.

The traditional preparation of Pho soup is completely Gluten-free. Pho is traditionally prepared using rice noodles. Such noodles are entirely gluten-free. If you are preparing the soup at home, avoid using egg noodles and other types of noodles, as they are not gluten-free.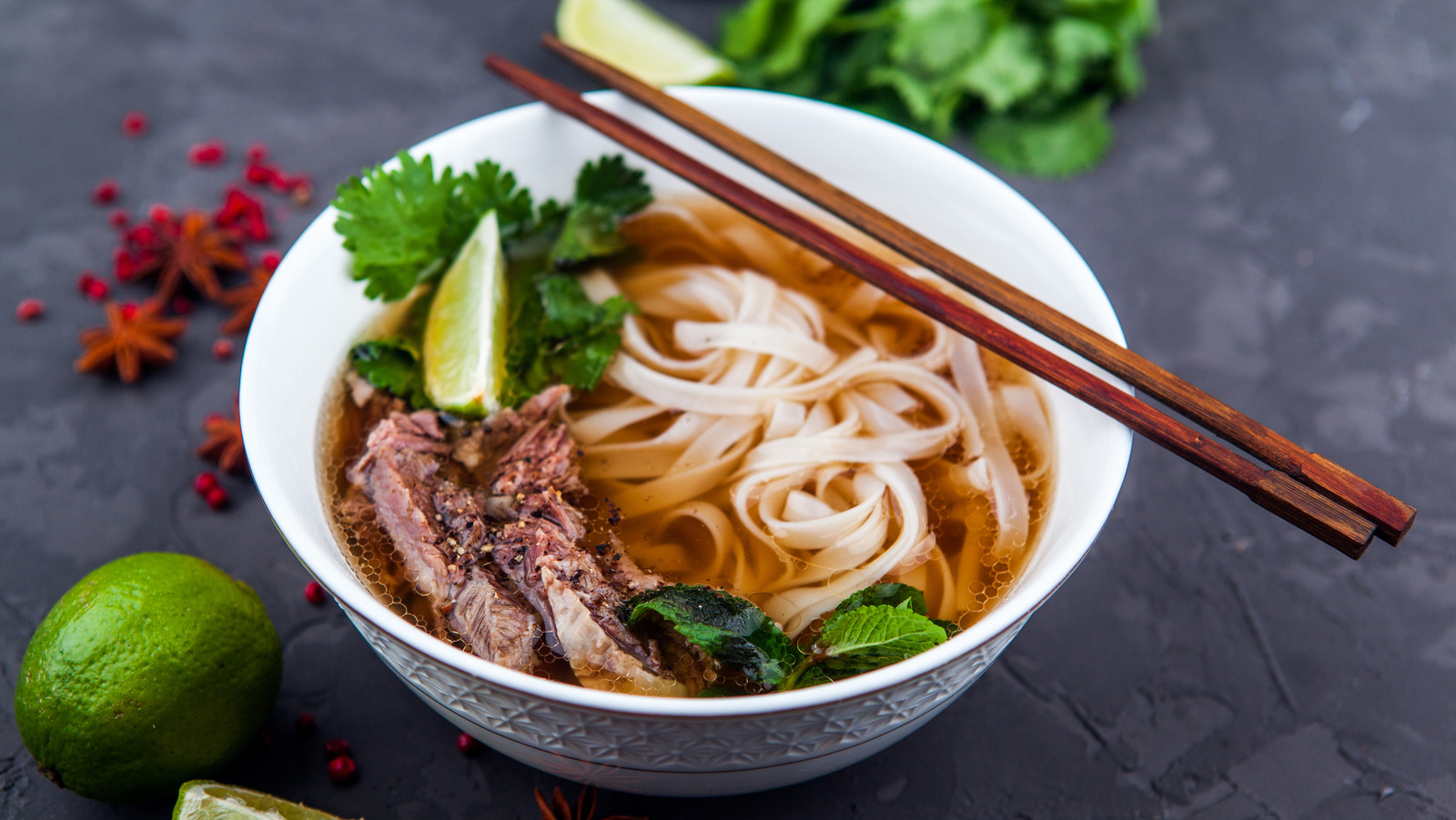 Some Additional Pho Nutrition Facts
Pho soup is originally from Northern Vietnam and was founded in and around the 1880s.

Pho soup is inspired by French and Chinese cooking.

Earlier, to prepare the Pho soup, the rice noodles and the spices were imported from China.

However, it was the French who popularized eating Pho with red meat.

Today, there are around 2000 restaurants in and around the US and Canada that serve the Pho soup's traditional preparation. 

Over the years, there have been variations and additions to the Pho soup.

Pho Soup from Northern Vietnam is different from what you will find in Southern Vietnam. The Southern cooking style is much more complex and has more ingredients than you will find in the Northern cooking style.
Bottom Line
Pho soup is a nutritious source of food. It is easy to prepare and considering its health benefits; you should opt for Pho soup. It helps keep the calorie count in check, reduces pain, aids in digestion, is gluten-free, and most importantly, is an excellent source of protein.
We hope you liked our Pho Nutrition Facts. For more such information, follow our Blog, foodiewish.com.