Skittles are round and small chewy candies arriving in various distinct colours available in bags. The tagline of Skittles has been 'Taste the Rainbow,' signifying the candy's bright outlook. Skittles have a fruity flavour and are very similar to their chocolate relatives in their niche.
Amazing Skittles Nutrition Facts!
Not resembling the chocolate taste you may look for from other colourful tiny candies, Skittles presents a greater flavorful and chewy experience. This candy shows up in the candy market in a unique angle that appears a lot as its competition yet tastes slightly different.
Now, let's have a look at the amazing Skittles nutrition facts chart in detail.
Skittles Calories – (The nutritional content of 28g/ one OZ of Skittles)
How many calories are in Skittles? The precise values may be seen below. Let's try to understand the calorie content in grams in these chewy candies.
Skittles chewy Family size pouch has the following nutrition content:
Serving Size: 1 oz/ 28 grams
Amount every serving:
Calories: 110 

Total Fat: 1g/ 1% of the DV

Saturated Fat: 1g/ 5% of the DV 

Sodium: 5mg/ 0% of the DV

Total Carbohydrate: 26g/ 9% of the DV

Total Sugar: 21g

Added Sugar: 21g/ 42% of the DV 

Protein: 0g 
 (DV: Daily Values)
Here's a more detailed chart on Skittles nutrition facts for reference.
Also, you can try Skittles original flavour. Orange, lemon, green apple, grape, and strawberry are among the other fruit tastes. They're ideal for gatherings, game-day munchies, or as a garnish for your favourite dessert.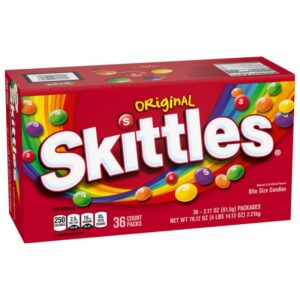 Interesting Facts about Skittles Nutrition
In 2009, Skittles went vegan when they stopped adding Gelatine to their products. However, these are not safe and present no health benefits, and contain no minerals, vitamins, fibres, or protein.

Skittles have almost 47g of sugar in every package of 2 oz. They contain lots of sugar and are even helpful for relieving hypoglycemia effects because they are very effective as glucose tablets. But, like corn syrup, excessive sugar intake can cause cavities, additional cancer risk, obesity, and heart problems.

One of the most discussed skittles constituents is the food colouring, including blue 1, blue one lake, blue two lakes, yellow 5, yellow 6, red 40 lakes, red 40, yellow five lakes, and yellow six lakes. Most have provided a petition to the FDA for removing food colouring from the list of safe foods. 

Red 40 is associated with hypersensitivity, allergies, and hyperactivity in kids and has contaminants causing cancer. According to a few reports, Red 40 has even caused damage to mice DNA. While another food colouring like the Yellow 5 known as Tartrazine are also forbidden in fee countries as it might set allergic reactions, thereby causing asthma

Skittles also contain hydrogenated oil. It has palm kernel oil, indicating that the colourful candies have been processed for solidifying the sweets and offering them more excellent shelf life. So, providing natural oil to the hydrogen molecules, thereby changing the molecular construction, is called hydrogenation. The molecular formation alteration transforms the liquid oils to a rigid, plastic consistency. 

These hydrogenated oils are dangerous as they present higher blood pressure and higher cholesterol after having them in one's body. Furthermore, minor hydrogenated oil quantities give rise to dire effects.

A food additive known as cornstarch is also seen in skittles utilized as stabilisers and thickening agents. Even though modern cornstarch is an advanced additive, it isn't considered harmful to the general health of an individual. Nevertheless, it doesn't include any such nutrition value. 

Corn syrup is associated with remarkable weight gain, liver damage, increased diabetes risk, and cavities. However, it is recommended not to include Skittles in your daily diet.

Skittles are fruity-tasting candies arriving in various flavours. It is very famous among teenagers and children because of its vibrant colour range. Previously, Skittles came in a quality red packaging; nevertheless, nowadays, the packaging is found in wide colours array following the launch of various candies variants.
Some Additional Skittles Nutrition Facts
Initially, these colourful candies arrived in yellow, green, red, purple, and orange. Even though these are sold to varied tastes, the Original Skittles have a similar taste having distinct colours and fragrances.

Amongst the newest variations of Skittles has Yoghurt-covered Skittles or Skittles dips. In addition, its new flavour line has modern preferences like strawberry, lime, orange, lemon, and blackcurrant.

Skittles has utilized its base font, 'Helvetica Blacks' for some time. However, because the label's font has heavy Customisation, other people might not notice Helvetica Black.

Even though Skittles came into fame due to its real fruity savour, this brand had published several variations covered by the sugary coating. Other flavours of Skittles comprise wild berry, sweet heat, orchard, sensations, dark, and much more.

Skittles is among the worst candy choices because of its high calorie, fat, and sugar content compared to its peers.

Skittles has a massive sugar content of 75.6 g, 90.7 grams of carbohydrates, and 400 calories per 100 grams of serving. They offer a fruity flavour yet have no such nutrients as organic fruits.
Bottom Line
You'll quickly get hold of Skittles in various stores as it is a widely renowned candy. Its original variety and other unique flavours are available on sale in several familiar places. It is also available online if you're looking out for new flavours or when you don't have any store close to your home. The candy's chewy nature indicates that it can last for a while. Thus, you may relish a bag, thereby discovering that you're still chewing on those round and small Skittles candies even an hour later.
We hope you liked our article on Skittles Nutrition Facts. For more such information, follow our Blog, foodiewish.com.