Cool Kitchen Gadgets Online India: Do you want to spend a lot of time in your kitchen and shed sweat for a long time? If no, then why don't you make your life smarter by adding some smart appliances in your kitchen, which will make cooking interesting?
Now cut, chop, blend and fry your delicious meals easily by bringing smart products in your home. You can turn the kitchen works interesting if you purchase some non-electrical products.
Here we have listed some attractive products at a reasonable price. Isn't that a great deal?
Take a look at the Cool Kitchen Gadgets Online India in trend and start collecting it for your kitchen.
1. Revolving Spice Rack set (12 pieces)
If you are finding where to keep spices, then don't worry, there is a smart solution – Revolving Spice Rack Set. It is a super useful product for your kitchen to store various spices with an airtight container. Just revolve the rack and collect which spice you need for cooking.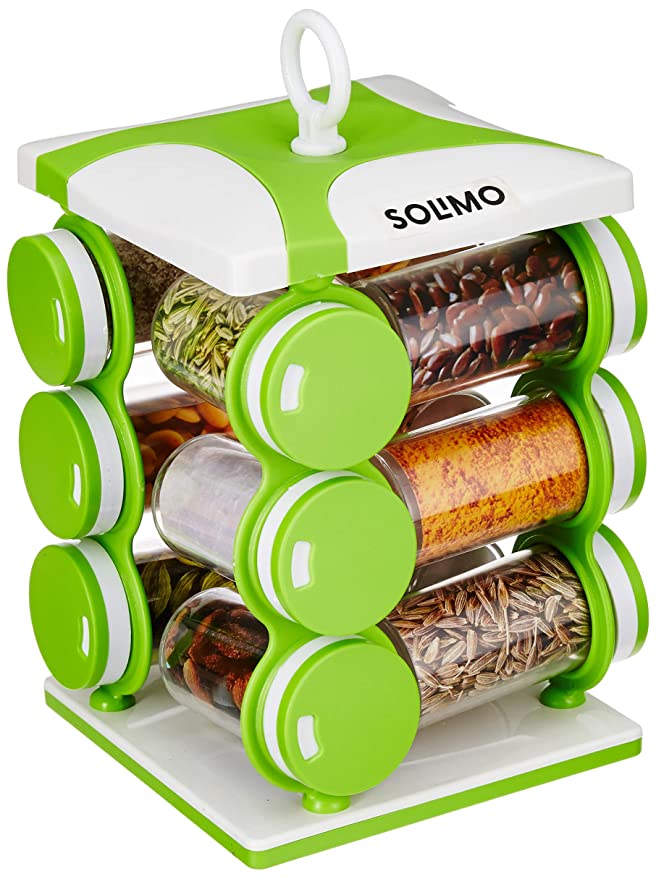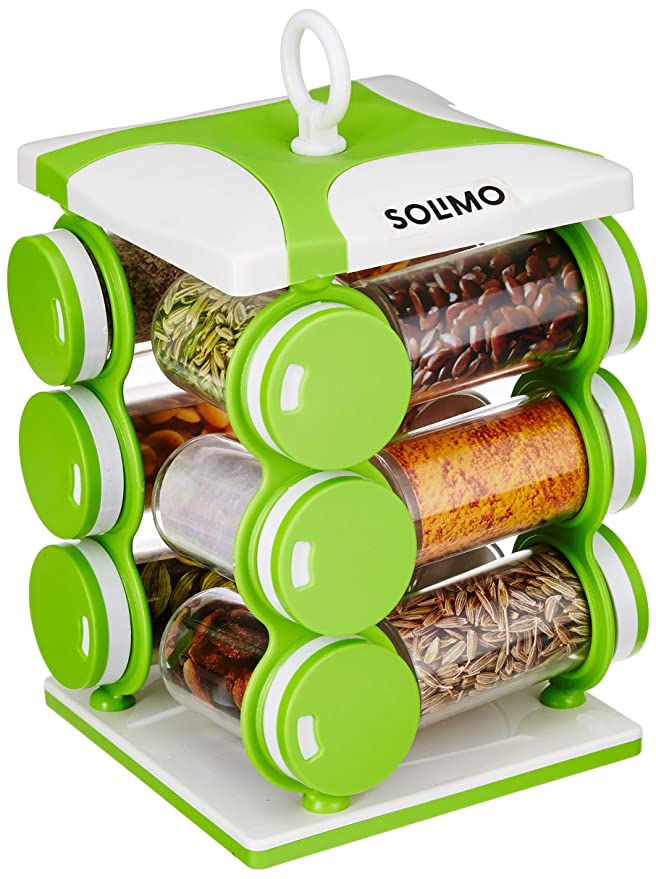 This revolving spice rack has 12 pieces of a container with space. Each container has 120 ml of capacity. The containers and the rack are designed beautifully which will define beauty in your kitchen.
It is made from the highest food-grade with BPA-free plastic. These are easy to use jars with three holes and easily twistable black lids. You can clean the container easily with dishwasher liquid.
Now it is time to keep your spices fresh and odor-free in the airtight containers in the revolving rack. Be smart in decorating your kitchen, keeping your spices fresh and using the spices for cooking simply.
---
2. New Handy Mini Plastic Chopper with 3 Blades, Green
Are you bored of cutting and chopping vegetables with a knife? Buy a New trendy Handy Mini Plastic Chopper in affordable price.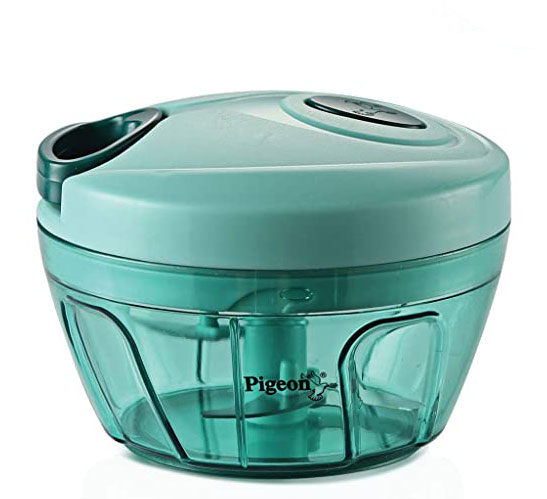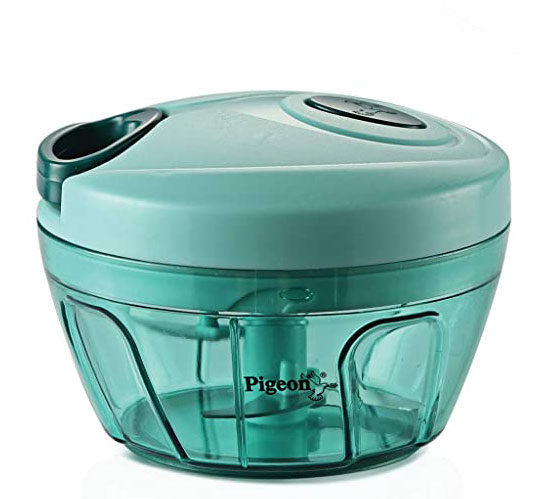 This green handy mini chopper is unbreakable, solid and made of ABS plastic. It is long-lasting and durable. The bright color and chic design will appeal to the interior of your kitchen.
The eco-friendly designed chopper doesn't need electricity, and it is easy to handle and carry anywhere you travel. You can smartly cut fruits and vegetables now with unique string function.
It is made of premium quality plastic which will never stink. The chopper has three high edged blades and it is made of stainless steel.
You can open and detach the chopper easily. Wash it with mild detergent and lukewarm water. Rinse it with a soft dry cotton cloth. So, grab it now.
---
3. Generic Stainless Steel Cookie Cutter
Your sweet tooth may start craving. You may be a dessert lover, but want to bring variety in baking cake and cookies. Don't worry! Generic Cookie Cutter is presented for you.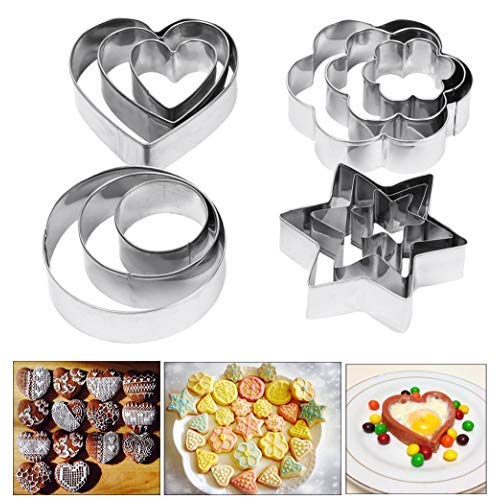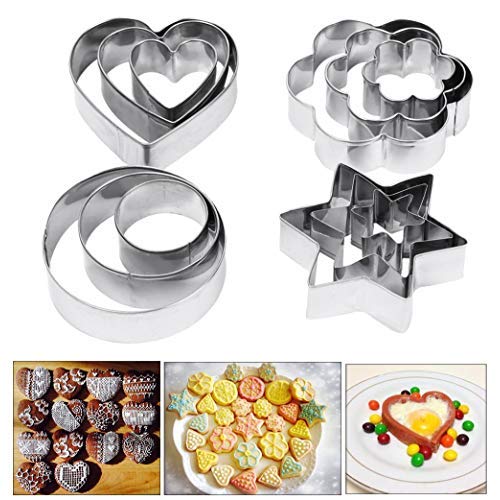 This cookie cutter is convenient to use. It is one of the favorites of bakery shops, and now you can collect a set for your kitchen. Give various shapes to your cake designs with royal icing.
You can design biscuits, cupcakes, and cookies with the help of cake cutters before baking. You will get many shapes of this cookie cutter and it helps in decorating patterns of pastries also.
It is light and handy. Now arrange a party whenever you want and present various shaped cookies and biscuits with a surprise for your friends and guests.
So, whether it is a Christmas party or other functions, start collecting ingredients for making a cake because baking and forming various shapes of cakes are easy today.
---
4. Waterproof Cotton Kitchen Apron with Front Pocket (Set of 3)
Do you want to cook without stains in your dress? Be smart to purchase GLUN Waterproof Cotton Kitchen Apron of medium size. You can get three aprons in one set. The designs are n check and color may vary but it is 100% cotton which will help you to feel comfortable in the summer season.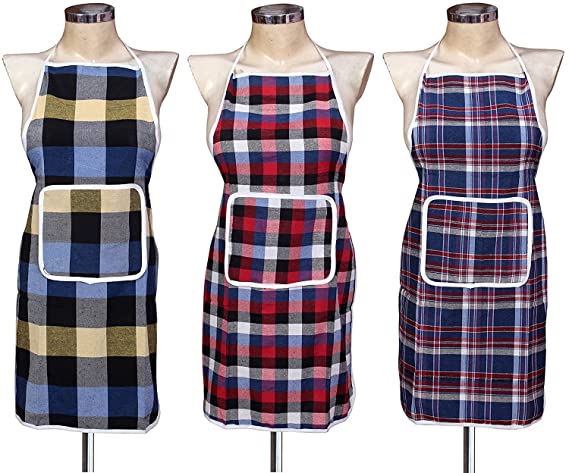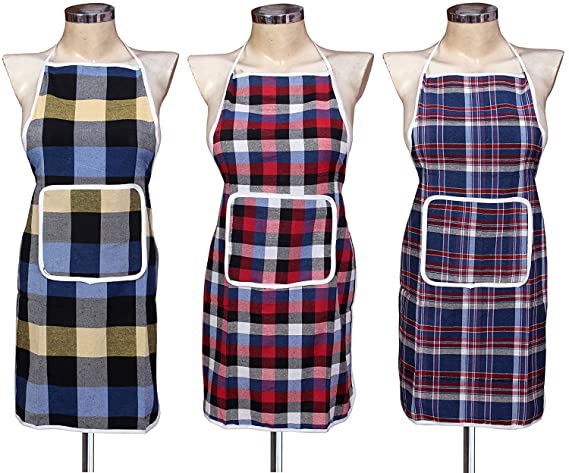 Now cook in any designer dress because these aprons will work as a shield to protect you from the stains while cooking. It is of free size, so anyone can wear this while cooking or doing other household works.
Grab the offer soon because you are getting three aprons or a full set at an affordable price. You will also get front pocket with the aprons, and you save 54% by purchasing this set at a reasonable price.
So, act smart and say no to stains while cooking and wear a body mask to save your dress.
---
5. Hand Juicer for Fruits and Vegetables with Steel Handle
If you are a fruit and vegetable juice lover, then really you can enjoy a glass of juice while travelling. This juicer has a steel handle vacuum locking system. You can also make smoothies and shake in a summer afternoon or while travelling.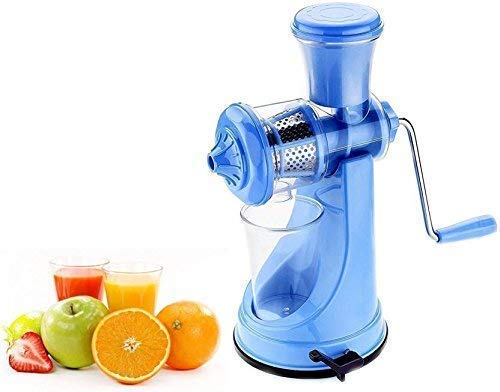 The blue color and design of the Hand Juicer are quite attractive. You will also get other colors such as green, red, pink, brown and orange.
The juicer has a waste (pulp) collector to collect the residue parts of the fruits and vegetables. The plastic of the material is BPA-Free. You can detach all the parts of the juicer while washing it.
It is easy to store and pack because of its handy size. You can clean it easily with hand wash and liquid soap. After washing it, rinse it with a dry towel made of cotton.
Now don't stress yourself much if you want to go for a picnic or a sports game because Hand Juicer will be there to quench your thirst.
---
6. Multipurpose Vegetable, Fruit Chopper, Cutter, Grater and Slicer
Cutting, chopping, slicing, peeling, and grating vegetables are tiresome works before cooking. What you would do if magic happens? Grab a lucrative offer given on graters & slicers combo.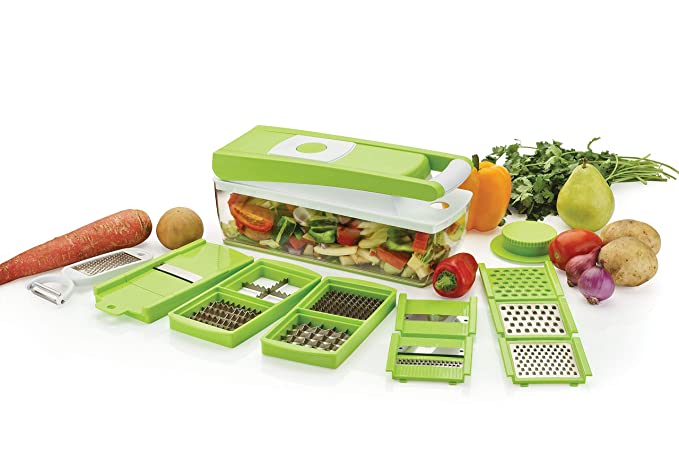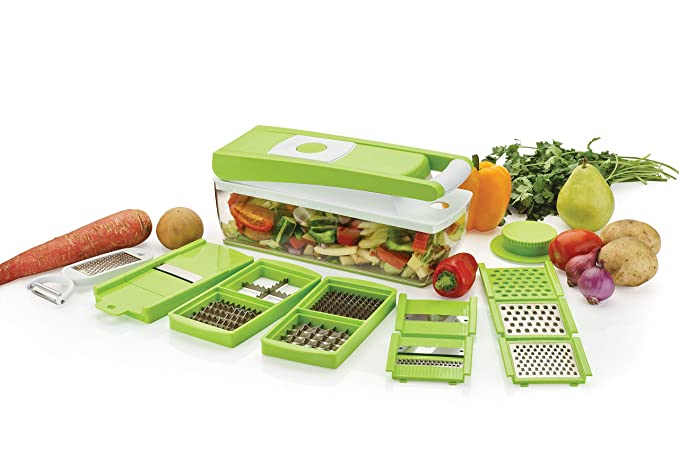 You don't need electricity. Just buy a set of combo chopper, slicer, and cutter which will help you to cut vegetables and fruits easily.
This Multipurpose Vegetable and Fruit Chopper will help you cut every hard thing easily. It is a box where every type of vegetable cutter is provided. Now you can get any shape and size of vegetables with the help of this cutter.
The sharp pyramid-shaped blade is smooth, efficient with high edge. The box is rectangular and its body is made of durable ABS plastic. The container is large and easy to detach.
You can also store vegetables in the container. The color of the material is green and you can hold it safely. It is washable with a liquid dishwasher.
---
7. Power Free Hand Blender & Beater (1 Piece)
No need to bring milkshake make or electric grinder. You can easily blend milkshake, lassi, buttermilk and beat eggs with the help of a smart kitchen appliance, NOVEL Power Free Hand Blender & Beater at a reasonable price.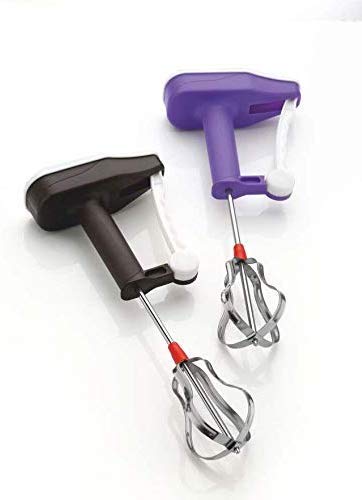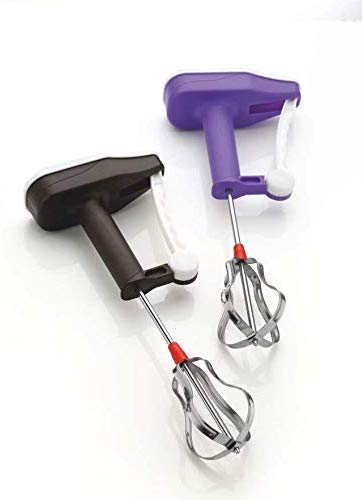 The wavy blade of the blender-cum-beater is made of high-quality stainless steel and ABS plastic body. You don't need electricity to blend anything. You can smoothly beat eggs and cream; liquidize dal and soup; churn milkshake and buttermilk.
This blender is easy to grip, extra durable, easy to store, quick to clean, and it has multipurpose blades. The durability of this product is assured properly.
So, you don't need to use a spoon and ladle for beating, blending and churning anything. You can also carry it in bags whenever you want. It is easy to carry and it is durable too. So, what are you thinking? Grab the lucrative offer soon.
---
8. Fridge Storage Basket Shelf Organiser (Pack of 4, Transparent)
Do you face difficulty in storing essentials in your fridge? Purchase fridge storage basket set to store necessary things in your fridge. Angel Bear Fridge Storage Basket has four pieces of baskets to store various things in an organized way in your fridge.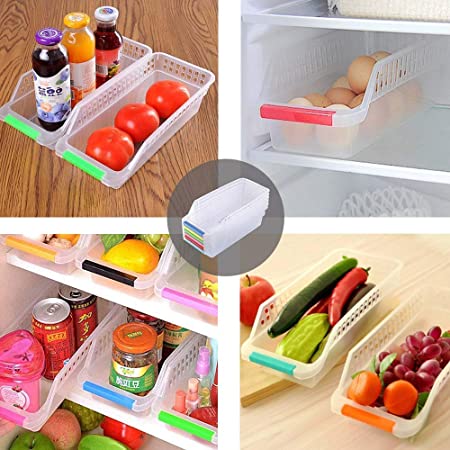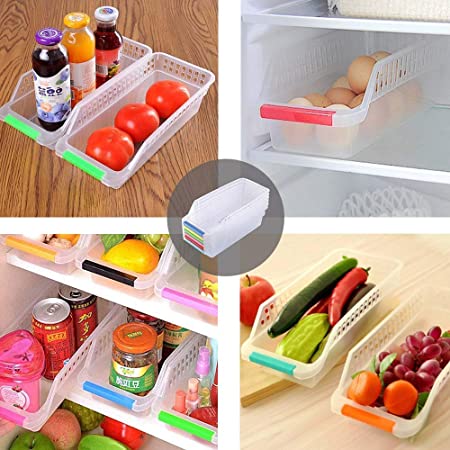 The search process becomes easy for you if you keep these transparent baskets in your fridge. The baskets are made of high-quality durable plastic. The built-in handles of the basket are easy to handle. Moreover, these baskets will help you to keep your fridge clean.
The plastic is BPA-free and it is easy to clean. You can use liquid hand wash to clean the product. You can keep these baskets in your pantry shelves, deep freezer, kitchen cabinets and closets also. The stackable design of the product takes minimal place to store anything.
So, don't take too much time to purchase such a smart product. Grab it in affordable price to organize the necessary things.
---
9. Smart Kitchen Knife Food Chopper and In-Built Mini Chopping Board (Black)
Those days are gone when we only used a knife or other single cutting blade to chop, slice, and dice vegetables. Modern technology has designed a mini chopper board with locked knife and hinge.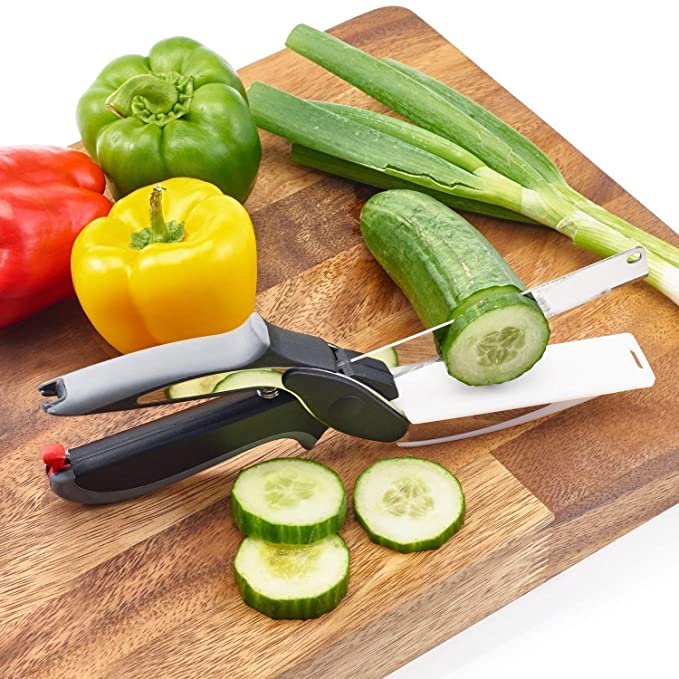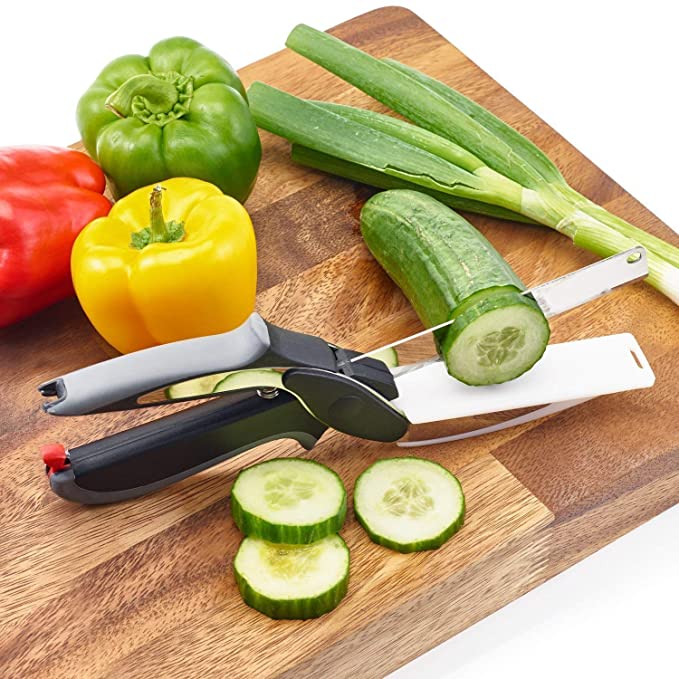 It has spring and its knife is made of stainless steel with a sharp edge. It is easy to store and light to handle.
The unique slicing, dicing, chopping and cutting quality of this chopper board can make your vegetables cutting process easy in your kitchen because a lock is attached with the knife on the board.
The stainless steel of the product is used to make the blades sharper. You can cut fruits, vegetables and slice meat with the help of this chopping board. But locking the hinges safely can help you prevent accidental cuts.
Do not buy single knives or blades; act smart and purchase this knife locked chopper board at a reasonable price. So, bring it to your kitchen soon for regular use.
---
10. Stainless Steel Premium Apple Cutter
Are you a fruit lover, especially Apple? If yes then bring a smart apple cutter in your kitchen. Shrines Stainless Steel Premium Apple Cutter is one of the smartest apple cutters that will help you in cutting apples, removing the core and making eight slices.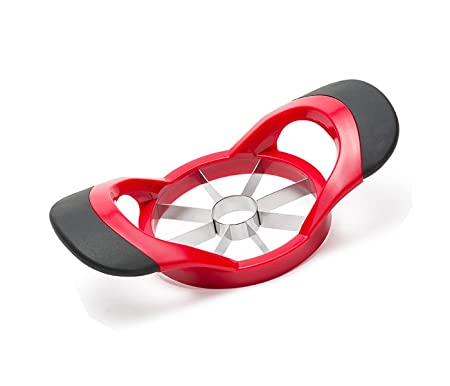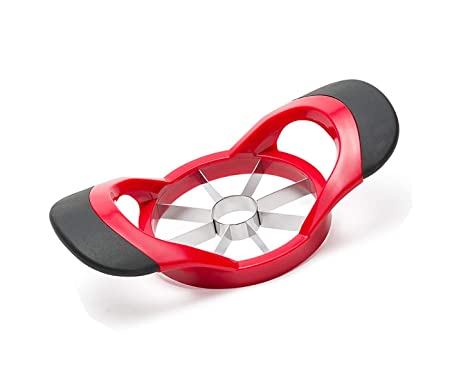 It is sharp, durable and stainless steel. Moreover, it is easy to wash and clean with liquid soap. You can also carry this mini apple cutter wherever you travel.
The process of cutting apple is so easy with the help of this apple cutter that you won't find other options such as single blades and sharp knives because cutting the core of the apple can be tiresome and hectic. This apple cutter easily removes the core as well makes slices.
So, let's grab the appealing offer without thinking much. This smart product may not be available in such an affordable price. Stop thinking too much, let us purchase it.
---
11. Plastic Rice, Fruits, Vegetable, Noodles, Pasta Washing Bowl and Strainer
Earlier we used to strain, store, and wash rice, noodles, vegetables and fruits in a normal utensil. It is quite tough to manage such washing.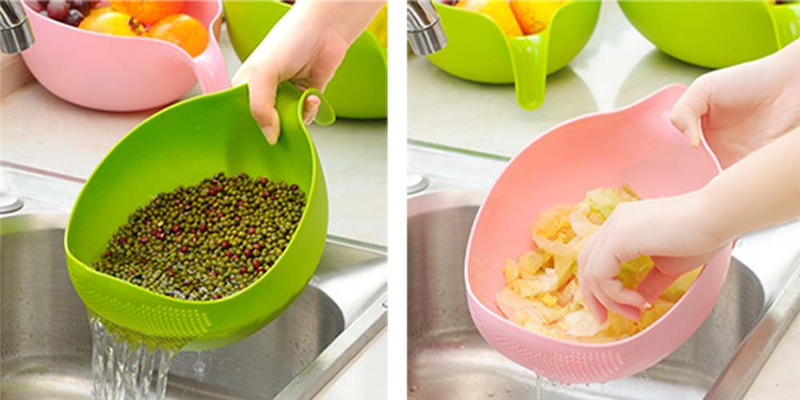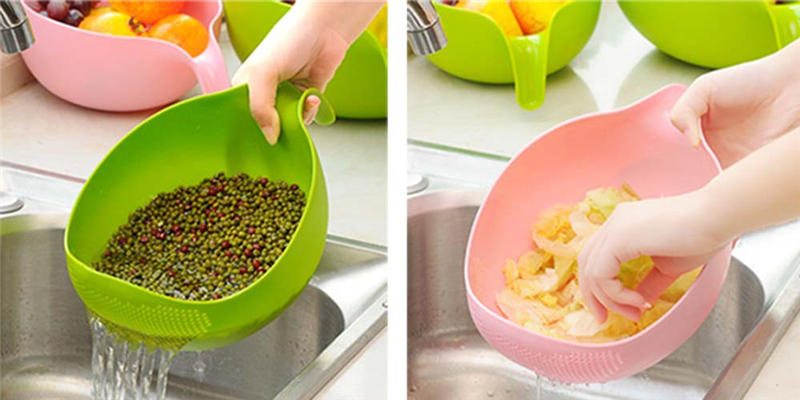 So, in the modern days, strainer has been designed in a modern style with high-quality plastic. Atman Plastic Rice Fruits Washing Bowl and Strainer will help you strain noodles, rice, vegetables, fruits, cereals, etc.
This strainer is available in various colors. It is made of BPA-free plastic, so it is safe to use. This package offers one piece in random colors. The length of the strainer is 22 cm, its height is 12 cm, and the width is 18 cm.
those days are gone, when you had to wash cereals and other food items in a hectic way. Modern time has been changed and now it is time to change your style of kitchen work. Make cooking-related works easy by using smart techniques.
---
12. Stainless Steel Kitchen Press (15 Different Discs)
We are sure that you love eating outside snacks. Don't you? So, what about hygiene? Yes, you can maintain both hygiene and taste by adopting an interesting idea of making noodles, bhujia, chakli, pasta, cookies, murukku, sev, namkeen and other snacks with the help of a modern designed stainless steel cutter.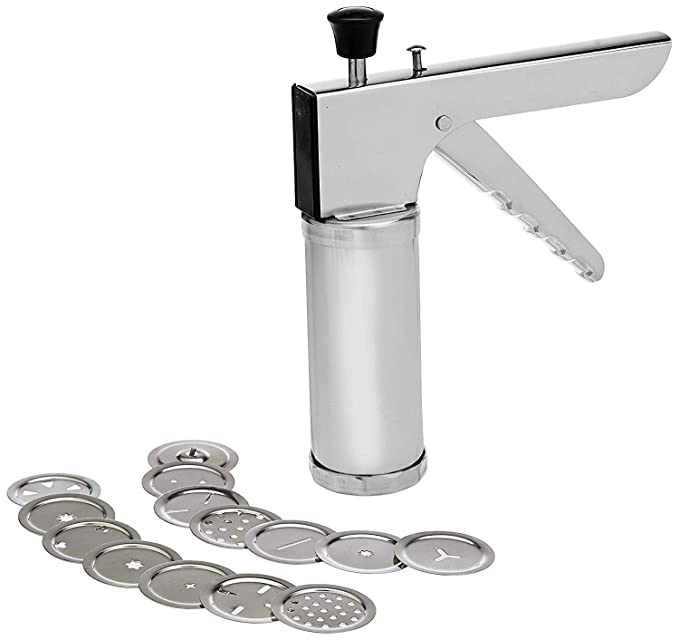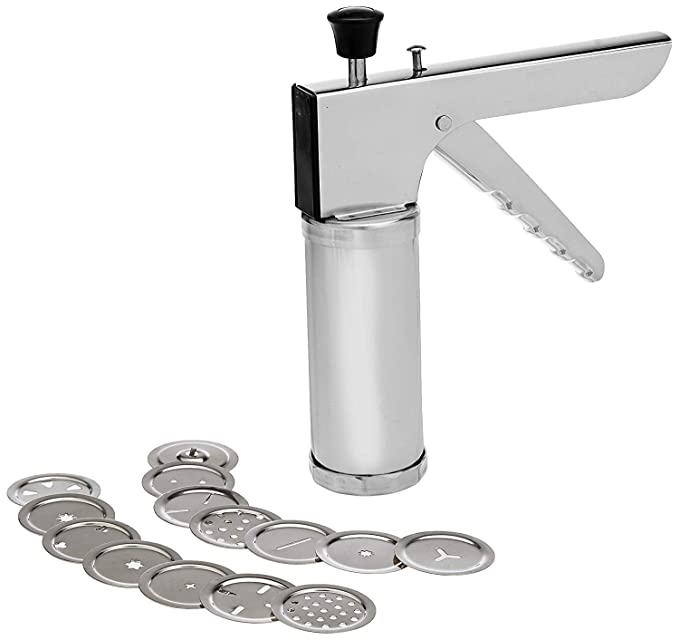 Yellow Leaf Products Stainless Steel Kitchen Press has 15 different types of jalies or press cutters that will help you make various types of snacks easily at home.
So, both your hygiene and taste will be maintained if you will add this special snack maker in your kitchen. It is made of 100% steel, and it has an easy press mechanism which will eliminate the need for manual turning.
You will also get 6 additional icing nozzles to make toppings for cakes. The lock system of the product prevents spillage and leakage. After selecting the jail, you can lock it in place to prevent the dough from spilling out.
---
13. Measuring Cup and Spoon Set (8pcs), Black
Do you measure rice, flour wheat or other food items with the help of cup or measuring cup? Yes, many of them do that, but it creates a problem because people cannot understand the measurement properly while cooking.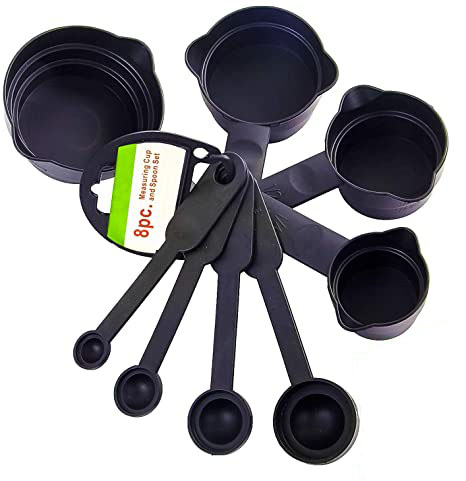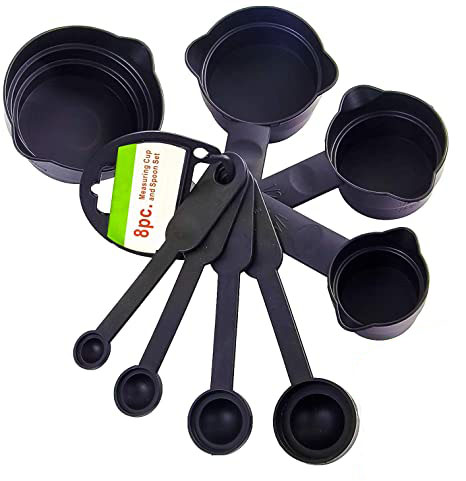 So, there is a set of measuring cup – Bulfyss Measuring Cup and Spoon Set which is specially designed for measuring rice, cereals, wheat and flour.
This set also has a spoon and large ladles to use them in cooking and shaping snacks. This set has eight pieces of cups and spoons. You will get four measuring cups and four spoons with this set.
It is recommended to wash it with hand wash and liquid soap. You can also was these utensils in the dishwasher. The colors of the utensils are classic black. You can get this set at a reasonable price.
This product is of excellent quality and long-lasting item. Just do not use a hard scrubber to wash them to avoid scratch.
---
14. Stainless Steel Potato, Vegetables Masher
Many of us love eating the best cuisine of India, Pav Bhaji, and some of us know the exact style of cooking it. You may find it hard to mash potatoes and other vegetables while cooking Pav Bhaji. You can add a smart utensil in your kitchen to mash vegetables.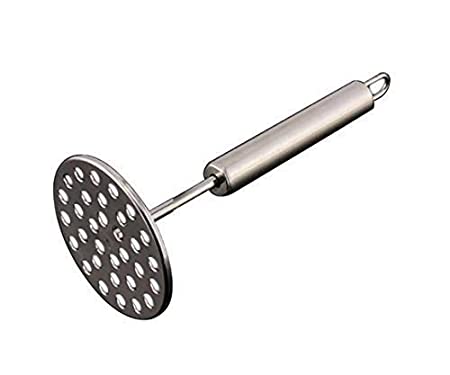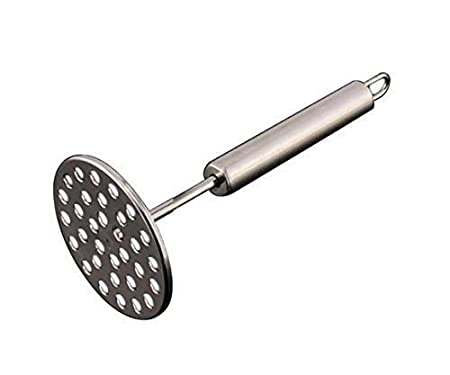 This Potatoes Masher Kitchen Tool is made of stainless steel. It is used to mash boiled potatoes and other vegetables while making Pav Bhaji or other recipes.
This masher is made of stainless steel and it is durable, safe, rust-free and dishwasher friendly. You will get all the quality in a single masher. Along with cooking various dishes, this masher can also be used to mash fruits while making juice.
So, what are you thinking? Do not think much. Purchase this essential utensil in affordable price and add it in your kitchen.
---
15. Turntable Revolving Cake Decorating Stand
If baking and caking are your favorite hobbies, then try to collect a sophisticated cake maker for you. Be it's your birthday or a celebration like Christmas, Bulfyss Cake Turntable Revolving Cake Decorating Stand will help you decorate cake and it is a turntable.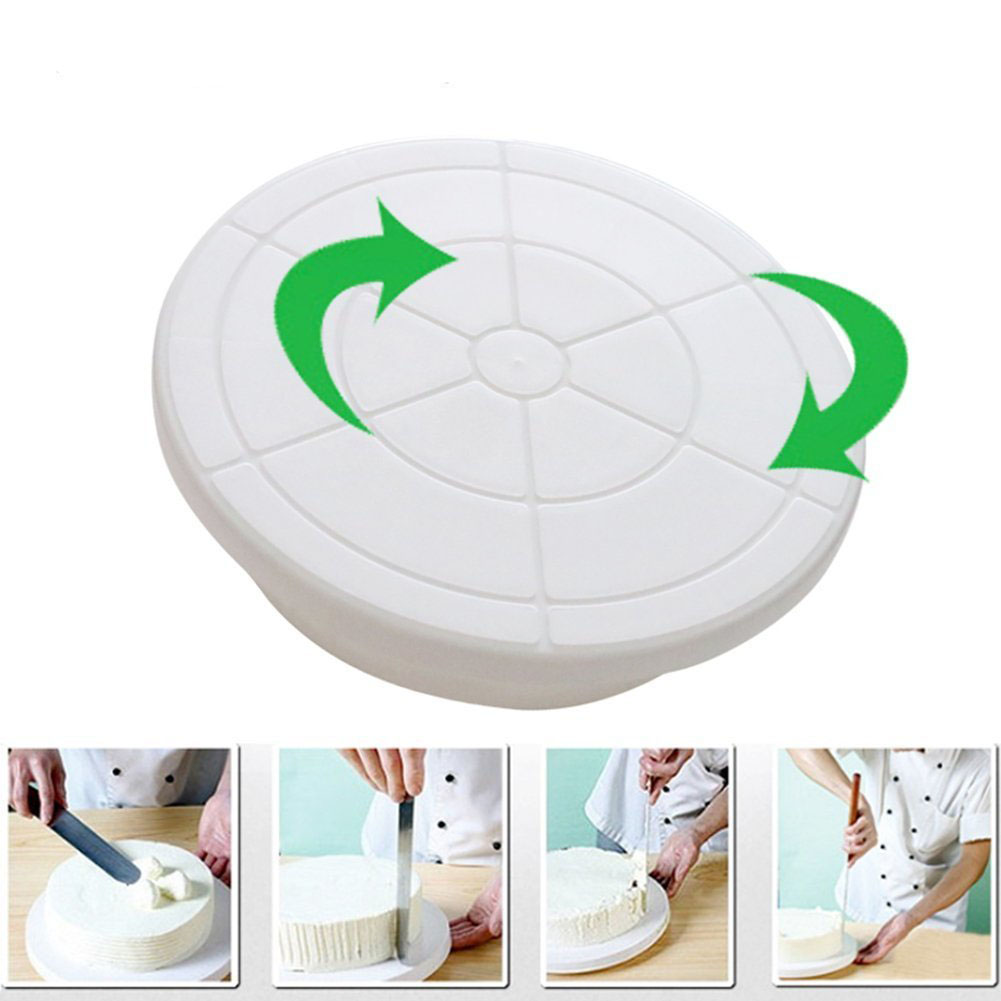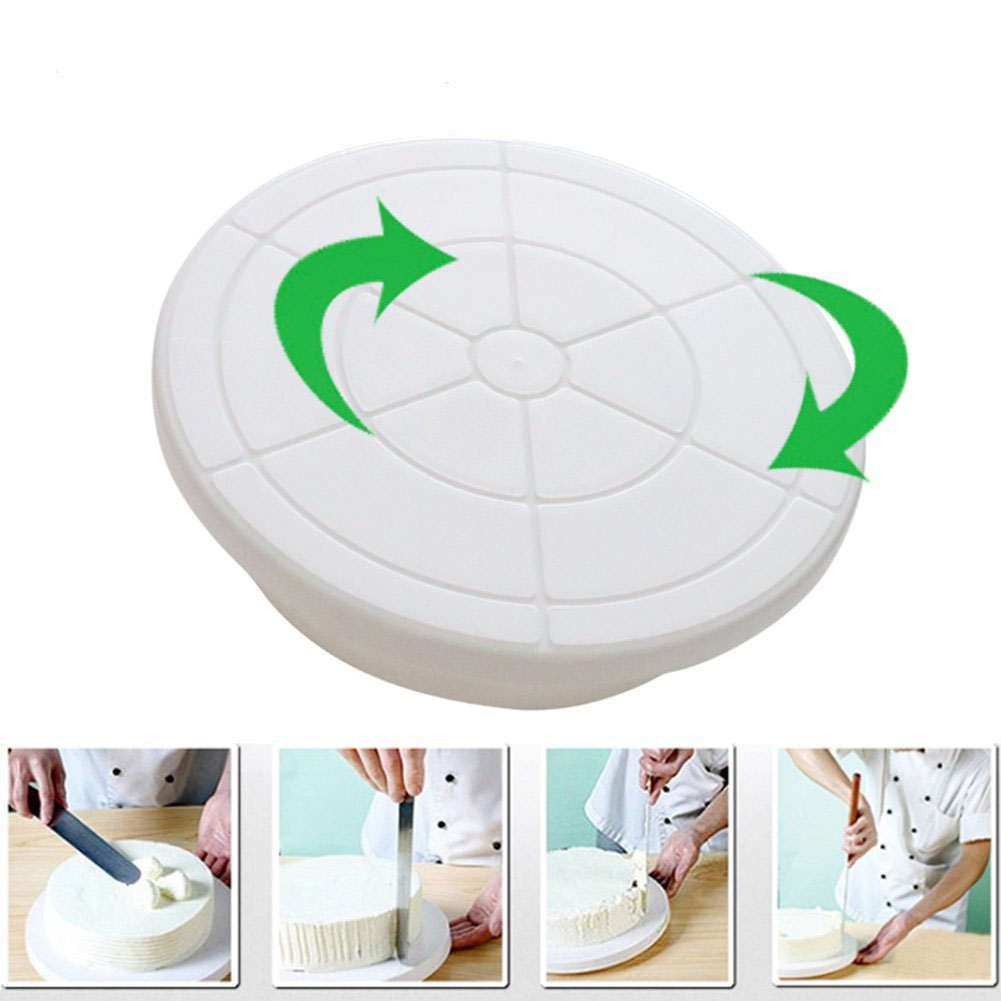 You will also get four pieces of fondants with this cake decorating stand. This decorator will also help you in shaping, decorating and smoothing cake and cookies.
This cake stand is a non-slip base with ultra-smooth rotation which makes the cake decoration a breeze. The material of this decorator is made of BPA free plastic, and it contains 100% food-grade material.
The cake stand is safe for your family. The turntable has 11-inch (28 cm) in diameter and 3-inch (7 cm) tall. Our customers are satisfied with the products because it is easy to use and store. You can wash it with dishwasher liquid and sponge.
---
16. Vegetable Spiral Slicer and Peeler
Everyone loves eating yummy foods but they get attracted to food by seeing its color, texture and the ultimate presentation.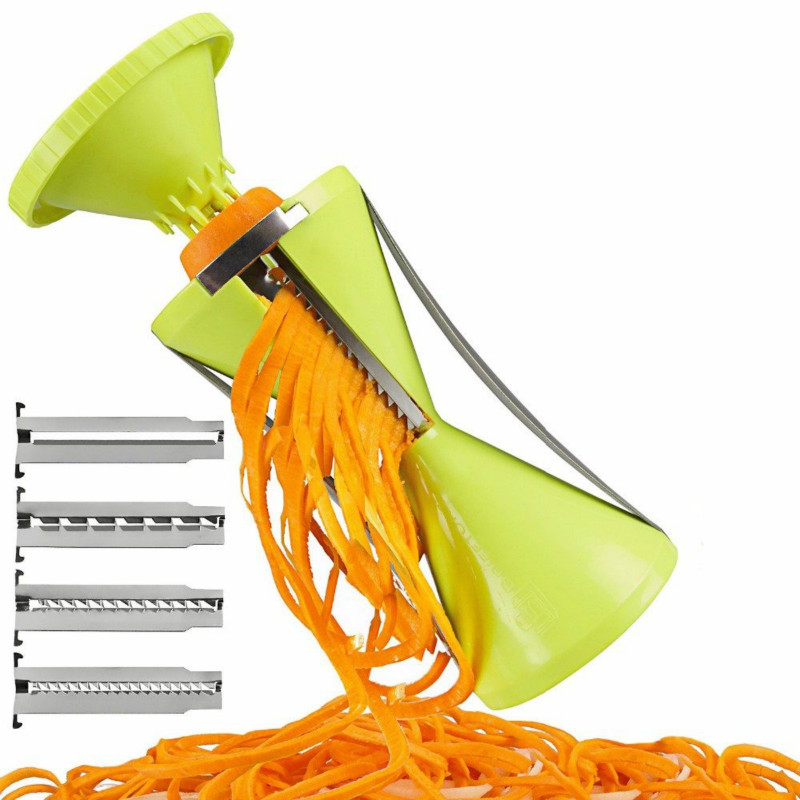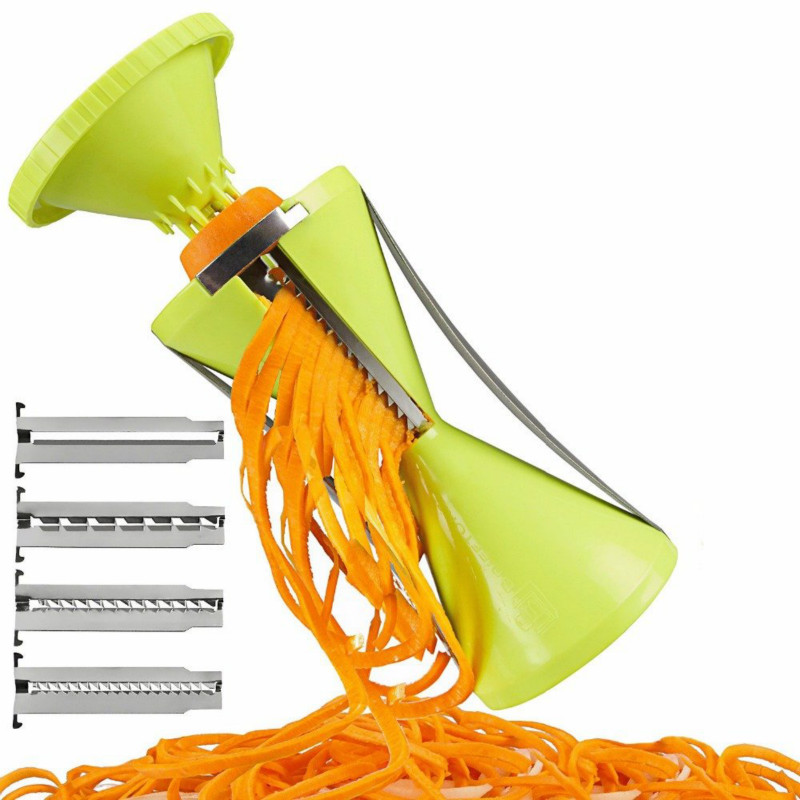 So, do you want to please your family members, kids and guests? If yes, then adopt a smart vegetable cutter that will help you cut and peel vegetables in a spiral way. You can cut vegetables, fruits and salad with the help of this cutter.
Moreover, you can cut noodles from flour dough with the help of this cutter. Make slicing and cutting easy, smart and appealing by adding this cutter in your kitchen.
The blade of this cutter is made of 100% stainless steel. The body of the product is made of durable plastic. Don't worry about the size; it is about 14 cm x 7 cm. It is ultra user-friendly and it can be used both in home and restaurant.
You can clean it with a soft sponge and liquid dishwasher. Also, avoid scratching it by using the harsh scrubber.
---
17. Hand Press Aluminium Mechanical Juicer
Consuming fruit juice will keep you hydrated and healthy in every season and boost up your immunity to fight with life-threatening diseases. So, health-conscious people choose to drink fruits and vegetable juice every day.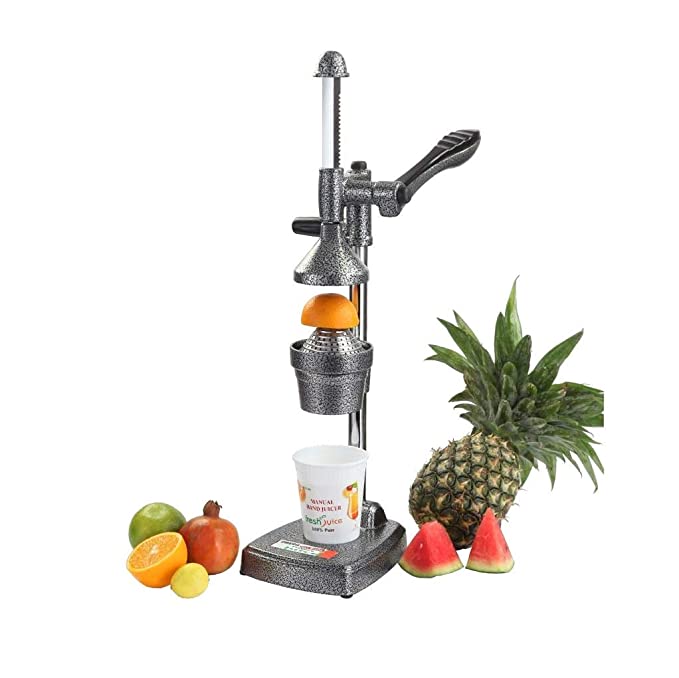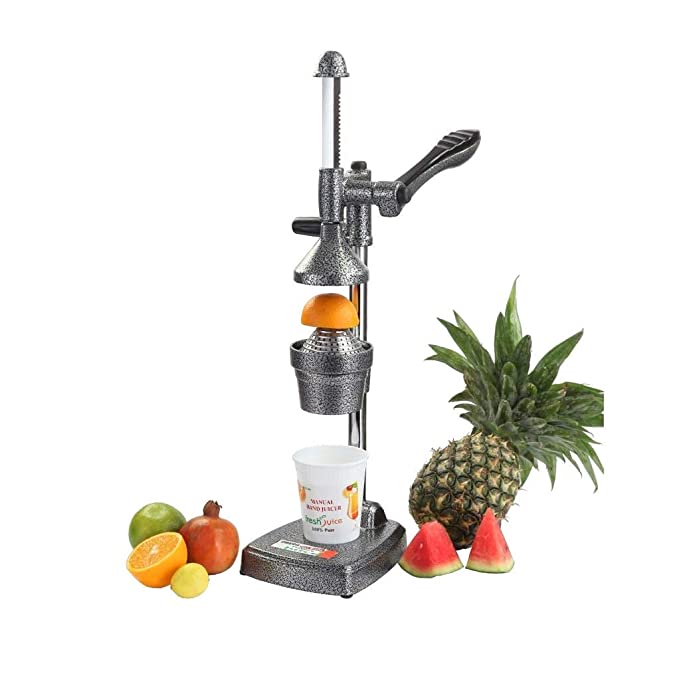 We have made an easy way to help you in making juice with the help of a smart manual juicer.
This Hand Press Mechanical Juicer is used to make different types of vegetables and fruit juices.
The design of this grey-shaded juicer has a sturdy frame with an easy mechanism which will make making juice easy.
You will get an instruction card with the manual juicer. Just use your hand to make the juice. The residue will be in the strainer which you can clean up later.
You will also get a small plastic glass with the juicer. So, hurry up! Don't let the limited products go away from your hand soon.
---
18. 3-in-1 Stainless Steel Grater with Storage Container Box
You may have used grater or cutter, but have you ever got any grater and cutter with a slicer box attached with it? A new product is launched known as Lukzer Stainless Steel Grater with Storage Container Box.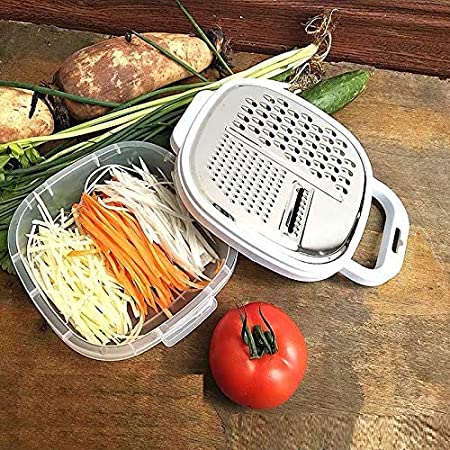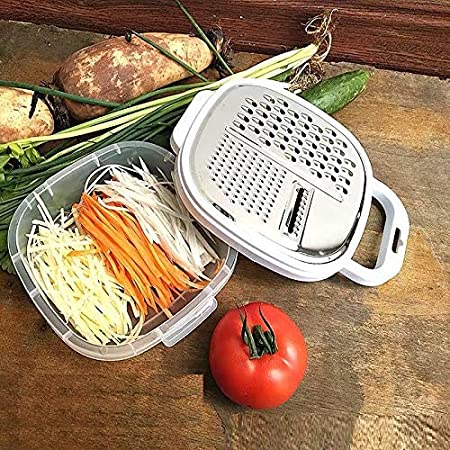 The grater can be handled manually and you can grate vegetables, coconut, cheese, paneer, etc. You will get three types of grater or cutter in a single grater box and the vegetables, fruits, and cheese will get stored in the box.
The blade of this grater is made of 100% steel and its box is made of durable plastic. You can also use this grater as a container box to store in the fridge. You can also grate chocolates with the help of this grater-cum-cutter.
You will also get dual grating blades with this product. You can use any type of soap and scrubbers to wash this grater. So, what are you thinking? Grab it!
---
19. 2 in 1 Stainless Steel Corn Stripper, Ginger Grater, Slicer and Cutter
No need to strip corn or other small vegetables/pulses with your hand or knife. Now, a stripper is available to strip cereals and pulses like corn.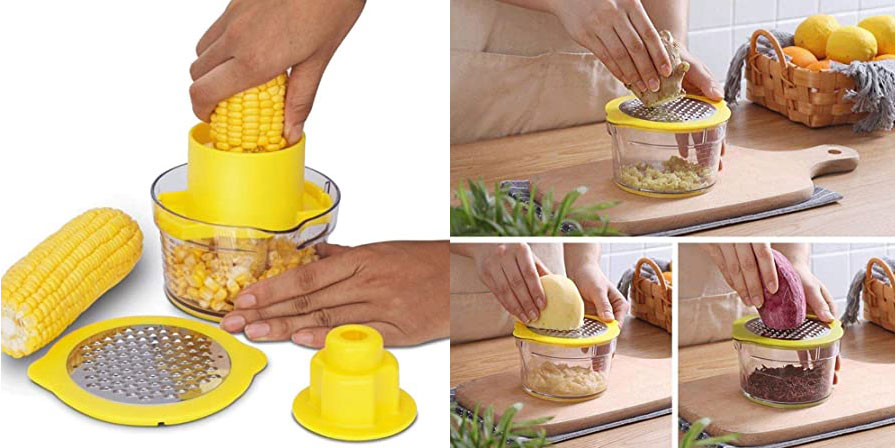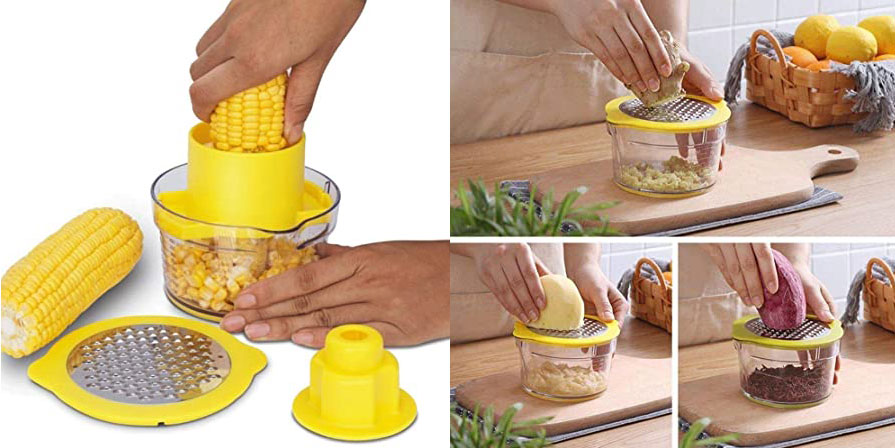 Kelexx 2 in 1 Corn Stripper is affordable at a reasonable price. You are getting all solutions in a single tool. The multi-functionalities are slicing, spiralizing, cutting and stripping.
The yellow and transparent product has durable plastic and sharp blades. You can also peel vegetables and other cereals. The plastic of this product is ABS proved.
You can remove the cover to protect your hands with multi-functional and safer quality. The cover is removable and it is easy to wash. It has a mini size, so it is easy to carry and keep properly.
You can carry it when you travel. You can wash this product with liquid soap and a soft sponge. Now, you don't need to go at the market to buy butter corn; you can buy whole corn and strip it with the help of the stripper.
---
20. Heat Resistant Silicone Pot Holder and Oven Mitts Glove – Set of 2
Your safety and prevention are in your hand if you want to be cautious in the kitchen. Stop using old steel holders or cotton cloth to hold hot pots or other utensils while cooking. Use a smart pot holder to hold hot utensils.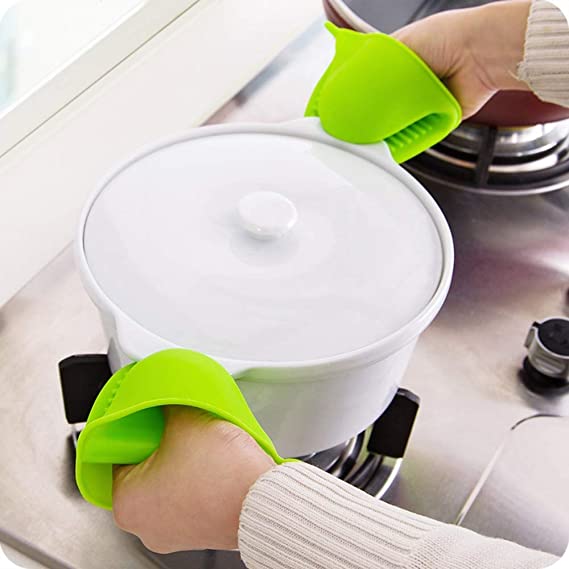 So, we have suggested the Silicon Pot Holder set which will easily help you hold hot utensils from gas and oven while cooking.
Try to protect your hands from a burn by holding the lids of the pots with the pot holder. This holder can resist up to 482 F.
It is made of silicone material. The magnet of the holder is attached with a mitt on the metal surface. You can wash the holder with liquid soap with the help of scrubber.
You can also hold frozen items with the help of metallic power. This cooking pinch grips glove set is available in multiple colors.
---
Conclusion
We hope, going through the list of kitchen appliances that will help you in regular cooking, cutting, chopping, blending and other kitchen works. Make your kitchen smart by collecting valuable kitchen products.
Cooking, chopping and other works can be interesting if your appliances are smart, simple, and pleasing. Moreover, if the kitchen appliances decorate the interior of the kitchen stylishly, you will feel more positive to work in your kitchen.
Now it is time to adopt new technologies to make your life easy and faster. The above-mentioned products are going to add a new zeal in your life for sure.
We hope you after going through the interesting key features and rates of the products; you have understood that in this rat race society fast work is very important.
So, these kitchen appliances are smartly designed to help both men and working ladies who can't give much time to household works.
Therefore, do not wait for later. Think now and purchase the products for yours and your family member's help. Collecting these things will help you.
We hope you liked our 20 Cool Kitchen Gadgets. For more such kitchen secret information follow our Blog foodiewish.com