Masala Steak Recipe
There are a number of ways in which one can use the masala steak recipe.  The recipe will yield a delicious dish of marinated mini stakes that will have spices imbibed to their very core and will melt in your mouth.
What Does Masala Mean?
Masala refers to an Indian blend of spices that can be used to cook chicken, beef, lamb, or any other meat.  It is also added to curries to give them their characteristic hot and spicy taste.  Though it originated in India, masala dishes are popular in places as far as Glasgow where the famed Chicken Tikka Masala was born.
This article will give you 3 versions of the famous Masala Steak. You may make additions or subtraction in this recipe based on your personal preferences.
Hot And Spicy Masala Steak
Legend has it that this recipe was put together by an Anglo Indian railway employee.  Hence, it is sometimes also referred to as railway curry.  Whatever the origin, this recipe is foolproof and will have you wanting more of the spicy gravy laden with meaty steaks.
Ingredients
1 kg boneless mutton or beef
2 tsp chili powder
2 medium onions, thinly sliced
2 medium potatoes, quartered
2 cups water
salt to taste
3 tbsp oil
1 tsp  ginger paste
1 tsp garlic paste
2 tsp coriander powder
1 tsp cumin powder
1/2 tsp turmeric powder
1 tsp pepper powder
Method of Preparation
Pour oil into a large pan and heat it a little.
Add the sliced onions and let them soften a little.
Then add the pieces of mutton and let the meat cook till it turns brown.
Now add all the other ingredients, leaving out the potatoes.  Keep your flame on low while adding the spice powders.
Mix this well and let it cook for a while.
Now add in the potatoes.
Cook while covering it for another 15 minutes or until the potatoes are soft.
Add salt and serve while it is hot.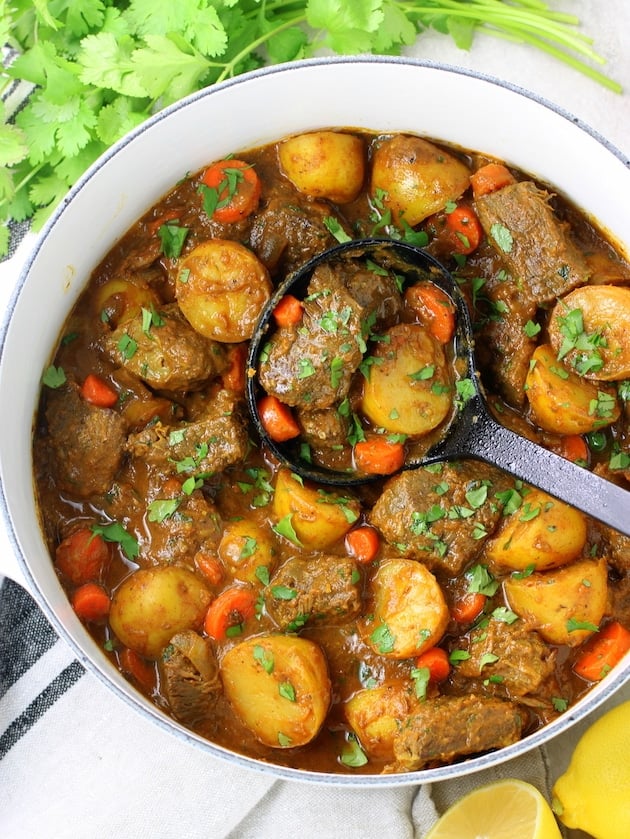 Malay Masala Steak
This is another version of the dish with predominant Asian flavors.  This is popular in South Asian countries like Thailand.  It is not as spicy as the Indian version but is hot, nonetheless.
Ingredients
1kg rump steak cut into larger pieces
1 tbsp garlic paste
1 tbsp red chili paste
1 tsp ginger paste
2 tbsp vinegar
1 tsp coriander powder
1 tsp cumin powder
1 tsp orange pepper spice
1 tsp bbq spice
½ teaspoon turmeric
1 tsp crushed red chilli flakes
salt to taste
1 onion chopped roughly
2 sticks of cinnamon
3 to 4 peppercorns
1 big tomato, pureed
Method of Preparation
Marinate the steak with powdered spices overnight.
Pour some oil in a vessel and add in the onions and the whole spices when the oil is hot.
Continue to cook till the onions are golden brown.
At this point, add in the steak.
Now add 2 cups of water to the vessel and cover and cook until the meat is cooked through.
Once the steak pieces are tender, add in the tomato and cook with the vessel uncovered so that the excess water may dry out.
Serve hot after sprinkling some coriander over it for garnish.
Garam Masala Steak With Roasted Veggies
This variation of the recipe will leave you with a well-done steak that you can enjoy along with a few vegetables.  It is a drier version of the steak.
12 oz steak, kept whole
1 1/2 tsp garam masala
1 zucchini, chopped fine
1 1/2 red bell pepper, sliced
3 cauliflower florets
3 carrots, sliced
1 1/2 tsp paprika
1 tsp cumin
2 tbsp vegetable oil
1/4 cup raisins
1 tsp lemon juice
salt & pepper
Method of Preparation
Preheat your oven to 400 F.
Arrange all the vegetables on a baking tray and season them with salt and pepper.  Now sprinkle a bit of oil over the vegetables.  Toss them around to lightly coat them and roast for about 25 minutes in the oven.
Prepare the steak by massaging it with some salt, pepper, and garam masala powder.
Heat some oil in a skillet and add the steak to it when it is hot.  Heat for about 1 minute on each side, if you want your steak rare.  Increase the cooking time according to your preferred choice of doneness.
Take the steak off the heat and let it rest for 5 minutes before cutting it into it.
Once the meat has cooled a little, you may divide it and serve it along with the roasted vegetables.