Aloo Chaat Recipe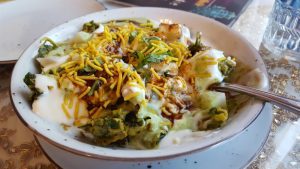 Aloo Chaat Recipe: This summer try this mouth-watering recipe. Prepare it for someone special, your kid or any guest. Everyone will love it
Type: Indian Street Foods, Most Loved Street Food, Crispy and Crunchy, Aloo Chaat
Cuisine: Indian Street Foods, Most Loved Street Food, Crispy and Crunchy, Aloo Chaat
Keywords: Aloo Chaat, Aloo Chaat Recipe
Preparation Time: PT10M
Cooking Time: PT10M
Total Time: PT20M
Recipe Ingredients:
Aloo Chaat Recipe: This summer try this mouth-watering recipe. Prepare it for someone special, your kid or any guest. Everyone will love it, no matter if you make it in a simple way or with limited ingredients.
In the evening, when you go to the market or to hang out with friends, you have noticed a lot of crowd around the street food stall, because these street foods like aloo chaat, gol gappe, tikki, and pav bhaji are well known across the cities.
Be a foodie or not a foodie, everyone is tempted towards this street food and yes, I want to tell you that, you can make this dish as delicious as a street food vendor. Preparing it is easy and cooking it at home will make you happy.
So foodies follow this recipe and give it a try.
Aloo Chaat Recipe Ingredients:
Potatoes – 5 Potatoes
Onion – 1, finely chopped
Chaat Masala – ½ Tablespoon
Red Chilli – ½ Tablespoon
Salt – ½ Tablespoon
Roasted cumin powder – ½ Tablespoon
Tamarind Chutney – 2-3 Tablespoon
Green Chutney – 2-3 Tablespoon
Curd – 2-3 Tablespoon
Oil/Ghee – 2 Cup
Aloo Chaat Recipe Preparation:
You can roast the potatoes in two ways: the first one is cut into 1-inch pieces and deep fry them.
Second way: Boil the potatoes (partial boil), take a tawa or pan, and add 2-3 tablespoon oil and shallow fry them.
Fry them till they get golden brown and crispy.
Take a bowl, put these fried potatoes in the bowl, and now add all the above -mentioned ingredients one by one.
Mix all the ingredients well.
Aloo chaat is ready to serve, garnish it with sev but this is completely optional.
Note:
Assemble all the ingredients before preparing it.
You can use spices according to your taste.
Chaat masala and cumin powder is a must, it will add unique aroma to it.
Curd is optional.
I suggest using ghee instead of oil; ghee is a taste enhancer for the chaat.
Summary
Aloo Chaat is a delicious and spicy snack that is loved for its tangy and flavorful taste. Whether you're looking for a quick and easy snack or just want to try something new, Aloo Chaat is a great option. With its simple and straightforward ingredients, this recipe is easy to make and sure to impress. So why not give it a try and see why it has become such a popular snack in Indian cuisine.