Bobby Flay Salisbury Steak Recipe
Bobby Flay Salisbury steak recipe is one of the best Salisbury steak recipes out there and it can be easily prepared for a hearty weeknight dinner that the whole family can enjoy.
Who is Bobby Flay?
Robert William Flay or Bobby Flay as he is commonly known is an American celebrity chef, restauranteur, and TV personality.
What is Salisbury steak?
Salisbury steak is an American dish consisting of ground beef that is formed into a patty and served with gravy. It is considered to be a cross between a meatloaf and a hamburger steak and is a comfort food classic.
While a Salisbury steak may be similar to a hamburger steak as the main component is ground beef, it differs widely in its seasoning as a hamburger steak contains only salt and pepper whereas a hamburger steak contains onions, sauce, breadcrumbs, and other fillers. Hamburger steak is mostly served in a hamburger bun and a Salisbury steak is served with mashed potatoes or noodles.
A Salisbury steak and a meatloaf are similarly seasoned but this is where the similarity ends as ground beef in meatloaf is formed into a loaf and baked in the oven and a Salisbury steak is formed into smaller patties and cooked in a skillet.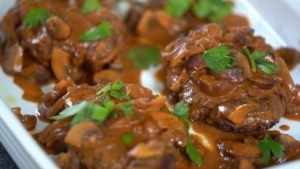 Ingredients:
For the patties
Ground beef 1 lb

Grated parmesan cheese 2 tbsp

Panko breadcrumbs ¼ cup

Garlic paste 1 tsp

Egg 1

Salt to taste

Pepper to taste

Vegetable oil 2 tbsp
For the gravy
Sliced White onion ½

Cremini mushrooms 5 oz

Beef broth 1 cup

Worcestershire 1tsp

Heavy cream 2 tbsp

Tomato paste 1 tbsp

Salt to taste

Pepper to taste

Diced parsley for garnish
Equipment needed:
Directions:
Start by making the beef patties by adding the ground beef, breadcrumbs, grated parmesan, garlic paste, salt, and pepper into a large bowl.

Mix well with your hands until the mixture starts to become pasty.

Once the mixture is pasty, divide it into 4 portions and form into oval patties.

Place a cast-iron skillet on high heat and pour in the oil.

Once the oil has heated up, add in the patty and cook for about 3 mins on each side.

Once done, remove it from the heat and transfer it to a plate.

Start on the gravy by adding mushrooms and onions in the same skillet and reduce the heat to medium.

Allow it to cook for at least 4 mins until the onions start to soften and turn translucent.

Add in the Worcestershire sauce, beef broth, and tomato paste.

Reduce the heat to the lowest and allow to simmer for about 3 mins.

Now pour in the heavy cream and cook until the sauce starts to thicken. Season with salt and pepper.

Remove the skillet from heat and set it aside

Add the cooked patties to a plate and spoon the gravy over it.

Garnish with the chopped parsley and serve.
Notes:
The quality of the ground meat matters a lot when making a Salisbury steak. It is necessary to use lean meat so that it is not too greasy. For best results use 80-90% lean meat.

Panko breadcrumbs work best in this recipe as they do not dry the steaks out but if you do not have panko breadcrumbs, use regular breadcrumbs.

Do not skip on the Worcestershire sauce as it helps to tenderize the meat as it contains vinegar and adds a delicious flavor.

Make sure the skillet is very hot before placing the patties as this helps to caramelize the meat.

Add a little corn starch if you would like a thicker gravy.

Serve your Salisbury steaks with some mashed potatoes, roasted vegetables, or even a side salad.

You can freeze the raw patties by wrapping them individually with some parchment paper and placing them in freezer-safe bags. They stay well for 3-4 months. To thaw just place them in the refrigerator overnight.

You can freeze the cooked patties with the gravy by allowing them to cool completely and then place them in a freezer-safe bag along with the gravy. They stay well for about 2 months. Thaw by placing them in a refrigerator overnight.

You can also store them in a refrigerator in an airtight container. they stay well in the refrigerator for 3-4 days.
We hope you liked our Bobby Flay Salisbury Steak Recipe. For more such recipes information, follow our Blog, foodiewish.com.