The chicken meatloaf recipe is the ultimate comfort food. Be it a stuffy summer evening or a blustery winter's night, this is one recipe that you could put on the table to make everyone happy. We have found a few variations of the same for you so that you can experiment and have a little fun with this classic dish.
Classic Chicken Meatloaf
As the name suggests, this is a classic copy of this delectable recipe. If you are a first-time host and want to play it safe, this is what you should stick to.
Ingredients
2 pounds ground chicken

1/2 cup oatmeal

2 eggs

1/2 onion, grated

1 clove garlic, minced

1 teaspoon garlic powder

1 teaspoon onion powder

Salt

Pepper

1/2 cup ketchup

1 tablespoon balsamic vinegar

1 tablespoon molasses

1 teaspoon Worcestershire sauce

1 teaspoon red pepper flakes
Method of Preparation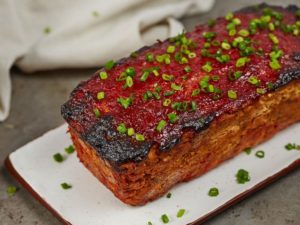 Bring together all the ingredients for the meatloaf. Make sure that the mixture is mixed thoroughly. It should have the consistency of a wet meatball. Something like a wet paste.

Refrigerate this overnight. That will bring the entire mixture together and give it a bit of body. If you are in a rush pop it in the freezer for about an hour.

Now, preheat your over to 375 F.

Combine all the ingredients for the sauce.

Now transfer the meatloaf to the pan that you want to bake it in. You could use a baking tray or a bread loaf pan for this.

Spoon the glaze over the mixture till it is entirely covered.

Bake this for 30 minutes.

At the end of 30 minutes, check the meatloaf. This is the time you can spoon any leftover sauce over it as well.

Check the temperature of the meatloaf. If it reads 165 F, that means that the meatloaf has cooked through.
Glazed Asian Chicken Meatloaf
If you have always had a thing for Asian flavors then this recipe can soon become one of your favorites. Give it a go and it might become your staple at dinner parties.
Ingredients
1 teaspoon sesame oil

2 teaspoons olive oil

1 1/2 cups white onions, chopped

2 tablespoons minced garlic

1 tablespoon minced fresh ginger

1/2 cup panko breadcrumbs

1/2 cup whole milk

2 pounds ground chicken

2 large eggs

2 tablespoons low sodium soy sauce

2/3 cup hoisin sauce

1/3 cup blackberry jam

butter

toasted sesame seeds
Method Of Preparation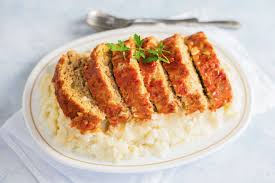 Preheat your oven to 375F.

Drop the sesame and olive oil in a pan and heat it on medium heat. Once it gets a sizzle add onions, ginger and garlic.

Add salt and pepper and let cook till the onions are translucent.

Transfer this to a plate and allow it to cool down.

Now grease a loaf pan and keep it ready.

Now take a large bowl. Mix together the ground chicken, onions, breadcrumbs and soy sauce.

Lightly beat the eggs and add them to the mixture.

Set a sauce pan over medium heat. Whisk in the hoisin sauce and jam. Once it comes to a bubble take it off the flame and cover with a foil to keep it warm.

Now bake the meatloaf for 45 minutes. Check to see if it is done by then, else bake for a few more minutes.

Brush the meatloaf with the glaze as soon as it is out of the oven.

Now return it to the oven and bake for a further 15 minutes.

The meatloaf should reach an internal temperature of 165 F if you want to take it out of the oven.

Once it is out of the oven leave it to rest for atleast 30 minutes. If there is any left over sauce, you can spoon it over the meatloaf and serve.
Tips For The Chicken Meatloaf
If you want a slightly juicer version of meatloaf, substitute one or two parts of the ground chicken with ground pork.

You can double this recipe as well and bake it on a sheet tray. The only adjustment you will have to make is to the baking time.

If you want to check if the meatlaof is done and you dont have a thermometer, use a sharp knife to poke the cnetre of the meatloaf. If the juices run clear, it indicates the meatloaf is ready.
Summary
And there you have it, a classic and comforting Meatloaf recipe. This dish is a perfect blend of savory beef mixed with delicious herbs and spices, all baked to perfection. Serve it with your favorite sides and enjoy a delicious home-cooked meal that is both satisfying and easy to make. Happy cooking!