How to Make Chilli Paneer | Chilli Paneer Recipe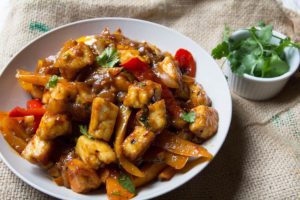 Today we have Chilli Paneer Recipe for you. Chili Paneer is a Chinese dish. It's healthy as well as tasty, Hope you will like the Chilli Paneer
Type: Chilli Paneer Recipe, Indian Food, Paneer Recipe
Cuisine: Chilli Paneer Recipe, Indian Food, Paneer Recipe
Keywords: chilli paneer, chilli paneer recipe, chili paneer
Preparation Time: PT10M
Cooking Time: PT40M
Total Time: PT50M
Recipe Ingredients:
Chilli Paneer: Today we have Chilli Paneer Recipe for you. Chili Paneer is a Chinese dish. Chilli Paneer is healthy as well as tasty.
So, note down the method of making instant chilli paneer. Hope you will like the Chilli Paneer recipe.
Chilli Paneer Recipe

Essential Ingredients
Paneer – 350g
Capsicum – 02 (chopped)
Onion – 01 (cut)
Corn flour – 04 tablespoons
Tomato sauce – 1/4 cup
Olive oil – 1/4 cup
Vinegar – 01 tsp
Soya sauce – 02 tsp
Chilli sauce – 02 teaspoons
Green chilli – 02 (finely chopped)
Ginger – 01 small piece (grated)
Black pepper powder – 1/4 tsp
Chilli flanks – 1/4 tsp
Ajinomoto – 01 pinch
Mint leaves – 01 tbsp
Salt – as per taste
How to Make Chilli Paneer?
For Chilli Paneer Recipe, first cut the paneer (home-made paneer) into the desired shape and sprinkle cornflour and apply it well.
Now heat olive oil in a nonstick pan. Add the paneer pieces in hot oil and fry them till they turn light brown. Take out the fried paneer pieces in a separate vessel.
Turn the remaining oil in a pan and heat it. When the oil is hot, add onion and fry it lightly. Then add ginger and green chillies and fry. Then add capsicum and fry for two minutes.
After this, add cottage cheese, soy sauce, tomato sauce, chilli sauce, vinegar, Ajinomoto, salt, chilli flakes and black pepper and fry well on low heat.
Dissolve the remaining cornflour in 1/4 cup of water and then put it in the pan and cook it while stirring for 2 minutes and then turn off the gas.
Now the method of making Chilli Paneer is complete. Your chilli paneer is ready. Just garnish with chopped mint leaves and serve hot.
Also, try our popular Shahi Paneer, Palak Paneer, Paneer Butter Masala, Paneer Bhurji, Paneer Tikka Masala Recipe. You will also like this recipe.
Summary
And there you have it, a spicy and flavorful Chili Paneer recipe. This dish is a perfect balance of savory and spicy, and is sure to be a hit with everyone at the dinner table. Serve it with some steaming hot rice or crunchy noodles and enjoy the taste of India in your own home. Bon appétit!