The Spur Nachos recipe is a delicious treat that you can make at home and is perfect for parties, family get-togethers, or even as a fun family meal on the weekend. Nachos need no introduction, they were invented in Mexico in 1940 by Ignacio Anaya. This delicious Spur Nachos recipe quickly spread to Texas and soon after, it quickly spread to the rest of the world. Traditionally the nachos as invented by Anaya consisted of tortilla chips covered by melted cheese and jalapenos.
Spur Nachos Recipe
Over a period of time as nachos gained popularity and became a hit in most parts of the world, this humble Spur Nachos recipe evolved to include more ingredients such as salsa, guacamole, and sour cream. Nachos have quickly gained popularity as a delicious appetizer that is perfect for a group of friends. Spur Nachos recipe are a great party snack and can be quickly thrown together with most ingredients already pre-made and easily available in most stores. But of course, if you have time and want to make nachos that are out of this world, then this spur nachos recipe of spur nachos is the one for you.
What are Spur Nachos?
Spur nachos are a specialty at the South African origin spur steak ranches restaurant franchise. It was founded by Allen Ambor in 1967 in Cape Town. This first restaurant was so successful that it quickly grew into a second and later developed into a franchise spread all over South Africa and beyond. As of 2018, the spur steak ranches franchise has 323 restaurants spread over 15 countries.
Spur Nachos Mexicana is named so due to the addition of premade Spur Mexican salsa sauce.
Ingredients to make Spur Nachos Recipe
1 packet of Doritos

1 tub of Cottage cheese

1 block of Cheese

Sliced jalapenos

Chopped lettuce

Sliced cucumbers
For the salsa
1 onion

2 tomatoes pureed

1 tsp cumin powder

½ tsp coriander powder

1 tsp oregano

1 lemon

4 tbsp Mexican salsa

1 tbsp oil

Salt to taste
For the guacamole
1 avocado

1 lemon

2 tbsp plain yogurt

Salt to taste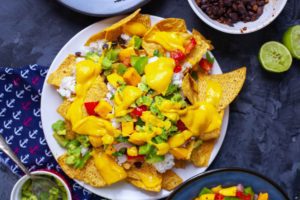 How to make Spur Nachos Recipe?
Check here the complete method to make delicious Spur Nachos recipe –
Cut the cottage cheese into small chunks and set them aside.

Now grate the entire block of cheese and set it aside.

To make the salsa, pour the oil into a small saucepan and let it heat up.

Now finely dice the onion and transfer it to the saucepan.

Saute for a few minutes until the onion is softened and they turn translucent.

Now add in the tomato puree and the cumin powder, coriander powder, oregano, and salt.

Mix well and let it cook until most of the tomato puree is reduced.

Now squeeze the lemon and pour the juice into the saucepan making sure to avoid the seeds and mix well.

Add in the Mexican salsa and stir it well and set it aside.

To make the guacamole, cut the avocado in half and remove the pit.

Put the avocado into a bowl and mash it completely using a fork.

Squeeze the lemon and pour the juice into a bowl and add in a little bit of the salt and mix it well.

Now put the plain yogurt into the bowl and mix it all together and set it aside.

To assemble the nachos, take a large platter.

Start by putting the Doritos on the platter, followed by the chopped lettuce.

Now add in the sliced cucumbers and the sliced jalapenos.

Add a generous amount of grated cheese.

Now add in half of the cottage cheese chunks and pour the tomato salsa over it.

Add another layer of Doritos followed by the remaining half of the cottage cheese chunks.

Now sprinkle some more grated cheese over it and place it in a microwave for at least 3 mins or until the cheese completely melts.

Add a generous amount of guacamole to the platter and garnish with some more lettuce, cucumber, and jalapenos if needed and serve.
Lesser known facts for Spur Nachos Recipe
Any kind of tortilla chips can be used in this supr nachos recipe. Common favorites are Doritos and big corn bites.

Any type of cheese of your choice can be used in this spur nachos recipe, the more the cheese the tastier the nachos.

If you prefer your nachos spicier, feel free to add in hot sauce or even a bit of paprika to the salsa.
Summary
With its crispy tortilla chips covered in melted cheese, juicy chicken, and flavorful chasni sauce, the Spur Nachos are a classic Tex-Mex dish that is sure to please. Whether enjoyed as a snack or a full meal, this recipe is an easy and delicious way to satisfy your cravings for something crunchy, cheesy, and spicy. Whether served at a tailgate party, a family gathering, or just a regular night in, the Spur Nachos are sure to be a hit with everyone. So why not try this recipe today and discover why it has become a staple of Tex-Mex cuisine?