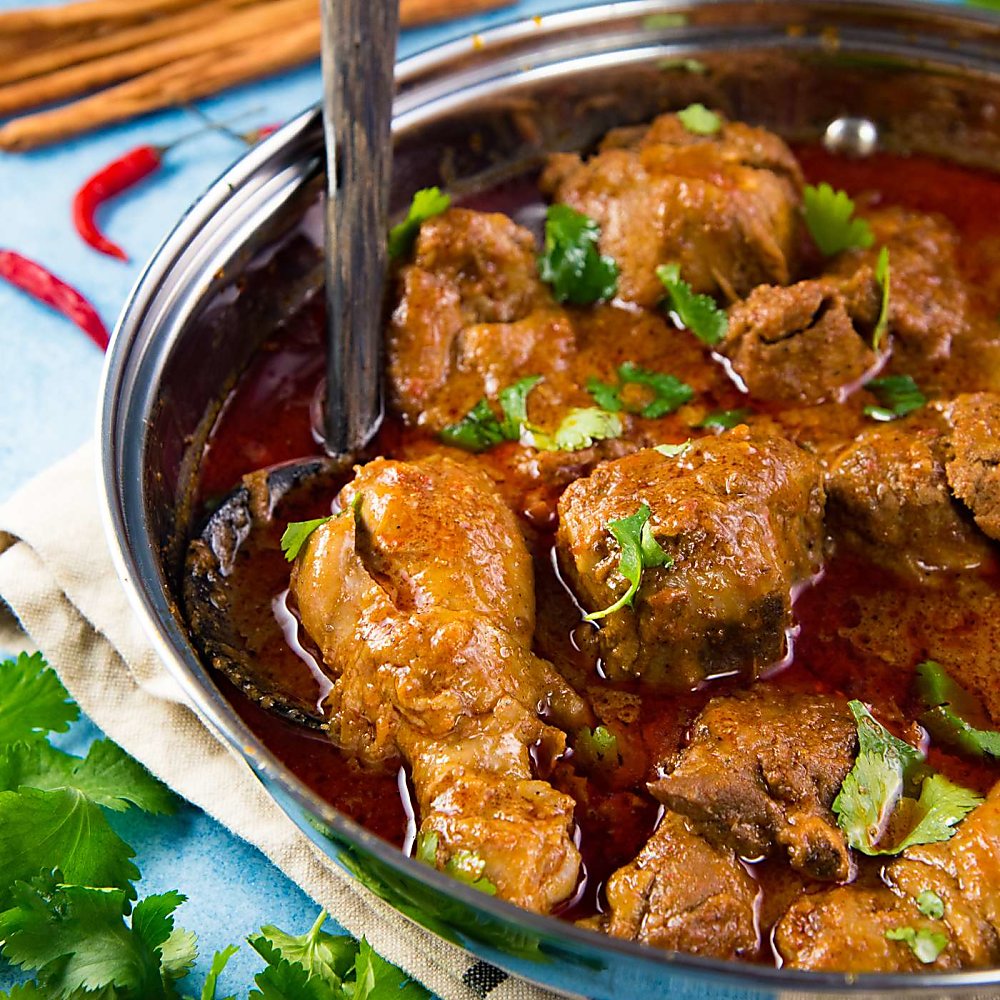 Maharashtrian Chicken Curry Recipe: The Indian state of Maharashtra is as popular for its non-vegetarian delights as it is for the vegetarian fare. The chicken curries of the state are popular across the country and beyond.
You may also like: Tandoori Chicken Recipe – Authentic Appetizer of North India
Simple ingredients that every kitchen is usually equipped with makes the chicken curry of Maharashtra a great last-minute family feast addition.
You could try the versatile curry in a drier version by allowing the gravy to simmer longer in the pan, without the lid.
Maharashtrian Chicken Curry Recipe Ingredients
Half a kilogram of chicken (preferably boneless)
cashew nut paste ( Half a cup)
1 tbsp ginger garlic paste
1 tsp green chili paste
1 cup yogurt or sour curd
2 cloves
2 cardamoms
1 tsp cumin seeds
1 tsp mixed spice powder
1 tsp coriander powder
¼ tsp turmeric powder
1 spoon clarified butter or ghee and water and salt as per requirement and taste.
Maharashtrian Chicken Curry Recipe Preparation
➤ Clean the chicken and if it is not of the boneless variety, skinning it is a good option. In a thick-bottomed pan heat the clarified butter.
➤ When melted, add cloves, and cardamom and sauté briefly, along with the cumin seeds.
➤ Ensure that the spices get a rich golden brown color and then add the powdered turmeric, mixed spice powder and dry coriander powder.
➤ The mixture should be allowed to blend well. Next, throw in the ginger and garlic paste along with that of green chilly.
➤ Now use the curd (yogurt) by slowly dropping into pan, and allow the mixture to simmer for about five minutes. It needs to be stirred regularly to avoid it from burning.
➤ Next, add the pieced chicken and a little water, just enough to mix together all the ingredients and cover the chicken pieces.
➤ Then keep the pan covered and allow the gravy to cook and thicken. Once the chicken is cooked, add the paste of cashew nut, and salt.
➤ Allow the gravy to simmer for another 5 minutes and serve hot.
The Maharashtra chicken curry should be garnished with onion rings fried, and if you so desire, you could pour in some fresh cream as well, at the center of the curry.
Bottom line –
This Maharashtrian Chicken Curry Recipe comes from Maharashtra's heartland and with the true flavor of the state. It is best when eaten with hot, steamed rice and can even be enjoyed with chapattis or bread.
It is a hit with children and adults alike. The cashew nut paste and yogurt combination make the dish a nutritious delight, full of volume and aromatic flavor.
Image Source