The Haleem recipe is one of a kind. Not a month in India goes by without celebration. These celebrations bring forth culinary varieties. Ramadan, the Islamic month of fasting. Muslims across the country showcase their cuisine through iftar. One such dish is Haleem. Though its origin can be traced to Arabia, it is available throughout the year in Hyderabad. Haleem recipe is famous in Hyderabad, Kolkata, and parts of South India.
The Origin of Haleem Recipe
Haleem recipe was recorded to be consumed in the 8th century in the Abbasid Caliphate. The Haleem recipe can be dated back to the 10th century called Harees (also called Jareesh or Hareesah). Harees recipe can be found in the ancient Arabic cookbook 'Kitab Al-Tabikh' (Book of Recipes), popular with Kings, caliphs, and persons of high status in Baghdad. This recipe was similar to the Middle East recipe. Harees became a staple food for many people as the Arab empire moved to various parts of the world.
The Indian style Haleem Recipe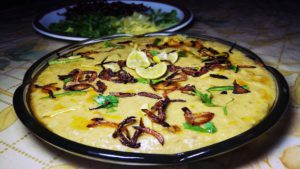 Haleem formed a nest in the Indian subcontinent during the Mughal era. In Hyderabad by Arabian soldiers of the Nizam's army. Becoming an inseparable part of the Hyderabadi cuisine. A blend of indigenous spices and ingredients gave us the Hyderabadi variation of the Arabian dish. The Barkas in the Arab quarter of Hyderabad still sell Harees, here it goes by Jareesh. The simple Harees dish was enhanced to suit the Indian palate, curating the haleem.
The blend Haleem Recipe
Traditional Haleem is prepared by soaking wheat, lentils, and barley overnight. Korma, a spicy meat gravy, is prepared in a tandoor until the meat tenderizes. The soaked grains are boiled in saltwater till they are tender too. The two are combined and vigorously beaten with a heavy pestle-like into a thick paste-like texture with blended flavors of the spices, meat, lentils, wheat, and pure ghee. The final dish is garnished with caramelized onions, Julienne cut ginger, green chilies, lemon, coriander, and chaat masala. Together it makes a high-calorie and nutritious food, the perfect dish to break a fast. The Hyderabad variation uses a variety of spices and lentils compared to Kolkata Haleem.
Indian nomenclature
Harees, as mentioned above, also goes by Jareesh or hareesah. The Indian variation is called Haleem, which is a name for Allah. In Kolkata, the dish goes by daleem, because people felt it wrong to name a food item by name for Allah. This Ramzan food in some places, however, still goes by Haleem.
The main ingredients in Haleem Recipe:
Grain: wheat or barley. Others are lentils. Some regions use rice too.
Meat: beef or lamb or goat or chicken meat is used.
Spices: a variety can be used eg. jeera, cumin, cassia.
Cooking liquids: water, milk, or broth.
Into the hot pot: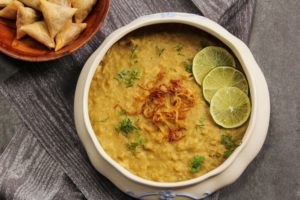 Ingredients for Haleem Recipe
500g meat (lamb boneless)
1 ½ cup wheat
1 Tbsp Black gram/ urad dal
1 Tbsp yellow split dal (moong dal)
1 Tbsp red lentil (masoor dal)
¼ cup rice
For frying
¼ cup pure ghee
5- 6 cups water
1 tsp cumin seed (jeera)
1 tsp kabab chini
1 stick cinnamon (dal chini)
2-3 cloves (laung)
2-3 cardamom (elaichi)
2 medium onion
2 Tbsp ginger garlic paste (adrak lahsun)
4 green chilies (hari mirchi)
1 cup yogurt (dahi)
2 tomatoes (finely chopped)
1 tsp turmeric powder (haldi)
1 tsp red chili powder (laal mirchi powder)
1 cup coriander leaves
1 tsp Cashew nuts
Salt to taste
Garnish for Haleem Recipe
Lemon wedges
Coriander
Cashew nuts
How to make Haleem Recipe?
Dry roast the wheat, rice, moong dal, masoor dal on a medium flame till the color changes slightly. Set it aside to cool then blend it all roughly.
In a pressure cooker, heat the ghee on medium flame. Fry the cumin seeds, cloves, cinnamon stick, cardamon, kabab chini, and green chili for a minute. Then add the onions, fry till they are translucent.
Stir in the ginger-garlic paste and the meat. Cook till water evaporates.
Mix the red chili powder, turmeric, yogurt, tomatoes, and salt too. Pour the blended wheat. Add 5- 6 cups of water and pressure cook for 2 whistles.
After the whistle, cook on low flame and stir frequently till done and the meat is tender.
Garnish and enjoy with a choice of bread.
https://i.redd.it/4v0nspxtnwh51.jpg
Pro tips:
# Replace lamb with mutton keema if you want.
# For wheat, it is easier to use broken wheat.
# While pressure cooking, adjust the water this prevents the burning of the cooker.
Summary
Haleem is a delicious and hearty Indian dish that's perfect for any occasion. With its tender meat, creamy texture, and delicious spices, this dish is a true comfort food. Whether you're looking to satisfy your hunger or impress your guests, haleem is the perfect choice. So why not try this Haleem recipe today and experience the amazing flavors of India? Your taste buds will thank you!