Halo Halo Recipe, a comfort food, I associate with summer. This Filipino gem comes in a tall glass of colourful mélange layered with tutti- frutti, jelly beans, shaved ice with evaporated milk, nuts, and ice cream. This particular dessert is perfect for fussy eaters because it is flexible with its ingredients.
Halo Halo Recipe
Almost all Asian countries have their own variety of ice desserts. The origins of Halo- halo can be traced back to pre-war Japanese Filipino and the Japanese dessert, Kakigori; which is shaved ice complete with sweet beans on top called mongo-ya in Japanese. The dessert only included mung beans (called monggo in Tagalog, which was used instead of red azuki beans that came from Japan), cooked in a sweet syrup (minatamis na monggo). This was layered on top of crushed ice along with milk and sugar.
Ice story: halo halo beginnings
Halo halo recipe, also goes as haluhalo, means mix-mix in Filipino or 'mixed' in English. This vivid dessert is often considered the unofficial national dessert of the Philippines. According to my friend, every sari-sari store, fast food chains, and food carts enters the ' Halo halo' competition in the summer. Each vendor came forward with their reformation of the dessert.
In due course of time, the people of the Philippines tweaked the ice dessert to fit their taste palate. Thus, it became a new ice dessert variety in Asia. One notable ingredient in the Halo- halo is ube jam and ube ice cream (derived from purple yams), this added vividness to the dessert. The difference between halo- halo and its Japanese ancestor is the placement of ingredients. In Halo- halo recipe the ingredients are placed under the ice while it is opposite for the Kakigori desserts.
Halo- halo Recipe Whip: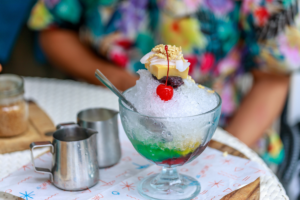 Ingredients to make Halo Halo Recipe
There are no set ingredients for halo- halo. This dessert can be made as you wish, with the ingredients you wish. The list down contains the most common ingredients used in halo- halo:
Crushed/ shaved ice

Milk (evaporated/ condensed)

Sweetened banana (check below for recipe)

Sweetened sweet potato (recipe below)

Sweetened beans

Coconut strip

Jelly beans

Tutti- frutti

Wafer sticks

Nata de coco

Tapioca pearls/ sago

Jelly (cut into pieces)

Pinipig rice

Preserved or fresh fruits

Leche flan (creme custard)

Ube jam/ ube ice cream

Seeds (pumpkin, chia) and nuts (cashew, almonds)
How to make Filipino Halo Halo Recipe?
Prepare the Leche flan and let cool down. Get the sweetened banana, sweet potato, tapioca/ sago ready too. Follow the instructions on the box for making the jelly and tapioca pearls.

Cut the fruits into cubes and set them aside. Keep the coconut strips, nata de coco, in a separate bowl. Roughly cut the nuts.

In a tall glass or a wide bowl, with the exception of shaved ice, evaporated milk, Leche flan, and ube ice cream, add the ingredients in any order and any amount you like. Make sure there is enough space on top for the Leche flan and ube ice cream, to prevent them from falling.

Now put a generous amount of shaved ice, drizzle it with evaporated milk. Layer it off with Leche flan and scoop of ube ice cream or jam. Finish with the wafer stick.
What Can Be Added To Halo-Halo Recipe?
Sweetened banana: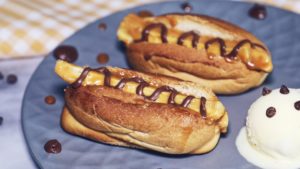 Minatamis na saging meaning sweetened banana. A sweet dish made from cardaba banana cooked in brown sugar syrup.
6 medium ripe cardaba banana, sliced

1 ½ cup brown sugar

2 ½ cup water

1 tsp vanilla extract
Cut the bananas into cubes, add them to a shallow pan.

On a medium flame, let the banana cook in the water, brown sugar and vanilla.

Stir the banana mix occasionally. Make sure the sugar has dissolved completely.

Cook it for about 10 minutes or until the sugar has dissolved.

Enjoy it hot or cold on your halo- halo.
Sweetened sweet potatoes:
Minatamis na kamote, sweet potatoes stewed in sugar syrup till they are tender and dense.
3 large sweet potatoes, peeled and diced

2 Tbsp butter

½ cup brown sugar

¼ cup orange juice
In a baking tray, add the diced sweet potatoes. Pour in the orange juice. Add the butter and sprinkle the brown sugar.

Tightly cover the baking tray with foil. Bake for 40- 45 minutes at 375 F or until the sweet potatoes go tender.

Enjoy the snack hot or cold. Or just add it to halo- halo.
Summary
In conclusion, Halo Halo is a delightful and refreshing dessert that is a staple in Filipino cuisine. With its mix of sweet ingredients and creamy texture, it's a perfect way to cool down on a hot day. This recipe is easy to make and allows you to customize it to your liking by using your favorite ingredients. Whether you're serving it as a special treat or as a dessert after a meal, this Halo Halo recipe is sure to impress. So, gather your ingredients and give it a try. Your taste buds will thank you!