Kali Dal Recipe: Dal is must-have food in North India and Kali Dal is their specialty. It is a homely recipe with a creamy texture. This dish may sound like dal makhani but it is unique in its way.
Generally, black urad dal or sabut urad dal is used to make it. Different variants of lentils are used in different regions throughout India. It is one of the major homemade dal recipes and that is why it is called "maa ki dal".
There are Certain Differences Between the Dal Makhani Recipe and Kali Dal.
🔸 Kali Dal takes lesser time than the dal makhani. In the case of Dal makhani, the dish is cooked in low heat for a longer time to get the creamy texture. In case of Kali daal, you need to cook it for around 40 to 45 minutes only to get the desired texture.
🔸 Kali Dal is prepared only with black urad dal. But in the case of Dal makhani, some masoor dal and rajma is used along with black urad dal to make it thick.
🔸 The cream and butter are compulsory to make dal makhani but it is an optional ingredient for Kali dal.
Kali Dal Recipe | How To Make Kali Dal at Home – Step by Step
Ingredients:
1 cup of black urad dal
4 cups of water
2 tablespoons of ghee
1 bay leaf
1 teaspoon of cumin
1 teaspoon of Kasuri methi
1 finely chopped big onion
1 teaspoon of ginger garlic paste
1 slit chilli
Pinch of turmeric powder
1 teaspoon of Kashmiri red chilli powder
Half a teaspoon of coriander powder
Pinch of cumin powder
Pinch of garam masala
Salt to taste
2 finely chopped tomatoes
2 tablespoons of finely chopped coriander leaves
Kali Dal Recipe Method:
🔸 At first, you have to soak the black urad dal in some water for around 3 hours at least.
🔸 Then you will need to drain the water and put the dal in the pressure cooker to cook it along with some more water and 1 teaspoon of ghee. You can go for 5 full whistles or you can also boil it until it becomes soft.
🔸 Now take 2 tablespoons of ghee in a pan and add 1 teaspoon of cumin and 1 teaspoon of Kasuri methi along with a bay leaf. Now you need to saute them.
🔸 After that, you should add the onion, chilli and ginger garlic paste into the pan and fry it until the onion gets golden brown.
🔸 Then you need to add other spices like turmeric powder, chilli powder, coriander powder, and cumin powder and garam masala along with some salt. After cooking it all, you will get an awesome aroma from the spices. Then you have to add tomatoes and cook until they get mushy. The whole thing should be cooked in low flame.
🔸 After all these, you need to add the cooked dal and mix it properly with the spices and other ingredients. To bring back the consistency, you will also need to add some water and simmer it for 10 minutes with covering.
🔸 Finally, you need to add the coriander leaves and mix it well. Your Kali daal is ready to serve.
You can enjoy having Kali Dal with rice or roti. If you are going to serve it with roti or paratha then you have to make it a bit thicker for better taste.
Summary
Kali Dal, also known as black lentils, is a rich and flavorful dish that is a staple in Indian cuisine. With its creamy texture and warming spices, this dish is both filling and delicious. Whether you're looking for a vegetarian option or just want to add more legumes to your diet, Kali Dal is a delicious and healthy meal option that is sure to be a hit. So why not give it a try and see why it has become such a beloved dish in Indian cuisine.
Kali Dal Recipe, a Pinch of Love From Your Mother | FoodieWish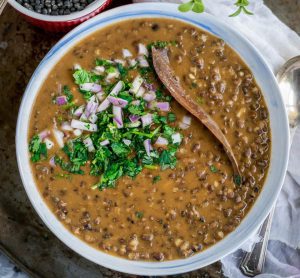 Kali Dal Recipe: Dal is must-have food in North India and Kali Dal is their specialty. It is a homely recipe with a creamy texture.
Type: Appetizer
Cuisine: Punjabi Dish
Keywords: kali dal, kal dal recipe, maa ki dal
Preparation Time: PT10M
Cooking Time: PT3H40M
Total Time: PT3H50M
Recipe Ingredients: