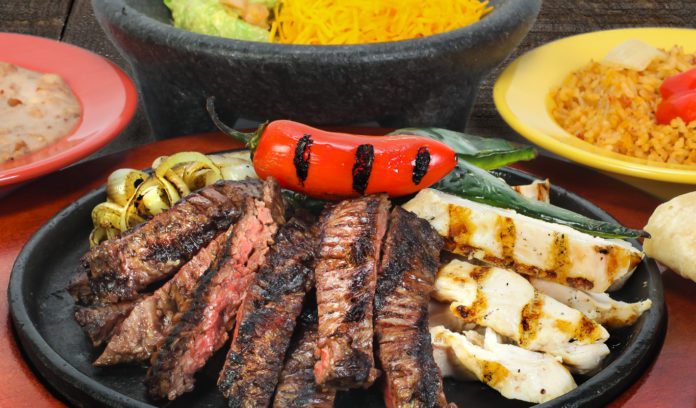 Lupe Tortilla Fajita Recipe – Lupe Tortilla is a chain of Mexican restaurants in the United States with cities like Austin, Houston, Dallas, etc. They are famed for serving some of the tortillas, which is one of their most ordered dishes. Lupe Tortilla Fajita Recipe is composed of a pillowy soft tortilla and some of the ingredients used to stuff them. They may be made with either chicken or beef. This recipe is a copy of what you would get if you stopped at the eatery, and if it is followed to perfection, it will yield the most delicious fajitas.
Lupe Tortilla Fajita Recipe
You can make this Lupe Tortilla Fajita Recipe at home for your next dinner party or during your next holiday get-together with your family. If you serve some Mexican rice on the side, this can be a complete meal in itself.
Though store-bought tortillas are easily available, making your own tortillas is always recommended. Although it is a slightly time-consuming process, the taste of homemade tortillas cannot be replicated.
A big salad will also help when you have that at your side. Put up a pitcher of margaritas or apple cider to go with these amazing fajitas, and you will have everyone drooling at the table.

Ingredients to make Lupe Tortilla Fajita Recipe
Get here the complete list of ingredients to make Lupe Tortilla Fajita Recipe –
1.5 lbs skirt steaks
3 cloves garlic, minced
⅓ cup vegetable oil
1 tsp mayonnaise
1 tsp Goya adobo seasoning
1 tsp salt
1 bunch green onions
4 tbsp fresh lime juice
1 tsp ground cumin
Method of Preparation For Lupe Tortilla Fajita Recipe
Mix the minced garlic, mayonnaise, lime juice, adobo, cumin in vegetable oil to make the marinade for the steaks.
Marinate the steaks in the marinade. It is preferable to marinate them overnight, but 2-3 hours also seem sufficient.
Heat a large cast-iron pan on medium-high heat for a few minutes. Cook them on medium heat for approximately 10 minutes on each side or till they develop a slight crust.
Remove from the heat and cut into thickish strips. Return them to the pan to cook for a further few minutes if you want to have your steak well done.
Add the vegetables and cook them as well in the remaining oil. You may add more oil if you feel the need for it.
Plate them onto fresh tortillas.
Add toppings of your choice. Dried tomatoes, cheese, sour cream, onions, lettuce, etc., are some good options.

Tips To Get The Fajitas
Use only a cast iron skillet when making this recipe, or the flavour will not be a copy of what they serve at Lupe Tortilla.
Skirt steaks are the good one to use for this as they have a good balance of meat and fat. The fajitas will not turn out too moist or dry.
Make sure that the marinade is enough to cover the meat generously. A generous amount of lime is essential in the marinade to act as a tenderizing agent for the meat.
If the steak gives off too much fat, you can add some butter, cornflour, and water to it and turn it into a gravy which you can then serve on the side.
It is essential that these are served piping hot, or they tend to get soggy.
If you like your steak rare, there is no need to return it to a grill for a second time once you take it off to cut it.
Make sure that the grill temperature is appropriate. If it is too high, it will char the meat on the outside while the inside remains raw and if it is too low, the meat will not cook at all.
For a rare steak, take the meat off the grill when it is still red in the centre.
For a medium steak, wait till the steak is slightly pink in colour.
The meat should be colourless or brownish for a well-done steak, and liquids should run out when the meat is pierced.
If you are making your own tortillas, use a little warm water and oil mixture for kneading the dough. Leave the dough to rest for about 20 minutes so that the gluten can develop and you will have the softest tortillas.
Summary
In conclusion, the Lupe Tortilla Fajita Recipe is a flavorful and delicious dish that can be enjoyed as a main course or as a party snack. With its combination of tender, juicy chicken, vegetables and spices, it is sure to be a hit with everyone. To make it, simply marinate the chicken, sauté the vegetables, and cook everything up together. Serve it with warm tortillas and enjoy!