Spicy Macaroni Pasta Recipe in Indian Style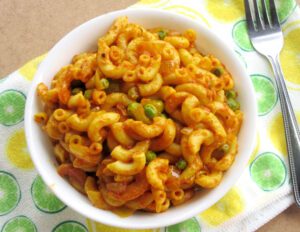 Macaroni Pasta Recipe preparation is very easy and one can make it done in 20 minutes. Macaroni which originated from Italian food item Pasta
Type: Appetizer
Cuisine: Indian Street Food, Macaroni Pasta Recipe
Keywords: macaroni pasta recipe, macaroni recipe, pasta recipe
Preparation Time: PT10M
Cooking Time: PT45M
Total Time: PT55M
Recipe Ingredients:
Macaroni Pasta Recipe preparation is very easy and one can make it done in 20 minutes. Macaroni which originated from Italian food item Pasta is a world-famous dish. Macaroni with cheese is preferred mostly throughout the world but macaroni Pasta in Indian style is a must-try recipe. The spicy Indian ingredients add a special flavor to this Italian food. This will be a good dish when prepared as a snack item in the evenings at home. Macaroni preparation steps & ingredients required are specified below. I hope you all will love eating this Italian dish in Indian style.
Recipe Calorie and Nutrition/One Cup (100 grams)
Macaroni, dry consists of 371 calories
Macaroni, whole-wheat cooked consists of 124 calories
Macaroni, whole-wheat dry consists of 348 calories
Macaroni Pasta Recipe Ingredients
Macaroni: 100 grams
Fresh Tomatoes: 3 Number (Medium Size)
Coriander: 50 Grams
Green Chilli: 3-4 Numbers
Onion: 1 Medium Size
Chilli Sauce
Tomato Sauce
Refined Oil
Red Chilli Powder
Pasta Masala (Available in packets in departmental stores)
Salt
Macaroni Pasta Recipe Preparation Steps
Boil Macaroni in water for about 5 minutes (Until it boils completely. Check in regular intervals).
Tip: Put 1 Spoon of salt in the water before only so that macaroni gains good taste.
Remove the excess water and keep it a side for cooling for some time. (need not cool completely)
Now switch on the stove and keep a deep fry pan on it.
Put 3-4 Table spoon on refined oil in it.
After the oil gets heated, put boiled macaroni in the pan.
Add chopped chopped tomatoes, coriander, salt & 1 table spoon pasta masala and mix it and cook it for 2 minutes so that tomatoes get semi-cooked.
Tip: If you need more spicy you can add red chilli powder at this point.
Later add chopped chilli and allow it to cook for 2 minutes. By this time Tomatoes get cooked completely and green chillies are semi-cooked.
Finally macaroni is ready to eat.
Serve it hot with finely chopped onion, tomato sauce & chilli sauce
Summary
And that's a wrap on our pasta recipe! We hope you enjoyed making and eating this delicious dish. If you have any questions or comments, feel free to reach out. Until next time, happy cooking and enjoy your pasta!