Delicious Matar Paneer Recipe Restaurant Style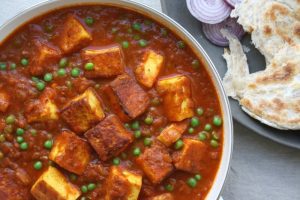 Matar Paneer Recipe Restaurant Style: Matar Paneer is a very popular dish in India. It consists of paneer and peas (Matar).
Type: A
Cuisine: Indian Food
Keywords: matar paneer restaurant style, matar paneer recipe, mutter paneer recipe
Preparation Time: PT10M
Cooking Time: PT30M
Total Time: PT40M
Recipe Ingredients:
Matar Paneer Recipe Restaurant Style: Matar Paneer is a very popular dish in India. It consists of paneer and peas (Matar). Generally, winter is the season for fresh green peas. But it is made with frozen peas all the time. Matar Paneer goes with roti but you can also pair it up with some jeera rice. It is a very quick recipe and that is why so many people prefer it to make even if they feel lazy to cook something elaborate during lunch or dinner.
There are some factors which you need to remember while making matar paneer.
✅ The usual vegetables used in matar paneer are very less which are like only some raw onions, cashews and tomatoes.
✅ The type of matar paneer is quite thick in its gravy and that is why some cream is added at last to make it smooth.
✅ All the ingredients should be sauteed at first to make the whole process flawless.
✅ The paneer should be fresh so that the aroma from the recipe becomes mind-blowing.
Matar Paneer Recipe Ingredients:
1 tablespoon of oil
2 pieces of cardamoms
1 inch of ginger
3 garlic
1 medium-sized onion
2 large-sized tomatoes
Around 10 cashews
Half a teaspoon of salt
2 tablespoons of butter
1 small size bay leaf
1-inch long cinnamon
1 teaspoon of chilli powder
A pinch of turmeric
1 teaspoon of gram Masala
A pinch of coriander powder
1 cup of water
Half cup of green peas (Matar)
1 full green chilli
250 grams of paneer
4 tablespoons of cream
1 teaspoon of Kasuri methi
Restaurant Style Matar Paneer Recipe Preparation
🔸 At first, you have to soak the paneer in some hot water for around 20 minutes and then drain out the water to use it. It is done to make the paneer soft.
🔸 Now you have to take 1 tablespoon of oil in a pan and fry some cardamoms, ginger and garlic when the oil becomes hot.
🔸 After a minute, you need to add chopped onions and fry them till they become golden.
🔸 Then you need to put tomatoes along with some turmeric and salt and cook it till it gets soft.
🔸 After that, you have to add the cashews and blend it with some water after cooling to get the finest puree ever.
🔸 Now you can take a bit more oil in the same pan and sauté some cinnamon and a bay leaf.
🔸 Then you can put the onion and tomato mixture in it and cook it after adding some chilli powder, coriander powder and garam masala. You need to keep stirring so that it does not get burnt.
🔸 Now you have to add the green peas and also add some water. You need to mix everything well to create the famous thick gravy. You can also add some water if needed.
🔸 Then you have to add some Kasuri methi (Fenugreek Leaves) by sprinkling all over the item and add salt, chilli and finally the paneer.
🔸 Now you have to wait for around 2 minutes to cook the whole thing and you can serve it after stirring properly.
The thick and rich Matar paneer is completely ready to have with some rice or paratha.
Summary
That's it! You now have a delicious and easy-to-follow recipe for Matar Paneer. This classic Indian dish is sure to impress your family and friends, with its combination of soft paneer cheese and juicy green peas in a creamy tomato sauce. Serve it with hot roti or steaming basmati rice, and don't forget to garnish with some fresh cilantro. Enjoy!