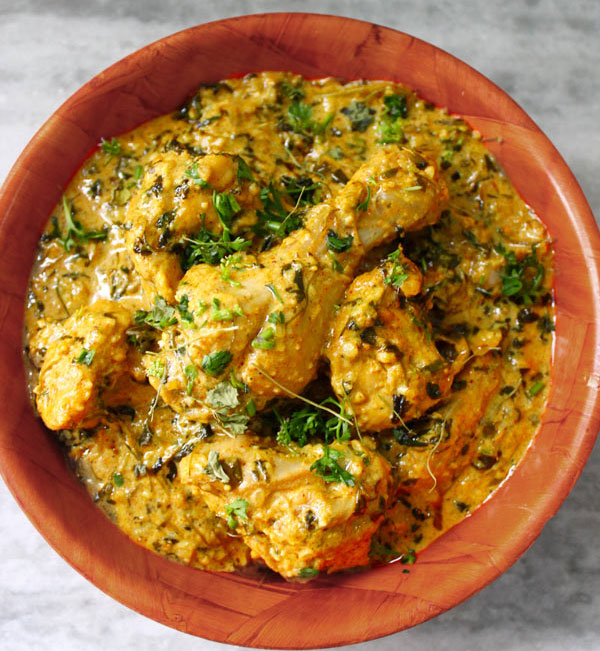 Aromatic and Delicious Methi Chicken Recipe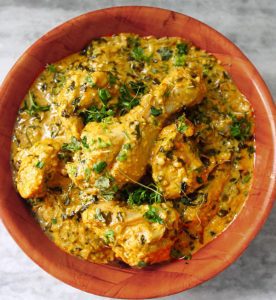 Methi Chicken Recipe: Paneer and chicken form an inseparable part of the Punjabi cuisine. They are prepared with a lot of variations to cater to everybody's
Type: Methi Chicken Recipe, Indian Cuisine, Indian Food
Cuisine: Methi Chicken Recipe, Indian Cuisine, Indian Food
Keywords: methi chicken recipe, methi chicken, chicken methi
Preparation Time: PT15M
Cooking Time: PT1H
Total Time: PT1H15M
Recipe Ingredients:
Methi Chicken Recipe: Paneer and chicken form an inseparable part of the Punjabi cuisine. They are prepared with a lot of variations to cater to everybody's taste. Methi Chicken is a tangy chicken, which is flavoured with kasuri methi. The dish is hugely popular among the people of Punjab. It can be served with rotis or parathas and serves as a satisfying meal.
Methi Chicken Recipe Ingredients For the Chicken:
1 medium chicken(1 ¼ kg. approx), cut into 8 pieces
1 cup thick curd, whisked
3 tablespoons ginger paste
3 tablespoons garlic paste
Salt to taste
Ingredients For the Masala:
2 cups onion, finely chopped
1 cup tomatoes, finely chopped
3 to 4 green chillies, finely chopped
1 teaspoon coriander(dhania) powder
1 teaspoon turmeric powder(haldi)
1 teaspoon chilli powder
1 teaspoon garam masala
2 tablespoons kasuri methi(dried fenugreek leaves)
3 tablespoons oil
Ingredients For the Garnish:
4 tablespoons chopped coriander
Methi Chicken Recipe Method For the Chicken:
Clean and cut the chicken and keep aside.
In a big bowl, add curd, ginger paste, and garlic paste, salt and marinate the chicken in this mixture for at least an hour.
Method For the Masala:
In a microwave safe bowl, combine the oil and onions and microwave on High for 13 ½ minutes, stirring after every 5 minutes, till golden brown.
Add the tomatoes, green chillies, coriander powder, turmeric powder, chilli powder, garam masala and microwave on High for another 10 minutes till the oil separates from the masala, stirring once after 5 minutes.
How to Make Methi Chicken
In a microwave safe bowl mix together the cooked masala and marinated chicken and microwave on High for 12 minutes, stirring in between.
Add the kasuri methi, reduce the power to 70% and microwave for 2 more minutes.
Serve hot, garnished with coriander.
Summary
Methi Chicken is a delicious and easy-to-make Indian dish that's perfect for any occasion. With its tender chicken, fragrant spices, and flavorful methi leaves, this dish is a true taste sensation. Whether you're serving it as a main course or as a snack, Methi Chicken is sure to impress. So why not try this Methi Chicken recipe today and discover the amazing flavors of Indian cuisine? Your taste buds will thank you!