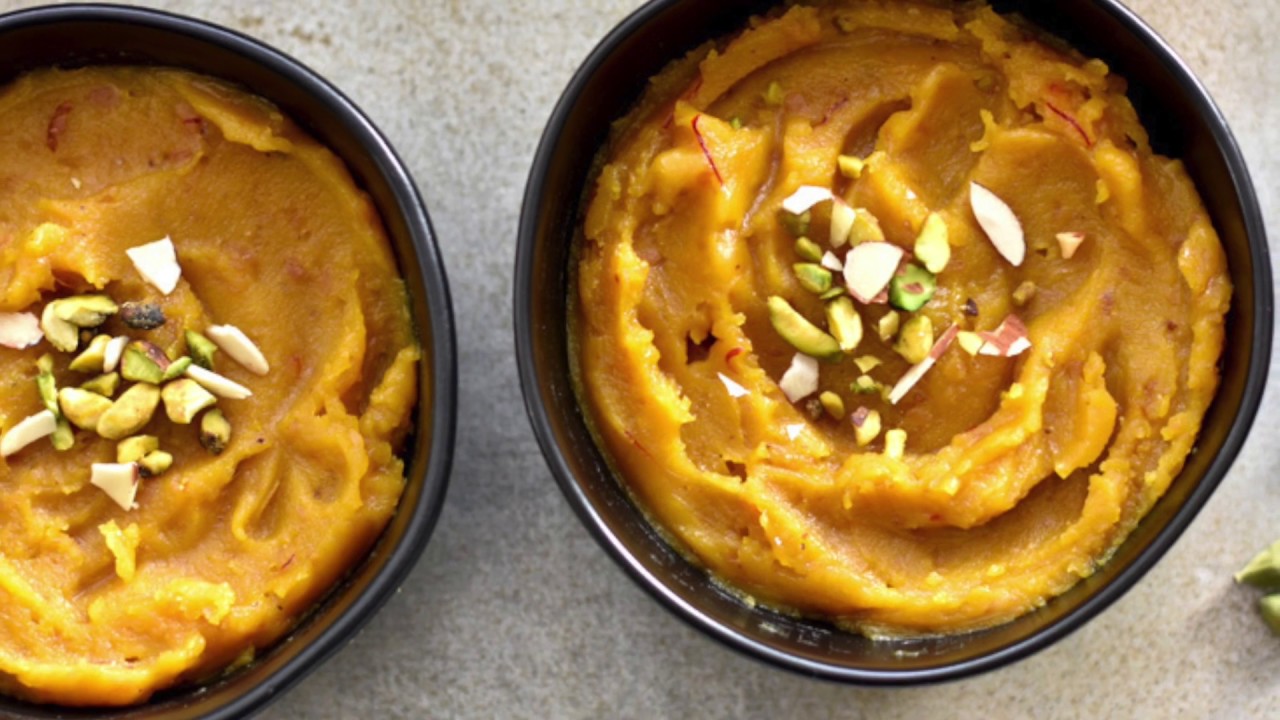 Moong dal ka halwa recipe is the one of the best desserts for a great celebration. You must have noticed that this is one of the most loved and mandatory desserts in most of the wedding because most people love it and always want to have this dessert after the meal.
Its delicacy and aromatic feature make it very unique. You can make creamy halwa without much effort. Next time guests visit your place; they must cook for them and have a bundle of appreciation from them.
You may also like: Most Loved Breakfast Option: Poha Recipe
The best thing about this Moong Dal ka Halwa recipe is that all the ingredients are easily available at your kitchen and hence you don't have to bother about buying the ingredients.
Moong Dal ka Halwa Recipe Ingredients:
Moong Dal – 1 Cup, without skin
Water – 1 Cup
Sugar – 1 Cup
Kesar – Just a pinch (optional)
Besan – 1 Tablespoon
Suji – 1 Tablespoon
Dry Fruits – Crushed (according to your taste and availability in your kitchen)
Ghee – 1 Cup (Ghee is used in a generous amount for this dessert)
Cardamom Powder – ¼ Tablespoon.
Moong Dal ka Halwa Recipe Preparation:
1. Soak the 1 cup moong dal for 4-5 hours; remove extra water after 4-5 hours.
2. Make a paste of it using a grinder.
3. Take a pan, add 1 cup ghee.
4. Put 1 tablespoon besan and suji, once the ghee melt.
5. Roast them, till it turns a little brown. Keep the flame low.
6. Now add moong dal to it and roast.
7. Also, prepare sugar syrup at another stove, while the moong dal roasts.
8. Take a pan, add 1 cup water and sugar to it.
9. Let the sugar completely dissolve in the water. Add saffron (optional) and cardamom powder in the sugar syrup.
10. Meanwhile don't forget to stir the dal and smash it little.
11. Now, the mixture will turn crumbly and you will notice that it is having sandy texture now.
12. Stir continuously till the dal turns golden brown.
13. Once you notice that the dal has started to bubble, add sugar syrup into it.
14. Turn the flame high and stir until the mixture absorbs all the water.
15. When the water is half absorbed, add all the crushed dry fruits and mix well.
16. When it soaks the water, turn off the flame and the delicious halwa is ready to serve.
17. Garnish it with the dry fruits.
Note:
1. Saffron is completely optional, but don't forget to add cardamom powder as it will enhance the taste.
2. When the moong dal turns golden brown, you can take that in a bowl and preserve it in a fridge for 1 month. It will not decay for the 1 month, just add sugar syrup to it, whenever you desire to have it and the halwa is instantly ready.
3. While adding sugar syrup to the mixture, maintain the distance as the syrup may get splutter.