Easy Paneer Tikka on Tawa Recipe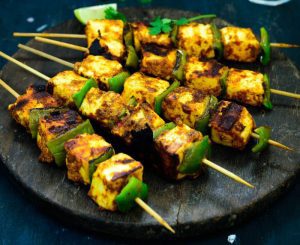 Paneer Tikka on Tawa Recipe: Paneer Tikka is popular street food, party snack or street food of India. A lavish starter in almost all the restaurants
Type: Paneer Tikka on Tawa Recipe, Indian Food, Healthy Food
Cuisine: Paneer Tikka on Tawa Recipe, Indian Food, Healthy Food
Keywords: paneer tikka on tawa, tawa paneer tikka, tawa paneer tikka recipe
Preparation Time: PT15M
Cooking Time: PT1H10M
Total Time: PT1H25M
Recipe Ingredients:
Paneer Tikka on Tawa Recipe: Paneer Tikka is popular street food, party snack or street food of India. A lavish starter in almost all the restaurants as people don't forget to order this dish. This high demand snack is easy to cook and healthy as well. This snack is ideal for those who are diet conscious. This is high in protein as well as preparation does not require deep frying making it least calorie-dense. The restaurant uses the tandoor, to make it but at home, you can prepare it on a Tawa or stovetop. In this blog, I am sharing the recipe either on Tawa or on the stovetop.
Paneer Tikka on Tawa Recipe Ingredients:
Thick Curd – 4 Tablespoon
Black Pepper – ½ Tablespoon
Lemon Juice – ½ Tablespoon
Cumin seed powder – 1 and a half tablespoon
Chaat Masala – ½ Tablespoon
Black Salt – ½ Tablespoon (Optional)
Garam Masala – ¼ Tablespoon
Kasuri Methi – ½ Tablespoon
Salt – 1 Tablespoon
Kashmiri Red Chilli – 1 Tablespoon
Besan -1 Cup
Ginger Garlic Paste – 1 Tablespoon
Mustard Oil – 2-3 Tablespoon
Paneer – 8-10 Pieces
Onion – 8 – 10 Pieces
Capsicum – 8 – 10 Pieces
Paneer Tikka on Tawa Recipe Preparation:
Marinating is the key step in the Paneer Tikka.
Take a bowl; add 4 tablespoons thick curd, ½ Tablespoon black pepper followed by lemon juice.
Note: Lemon juice is used to make it sour, in case the curd is not that sour, you can increase the quantity of lemon juice.
Add all the other ingredients cumin seed powder, chaat masala, black salt, garam masala, crushed kasuri methi, salt, Kashmiri red chilli, 1 cup besan, ginger garlic paste.
Take a tadka pan, add 2-3 tablespoon mustard oil and heat it till it smokes.
Note: Mustard oil is the main ingredient; do not use any other oil.
Add the oil in the mixture and give it a nice mix.
Note: In case the consistency is very thick, add 1 tablespoon more curd.
Add equal quantity of paneer, onion, and capsicum in the mixture and mix well.
Keep it aside for 20 – 25 minutes, in case you don't have enough time else keep it for 2 hours.
Note: By keeping it for a long duration, it will absorb more masala and taste delicious.
Roasting on Tawa
Non-stick tawa is recommendable so that the paneer will not stick to it.
Heat the tawa, place pieces of onion, paneer, and capsicum on it.
Roast well from all the sides.
Use butter/ghee for roasting.
Note: Butter will give a nice taste as compared to ghee.
Roast from all the sides.
Note: Do not roast very much, paneer will become hard. Take them on the plate and the paneer tikka is ready to serve.
Roasting on Stove Top
For roasting on the stove, you need a tandoor stick or kabab stick.
Insert a small piece of potato at the end of the stick. Make the layer in the stick by inserting 1 piece of paneer followed by 1 piece of onion and 1 piece of capsicum.
Note: we insert potato at the end so that paneer would not break and fall from the stick.
Do not fill the stick; leave some space at the above surface as well.
Again place a piece of potato at the end.
Now hold the stick from the edge and place it directly at the high flame on the stove.
Roast till it gets golden brown.
Rotate the stick and roast it from all the sides.
1 stick will take 1 to 2 minutes to roast.
Remove the potato piece and place the roasted stuff on the plate.
Repeat the process.
Paneer Tikka is ready to serve.
Summary
Paneer Tikka on Tawa is a delicious and easy-to-make Indian dish that's perfect for any occasion. With its juicy and flavorful marinated paneer, crisp vegetables, and aromatic spices, it's a true taste sensation. Whether you're serving it as a snack or as a main course, this dish is sure to impress. So why not try this Paneer Tikka on Tawa recipe today and discover the amazing flavors of Indian cuisine? Your taste buds will thank you!