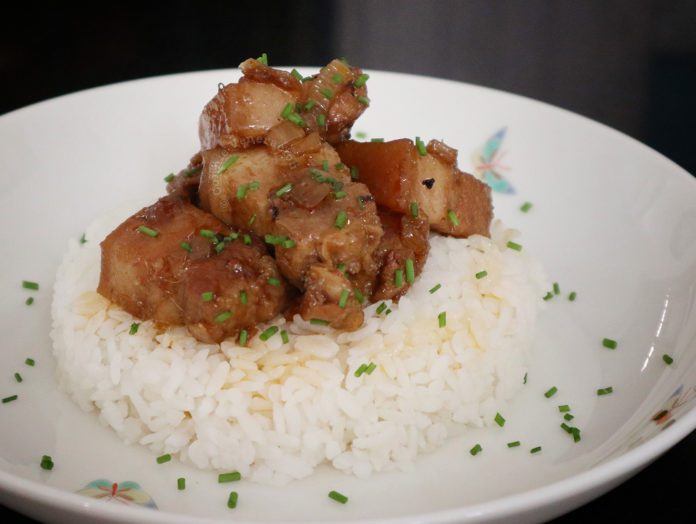 Pork Binagoongan Recipe
Pork Binagoongan Recipe is a popular part of Filipino or Pinoy cuisine.  It is a kind of stew that uses succulent pieces of pork along with vegetables in a fermented fish paste.  Everything is simmered together in a pot which ensures that the ingredients are cooking in their own juices.  It can be made as spicy or as mild as one likes.
What kind of pork to buy for Binagoongan?
Usually, a meaty piece like the shoulder or the thigh is used, but some people prefer to use pork belly instead.  In other words, a meaty piece would mean more protein, while cuts like the belly will render increased fats to the dish.  Ideally, a good mix of both meat and fat is good to bring about the perfect balance for the dish.
Ingredients 
1 ½ lb pork, diced into pieces
2 tomatoes, chopped
1 Chinese eggplant, sliced
3 ½ cups pork stock
3 tbsp vinegar
4 tbsp bagoong alamang
1 onion chopped
3 cloves garlic chopped
2 tsp sugar
⅛ tsp freshly cracked black pepper
3 tbsp oil
Method of Preparation
Add some cooking oil to a saucepan once it has been heated on the gas.
Lightly saute onions, garlic, and tomatoes.  When the onions soften, add the pork and cook till it is tender.  It should take anywhere between 5-10 minutes.
Add alamang and cook for a further 5 minutes.
Add in the vinegar.  Cook till it comes to a boil, about 2 minutes.
Add the pork stock to the saucepan.  Cover and let it simmer till the pork is fully cooked.  Adjust the flame to medium.  This should take around 45 minutes.  You may add more water or stock if you feel that the water has decreased.
Add the eggplant and cook for further 5 minutes till the vegetable has cooked through.
Add sugar and salt, as per your taste.
Serve hot over steamed rice or with bread & your pork binagoongan recipe is ready.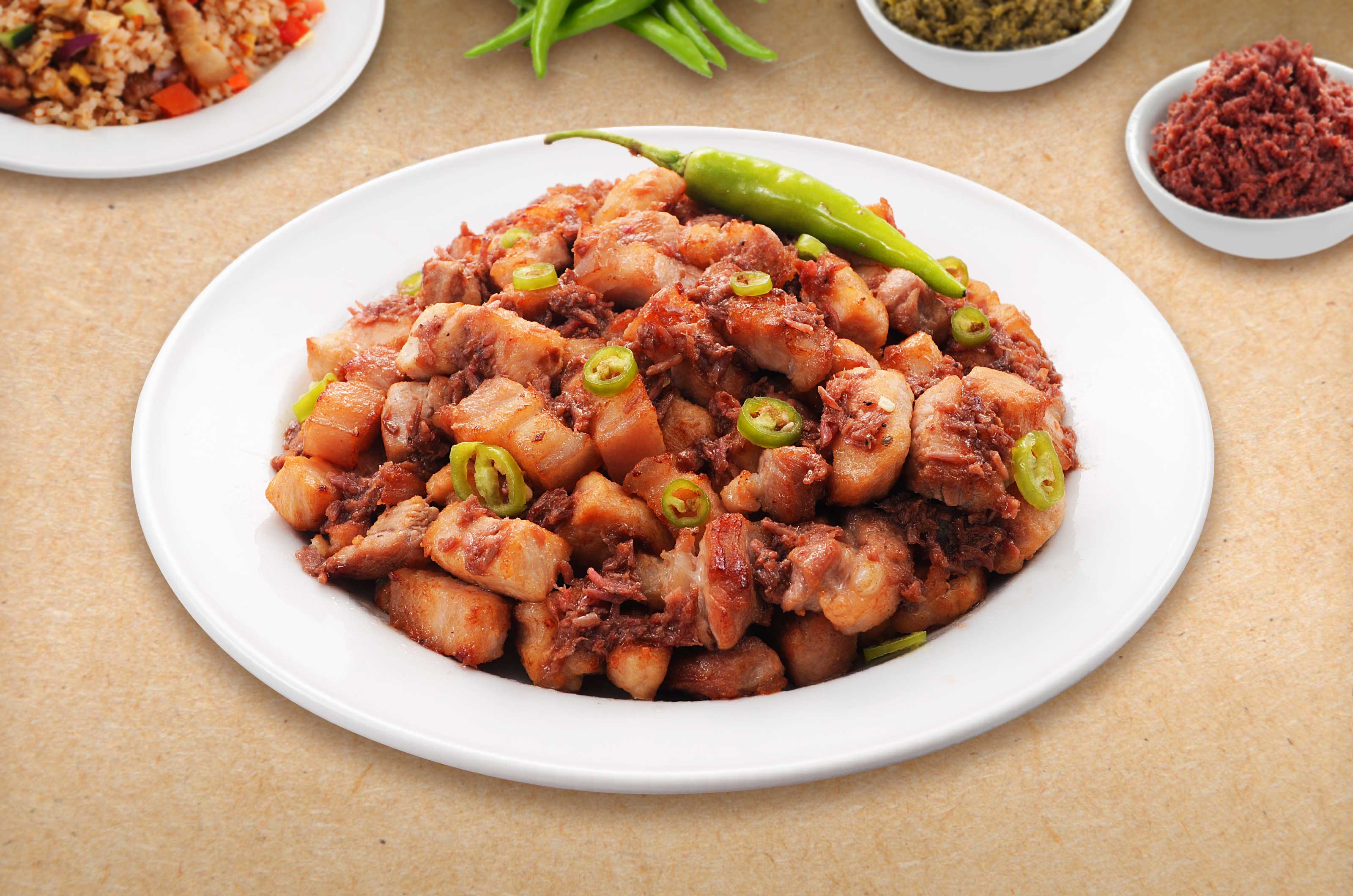 Tips For The Best Binagoongan
Make sure that you have a good mix of the pork.  An equal quantity of meaty pieces along with some fat works best.
Cleaning pork well is of utmost importance since the meat contains a notorious amount of parasites.  Make sure that the rind and the fat are both well cleaned.  The practice of cleaning the rind in hot water is also widespread.
There are different recipes that you can adapt according to your taste.  You could make it spicier, thicker or blander, by adjusting the spices used.
Cook the dish like you would make a stir fry rather than a stew.  Add the vegetables that cook slowly first.  Add the tomatoes in the beginning so that they can get well blended into the gravy.  If you add the eggplant early, it will get mushy.  So the idea is to add the vegetables keeping in mind how long they take to cook.
Make sure that the fish paste is added only after the pork is thoroughly cooked.
You could also add some salt and lemon juice to the pork and marinate it overnight if you want the pieces to be really tender and juicy.
Once the fish paste is added, the pork will not cook as easily, and it might get too salty if it is overcooked.
If you want a more intense flavour to the dish, make sure that you reduce the gravy.  This will make the curry thicker and give the gravy a stronger flavour.
You may add any vegetables of your choice other than those mentioned in the recipe.  Some add potatoes and anchovies as well.  This will alter the flavour of the dish slightly.  The main idea is to add as many vegetables as possible to balance out the high fats in the pork.
Can Binagoongan be prepared with anything other than pork?
Although pork is one of the most common options for making this dish, because of its mild flavour and high amount of fat, which gives the dish a rich and hearty flavour, the dish is known to be prepared with chicken and beef well.  The dish is made differently all over the Philippines, and many variations have been recorded.
The Pork Binagoongan recipe is part of authentic Filipino cooking, and hence the recipe has been preserved and passed down for many generations.  This recipe forms a treasured part of many Filipino homes.  For more such rare and exotic recipes, visit our website, foodiewish.com.
We hope you liked our Pork Binagoongan Recipe. For more such recipes information, follow our Blog, foodiewish.com.