Cheesy and Spicy: Street Style Schezwan Maggi Recipe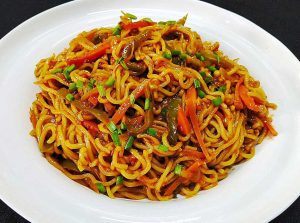 Schezwan Maggi Recipe: Maggi is one of the leading and old brands in India, it is preferred by every Indian, no matter where they are residing.
Type: Schezwan Maggi Recipe, Indian Style Maggi
Cuisine: Schezwan Maggi Recipe, Indian Style Maggi
Keywords: schezwan maggi, how to make schezwan maggi, schezwan maggi recipe
Preparation Time: PT10M
Cooking Time: PT10M
Total Time: PT20M
Recipe Ingredients:
Schezwan Maggi Recipe: Maggi is one of the leading and old brands in India, it is preferred by every Indian, no matter where they are residing. It caters to your hunger pangs with limited time; tastemaker adds the unique aroma and flavour, and makes it the special snack. Since childhood, I am having this snack and loving it each time more and giving a try to every variation, I came across. While traveling to a tourist destination, many people like to have masala Maggi with the cup of tea at the small roadside dhabas, because it is refreshing and filling.
This is famous mostly among kids and youngsters. This is one of the good options for those who don't have enough time to cook, or too tired to cook the food, or people staying at PG's who don't have enough options to prepare. "Maggi is the boon for every bachelor, who is staying alone".
Maggi's famous tagline is "2 minutes noodle" and no one cannot deny the fact that it is very easy and quick to prepare.
Usually, we cook regular Maggi at home, it is delicious. But try the schezwan cheese and spicy Maggi at home, it will satisfy the craving for something spicy.
Maggi is famous street food, especially in Mumbai, they make the spicier and delicious as compared to the Maggi, we cook at home. Try the street style, Maggi, at home and you will like the fusion of spicy sauce and cheese. Make your bowl better and more delicious by adding veggies of your choice, eggs, or any other your favorite ingredients.
Prep Time: 5 mins
Cook Time: 15 mins
Total Time: 20 mins
Course: Snack
Cuisine: Chinese
Servings: 2 People
Calories: 330kcal
Equipment: Pan, ladle
Schezwan Maggi Recipe Ingredients
2 Cakes Maggi
2-3 tbsp Butter
1 Onion (chopped)
1 Tomato (chopped)
½ Capsicum (chopped)
1 Carrot (Grated)
1 tbsp Schezwan Sauce
2 tbsp Cheese (Grated)
Salt to taste
Schezwan Maggi Recipe Preparation
Take a pan, add 1 tablespoon butter and let it melt.
Add all the vegetables, onion, capsicum, tomato, and carrot in the pan (you can add other vegetables as well as beans, cabbage, etc.)
Sauté for 1 minute and cover for 2 minutes. You have to semi-cook vegetables.
Add sachezwan red chilli sauce and mix well. Cook it for 1 minute.
Add 3-4 cup water. Add Maggi masala in the water.
Add Maggi cake in it and salt to taste.
When the Maggi is half-cooked, add the grated cheese in it.
Mix well till the cheese dissolve and the water is absorbed by the maggi.
Maggi is ready to serve, serve hot.
Bottom Line
Enjoy spicy and cheesy flavour Maggi with tea or coffee. There are many variations of Maggi, but in this blog, I have shared the cheesy and spicy version which is as delicious as any other variant. But, if you are preparing it for your kid, do not add schezwan red chili sauce, as it is too spicy for the children.
You can adjust the spices according to your spice level. To make it spicier, you can add 1 chopped green chili as well. Also, adjust the usage of butter and cheese according to your preference, some people do not prefer calorie-dense food and using the generous amount of butter and cheese will add the flavor to the recipe but on the other hands, it will increase the calorie level.