Sisig recipe
Sisig recipe is a Filipino dish comprising hot and sizzling fatty pieces of pork with crunchy, sweet purple onions mixed in tangy lime juice and savoury soy sauce dressing. It is a marriage of flavours like no other.  The tanginess of the lime perfectly complements the heat in the chilly and the saltiness of the pork.  It is the perfect food to have while knocking down a few pints in the pub.
What Is Sisig?
Sisig comes from the word "sisigan", whose literal meaning is to make something sour. The earliest origins of this dish trace back to 1732 as a sour salad that included green papaya or green guava, eaten with a dressing of salt, pepper, garlic, and vinegar. The excessive sourness of this dish was what enabled it to be a cure for vomiting and hangovers.
Though this dish has been around for some time, it gained immense popularity in the mid-1970s when it was reinvented by Lucia Cunanan, a Filipino restauranter. While grilling, she burned the pig ears accidentally but did not want to waste or throw it out; she chopped it up and mixed it with vinegar. She then took it a step further by serving it on a sizzling hot plate, which enabled the meat to stay soft but crispy. She has since been called the sisig queen affectionately and put Angeles city on the map as sisig capital. Thus this dish became one of the most famous dishes of Kapampangan cuisine.
Traditionally this dish uses the unwanted parts of the pig, such as the face, including the cheeks, snout, and ears. It also has chicken liver, pig brain added to the preparation, and onion and calamansi. This small, round, green fruit is so tart that even just a quick squeeze of the fruit over your favourite food is bound to pack a flavorful punch. Due to the rise in healthy and clean eating, local chefs have started experimenting with ingredients other than pork, such as squid, tuna, and tofu, so that people can still enjoy this flavourful dish. There is also chicken sisig which is an excellent advantage for those who don't enjoy eating pork.
While the modern sisig has evolved largely, authentic places still use the pig ears but have now included the pork belly for a fatty flavour. Some restaurants have taken it a notch higher with the addition of pork cheek, liver, snout, or pork shoulder/butt.
What does sisig taste like?
In short, sisig is a delicious crispy pork salad. It has a combination of savoury and fatty flavours from the grilled pork, and this is topped off with fruity citrus from the limes (or calamansi) and sweetness from the purple onions.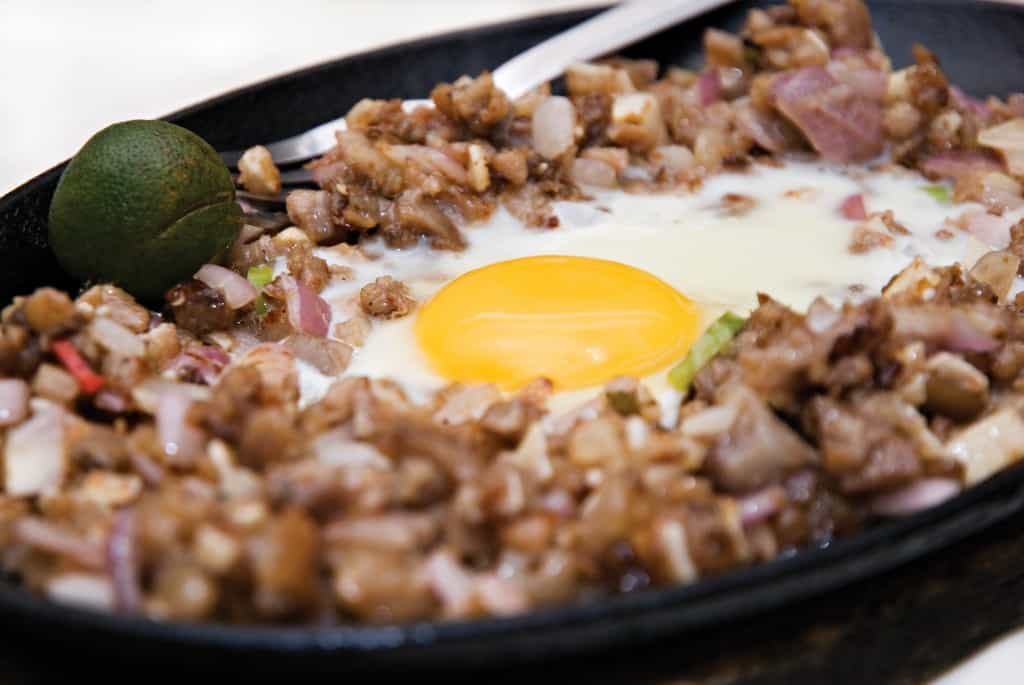 SISIG RECIPE:
Ingredients:
Braise
½ lb pork face parts
½ lb pork belly
¼ cup vinegar
Three crushed garlic cloves
One bay leaf
1 tsp salt
16 cups water
Dressing or sauce:
2 tbsp vegetable oil
2 tbsp minced garlic
2 tbsp calamari or fresh lime juice
½ tbsp soy sauce
1 cup chopped red onion
Salt and pepper to taste
Directions:
In a large pot over medium heat, add pig face pieces, pork belly, vinegar, garlic, bay leaf, salt, and water and bring it to a boil.
Now lower the heat to a simmer and braise for 1 hour, keeping the lid on. This helps to soften the meat.
Check the braise after 25 mins and remove the fat that has accumulated over the top.
Switch off the flame after an hour and dry off the meat using paper towels.
Make a small slit in the pig ears to prevent it from bubbling up while grilling.
Cut the pork belly to 1-inch cubes and grill it with pig face meat on medium-high heat on a charcoal grill until the heart has a nice chargrill texture.
Using a cutting board, cut the meat into small ¼ size pieces.
In a heated cast iron pan over the grill, add the vegetable oil and saute the garlic for 30 secs. Now add the chopped meat and cook until the meat crisps on the edges; this usually takes about 3-5 mins.
Remove the pan from the grill and add onions, soy sauce, calamansi juice, salt, pepper, and stir.
Serve on a sizzling plate.
We hope you liked our Sisig Recipe. For more such recipes information, follow our Blog, foodiewish.com.