Spicy Cabbage Pakoda Recipe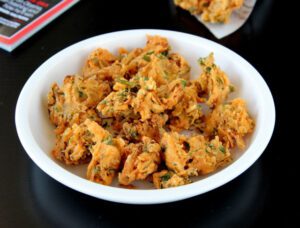 Cabbage Pakoda Recipe: People prefer to have snacks in the evening time as refreshments. You have various drinks, chips
Type: Snacks
Cuisine: Indian Food
Keywords: cabbage pakoda recipe, cabbage pakoda, cabbage pakoda recipes
Preparation Time: PT10M
Cooking Time: PT20M
Total Time: PT30M
Recipe Ingredients:
Cabbage Pakoda Recipe: People prefer to have snacks in the evening time as refreshments. You have various drinks, chips and junk food available in the bakeries and market. Winter has almost arrived in some parts of the world. What comes in mind when it's drizzling outside? Immediately the answer we would expect is "garam garam pakodi".
You may also like:
Don't even think whether it is prepared at road sides or at home but enjoy eating. Tea with pakodi makes a nice combination which is loved by everyone. Pakodas can be prepared using various vegetables, bread, corn, cabbage, paneer, onion etc.
Let us concentrate on making cabbage pakoda. As the pakodas are oil item and deep fried few people don't like to cook at home. But sometimes can't stick to rules and regulations. This type of cabbage pakodas is a perfect snack item which can prepare at weekends and also for parties.
Cabbage pakodas are crispy and crunchy. We have many vegetables and most people stay away from cabbage. Though it not maybe a pretty and tastiest vegetable but the cabbage pakoda is a superb recipe and liked by all. As it includes besan and different flavors gives additional taste to the pakoda. But don't think as it of protein and calorie food.
The cabbage pakoda making at home will not take more than a 20 minutes. So what are you for? The simple ingredients and making process is given below.
Cabbage Pakoda Recipe Ingredients:
Cabbage – 1 cup (chopped)
Rice flour – 1 tablespoon
Besan – 200gms
Salt – as per taste
Coriander leaves – few
Oil – for deep fry
Red chilli powder – 1 tablespoon
Jeera powder – 1/2 tablespoon
Ginger and garlic paste – 1 tablespoon
Cabbage Pakoda Recipe Preparation
Take a bowl mix the chopped cabbage, rice flour, besan, salt, red chilli powder, ginger and garlic paste, jeera powder and coriander leaves.
Mix it well by adding little water. By adding too much of water the batter becomes loose with which the batter may not be useful for pakoda.
Take a pan and let the oil to heat in medium flame.
Make the pakoda mixture as a ball and drop it into the oil.
As color of the pakoda changes into brown color removes it from the frying pan and put it on the plate.
Drain the excess oil using tissue papers.
Enjoy the yummy pakodas with the tomato sauce.
Image Source