Nutritious & Delicious Tawa Paneer Masala Recipe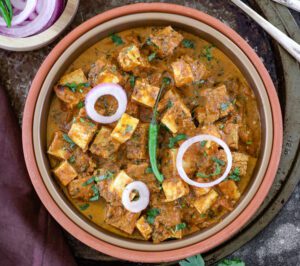 Tawa Paneer Masala Recipe: In my previous blog post, I have shared many paneer recipes. As I told that the preparation is almost the same
Type: Tawa Paneer Recipe, Paneer Recipe, Indian Cuisine
Cuisine: Tawa Paneer Recipe, Paneer Recipe, Indian Cuisine
Keywords: `tawa paneer, tawa paneer recipe, tawa paneer masala
Preparation Time: PT10M
Cooking Time: PT20M
Total Time: PT30M
Recipe Ingredients:
Tawa Paneer Masala Recipe: In my previous blog post, I have shared many paneer recipes. As I told that the preparation is almost the same, what differs are the ingredients. So, here is another lip-smacking paneer recipe – "Tawa Paneer masala", which is cooked in a restaurant-style.
So, the main steps in this recipe are marinating the cottage cheese (Paneer) and the use of pav bhaji masala. Pav bhaji masala will give a nice aroma and astounding taste, so I suggest not avoiding using it.
Again, this recipe is fast and delicious to cook. All the paneer recipes are incredible and people love to prepare it for special occasions. Apart from it, you can prepare it for breakfast, or kids' lunch, as this dish is quick to prepare.
Servings – 3
Cooking Time – 20 Minutes
Preparation Time – 10 Minutes
Cuisine – Indian
Courses – Main Course
Equipment – Ladle, Pan, and Grinder
Calories – 400 per serving
Tawa Paneer Masala Recipe Ingredients:
Curd – ¼ Cup
Ginger Garlic Paste – 1½ Teaspoon
Red Chili Powder – ½ Teaspoon
Turmeric Powder – 1/2 teaspoon
Coriander Powder – ¼ Teaspoon
Cumin Seeds Powder – ¼ Teaspoon
Garam Masala – ½ Teaspoon
Carom Seeds – ¼ Teaspoon
Kasuri Meethi – ½ Teaspoon
Lemon Juice – 1 Teaspoon
Oil – 3-4 Teaspoon
Salt – 1 Teaspoon
Paneer – 250 Grams
Butter – 1 Tablespoon
Cumin Seeds – 1 Teaspoon
Onion – 1, chopped
Capsicum – ½, chopped
Pav Bhaji Masala – 1 Teaspoon
Tomatoes – 2, Make a fine puree
Tawa Paneer Masala Recipe Preparation:
Start the process by marinating the cottage cheese. Take a bowl. Add curd, ginger garlic paste, red chili powder, turmeric, coriander, cumin seeds powder. Also, add garam masala, carom seeds, kasuri meethi, lemon juice, oil, and finally salt.
Mix well with the help of hands and prepare the smooth consistency batter.
Add paneer to it. Mix well, and make sure that paneer cubes do not break.
Rest it for 30 minutes.
After 30 minutes, again mix well.
Take a pan, preferably non-stick. Add 1 teaspoon oil on it. Let it heat and gently place all the paneer cubes.
Roast them from all sides. Keep the flame medium. Roast till they turn golden brown. Once done keep them aside.
Take another pan. Add 1 tablespoon butter and oil in it. Add cumin seeds. Sauté it, it will give a nice aroma.
Add onions in it. Also, add ginger garlic paste. Roast them till the onions are cooked and turn brown.
Add capsicum in it. Sauté well. Do not overcook it.
Add turmeric powder, pav bhaji masala, and salt ½ teaspoon.
Mix well. It will turn aromatic. Pav bhaji masala will give it a nice taste.
Add the tomatoes puree in it. Sauté well. Allow it to cook till the ingredients thicken and oil starts to separate from it.
Add 3 teaspoon water, do not add much water, this recipe is cooked dry.
Mix all the ingredients well. Finally, add cottage cheese and mix gently.
Garnish it with coriander leaves.
The dish is ready to serve.
If you want to prepare for breakfast, you have a short of time then do the marinating the cottage cheese one night before and keep it in a fridge.
Also, adjust the quantity of butter according to your taste. You can use more or less as per your desire.
You May Also Love These Delicious Paneer Recipes:
Image Source