Bun Bo Hue is a popular and spicy Vietnamese noodle soup dish that originated in the city of Hue in central Vietnam. It is made with a flavorful broth, noodles, meat (typically beef), and a variety of herbs and spices. This dish is known for its balance of flavors and its warming, comforting qualities, making it a popular comfort food in Vietnam.
What Is Bun Bo Hue Recipe?
The literal meaning of bun bo Hue is beef noodles from Hue in which Bun means noodles, Bo means beef, and Hue is the city in Central Vietnam, from which it originated. While The traditional Bun bo Hue recipe features beef shank and gelatinous pig blood, It is also made from pork bones.
The broth for bun Bo Hue recipe is prepared by slowly simmering various beef and pork bones (oxtail, beef shank, pork neck bones, pork feet, and pork knuckles) with a lot of lemongrasses. The fiery spices, created by frying together garlic, shallots, red pepper flakes, shrimp paste, and ground annatto seeds, are added later in the cooking process. Though not conventional, some people even add a ripe pineapple to the broth, thus lending it a fruity, citrusy flavour.
Assembling this spicy bowl of delight is easy. Thick round rice noodles are added to a bowl and then topped with slices of brisket, pieces of ham hocks, and cubes of congealed pig's blood. The broth is ladled on top and then finished with a garnish of sliced onions, cilantro, shredded cabbage or banana blossoms, bean sprouts, Thai basil, and other Vietnamese herbs.
An authentic component is cubes of congealed pork blood prepared by allowing fresh blood to clot and then boiling it with salt to solidify it.
Banana blossoms are another component that elevates this dish, but you can make do with red cabbage if it is not available.
Ultimately, the sate or spicy chile condiment makes this dish what it is and separates it from a hearty pho; this is why Bun bo Hue is jokingly called pho's hotter, younger spicier cousin.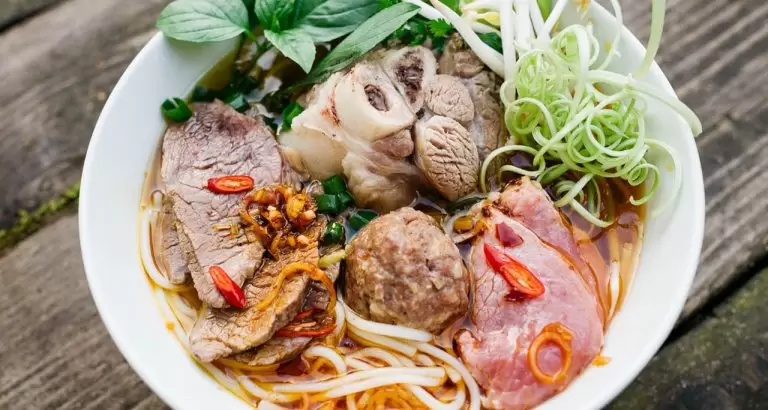 Difference Between A Pho And Bun Bo Hue Recipe?
There are several differences between these delicious Vietnamese dishes.
Pho uses flat noodles, while bun bo Hue uses thick round noodles.
The broth in pho is typically all beef or chicken and served with cuts of meat from the same animal, while bun bo Hue typically uses both beef and pork in the same broth.
Although pho does not lack in flavour, bun bo Hue does pack more of a punch due to the chile paste.
Recipe For Bun Bo Hue
Ingredients for Bun Bo Hue Recipe
Broth
1 lb brisket
1 lb oxtail or pig bones
Three stalks crushed lemongrass
Two shallots halved
Sate
3 tbsp ground annatto seeds
Three stalks minced lemongrass
One shallot chopped roughly
Four garlic cloves
4 Thai chillies
½ cup canola oil
¼ cup chilli flakes
¼ cup sugar
¼ cup fish sauce
1 tbsp shrimp paste
Assemble
Eight beef meatballs halved
8 Vietnamese ham slices
½ cup pigs blood cut into cubes
14 oz vermicelli (thick)
¼ red onion finely sliced
1 cup sliced banana blossoms
4 stems sawtooth coriander
Four cilantro sprigs
4 Thai basil sprigs
1 cup bean sprouts
How to make delicious Bun Bo Hue Recipe?
Bring 8 cups of water to a boil in a large pot
Rinse the oxtails or pig bones and add to this pot along with lemongrass and shallots and allow to simmer on low flame for 3.5 hours.
Now add the brisket and allow to simmer for another 2 hours.
While the broth is simmering, make the sate paste of the lemongrass, shallots, garlic, and chillies in the food processor.
Switch off the broth once done and add more water and check the salt and seasonings.
Now heat the oil in a saucepan on medium heat until it shimmers, and add the sate paste and fry. Keep stirring for 1-2 mins.
Switch off the flame and add the chilli flakes, sugar, fish sauce, and shrimp paste.
Cook the noodles as per the package
Assemble the noodles in the bowl, followed by the brisket, beef balls, ham, and pig blood.
Put 1-2 tbsp of sate depending on your spice tolerance
Ladle on the broth and top off with banana blossoms, bean sprouts, sliced onions, sawtooth coriander, cilantro, and Thai basil.
Summary
If you're a fan of spicy food and looking for a new and flavorful noodle soup recipe, then Bun Bo Hue is a great option to try. With its unique blend of flavors and ingredients, this dish is sure to satisfy your taste buds. Whether you make it at home or try it at a local Vietnamese restaurant, Bun Bo Hue is definitely worth a taste!