English Muffin Nutrition Facts
Introduction
English Muffins are a good source of breakfast. It is better than the usual bread. Most of us prefer English muffins over bread because it is nutritious and good for health-conscious people. However, you can eat English muffins at any time of the day as it is low in fat but high in nutritional content. You can also use butter or jam with English muffins to make it taste great. 
Most of us prefer English muffins for breakfast as they have low-calorie content.
Here are some nutritional facts about English muffins.
Calories: 132

Sodium: 246mg

Fat: 1g

Carbohydrates: 25g

Sugars: 2g

Fibre: 2g

Protein: 5.1g
You will be able to find the Standard English muffins at your local grocery shop. 
However, there are varieties of English muffins. Following are the different types of English muffins along with their nutritional content:
An English muffin, made from whole grain, contains 118 calories. It also includes some favourable healthy nutrients for your health, like 5 grams of protein, 23 grams of carbohydrate, and 4 grams of dietary fibre. The proportion of sugar and fat content is, however, less.

A multigrain English muffin contains 136 calories and only 5 grams of protein. However, since it contains 27 grams of carbohydrates, it has a satiety value. It does not contain sugar and almost no fat, thus making it one of the best healthiest diets for your breakfast.

An oat bran English muffin contains 137 calories. 

The protein content is only 6 grams of protein, while the carbohydrate content is 23 grams. It contains sugar and fat in less proportion. 

A whole-wheat English muffin with raisins provides 123 calories and 5 grams of protein. It also contains 25 grams of carbohydrate and 4 grams of dietary fibre, 7 grams sugar, 1 gram of fat, and 193 milligrams of sodium.

A sandwich-size English muffin is rich in calories and carbohydrates and accounts. However, the sugar and fat content is less. 
Following are some of the other nutritional facts of English muffins.
Carbs
English muffins contain a certain percentage of calories. However, the source of the calories is the starch present in the carbohydrates. Therefore, the calories present in English muffins come primarily from the starch present in the carbohydrates. However, English muffins do not contain starch; you buy a whole-wheat English muffin. Therefore, it is a good food source for health-conscious people as it does not have any sugar content.
Fats
The good news is that English muffins do not have any fat content. Hence it has become a favourite breakfast for many. However, adding butter and cheese toppings with English muffins is not healthy. Of course, you can occasionally use the fat content, but if you regularly use butter and cheese with your English muffins, the proportion of fat content in your daily meal will become high.
Protein
They also have some proportion of protein. However, you can consume English muffins to replace your daily protein intake.
Micronutrients
The muffins do not have a high content of minerals or vitamins. However, you can get a small proportion of riboflavin, thiamin, and niacin. It also contains phosphorus and manganese in small proportions.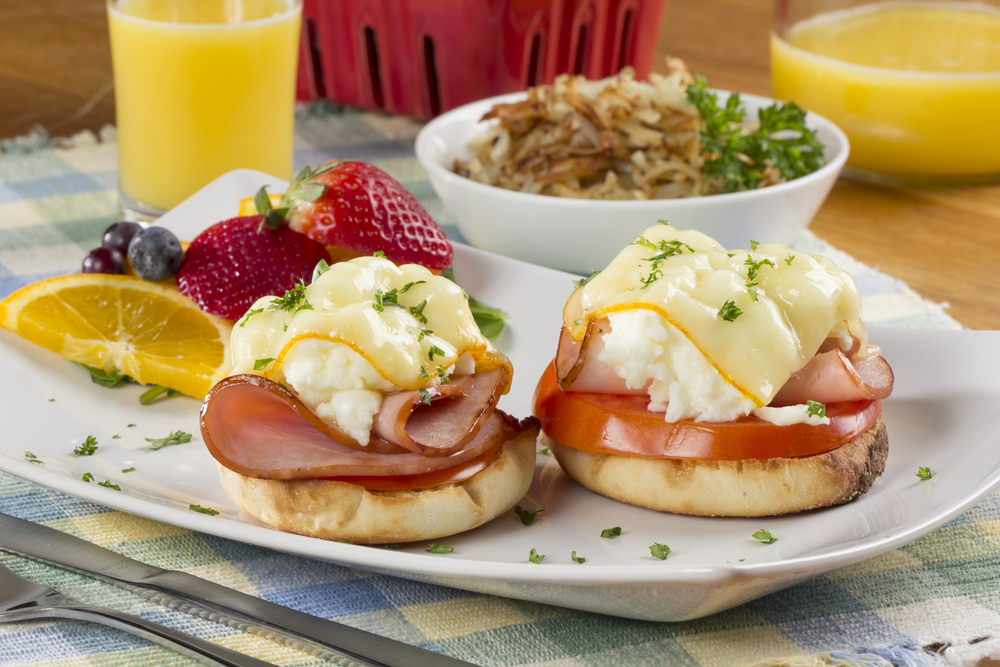 Some of the health benefits of English muffins are as follows;
 Since English muffins have only 134 calories, you can have them any day. Many widely use it as one of the best healthy diets for your morning breakfast.

Since English muffins contain fibre, it gives you a feeling of fullness after consuming any part of the day, especially in the morning. The slow digestion of English muffins helps keep your stomach full. It also contains protein which is a healthy nutrient for your daily diet.

English muffin also contains manganese which is essential for the formation of bone. It also increases the metabolism process in your body, thus giving you the much-required energy. One whole English muffin is almost enough to provide you with the necessary nutrients you require in a day.

Selenium is another essential mineral that is present in English muffins. It protects the cells of your body and supports your immune system. Since it works well with Vitamin E, it protects your body from diseases and helps your body function properly.

One of the significant advantages of having English muffins is that it contains calcium. Calcium helps to make your bones strong. If you eat English muffins, the calcium content will also strengthen the tissues of your body. It will help you later as the bones do not lose their strength. Calcium also helps to clot your blood. 

It helps make your nerves usually function and supports the contraction of muscles.
Conclusion
English muffins remain to be one of the most popular breakfasts among many. You can eat it at any time of the day as it contains all the healthy nutrients your body needs. However, a whole-grain English muffin is the healthiest choice for your daily morning breakfast. 
We hope you liked our English Muffin Nutrition Facts. For more such information, follow our Blog, foodiewish.com.