Notably, we all are fond of snacks and that too the ones which must be highly nutritious and healthy for us. People do rely on factors like taste, flavors, stuffings, and availability, but are concerned about what they are actually consuming. One of such snacks available in the market is trail mix. This amazing snack is perfectly specialized based on the personal choices of the customers. So, if you are an admirer of trail mix, then here are some mind blowing nutritive facts about it.
What Is a Trail Mix Snack?
Trail mix is a mixture that was generally prepared to fulfill the convenient snack requirement of the consumers. However, the constituents of this snack may vary due to numerous varieties. The main ingredients are granola, seeds, nuts, dehydrated fruits, and some candies also.
Considerably, some of the flavors of this snack are also enriched with candy, popcorns, chocolate chips, cereals with spices, and additional flavorings. These mostly involve garlic powder, paprika, some sea salt, and cinnamon powder. However, a few other flavors of trail mix also comprise sweeteners such as maple syrup or honey.
Let's have a look at the amazing Trail mix nutrition facts in detail.
Trail Mix Nutrition Facts Chart – (Nutritive Values present in 73 grams of trail mix)
The trail mix snack has huge nourishment values that make it highly preferred and they are noted below:-
Calories: 353

Total Fat: 23 grams or 35 percent of Daily Values.

Saturated Fat: 22 percent of Daily Values or 4.4 grams.

Cholesterol: 2.9 milligrams or 1 percent of Daily Values.

Protein: 14 grams

Potassium: 14 percent of Daily Values or 473 milligrams.

Total Carbohydrates: 33 grams or 11 percent of Daily Values.

Sodium: 88 milligrams or 4 percent of Daily Values.

Dietary Fibers: 15 percent of Daily Values or 3.7 grams.

Sugars: 17 grams

Vitamin A: 18.5 micrograms or 1 percent of Daily Values.

Vitamin B: 0.1 milligrams or 9 percent of Daily Values.

Vitamin C: 0.5 milligrams or 1 percent of Daily Values.

Calcium: 5 percent of Daily Values or 45.8 grams.

Magnesium: 67.6 milligrams

Iron: 1.4 milligrams

Phosphorus: 162.5 milligrams

Manganese: 0.4 milligrams

Copper: 0.4 milligrams

Zinc: 1.3 milligrams

Retinols: 0.4 micrograms

Riboflavin: 0.1 milligrams
Here's a more detailed chart on Trail mix nutrition facts for reference.
Also, you can try the Nut Harvest Trail Mix Variety Pack which is perfect for enjoying at home, at work or on-the-go.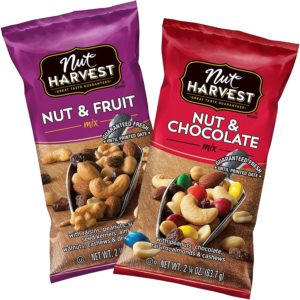 Trail Mix Nutrition Facts – (Some Outstanding Nourishment Benefits of Trail Mix)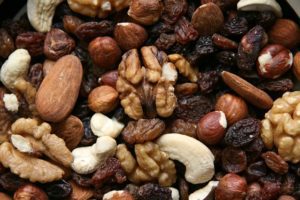 The Trail Mix is a rich source of several protein ingredients, like seeds. Proteins are a very necessary nutrient for the human body that promotes muscle growth, repairs tissues, and boosts immune health. Additionally, the sufficient intake of protein supports weight loss by decreasing the appetite and promoting the emotion of fullness.

Trail Mix is an amazing source of heart-healthy fats such as monounsaturated fatty acids and polyunsaturated fatty acids. The nuts and seeds present in this snack contain unsaturated fats that reduce the increased LDL cholesterol levels or some risk factor for heart disease.

Besides, trail mix has unsaturated fatty acids that work great for reducing the chances of coronary heart diseases.

This nuts-enriched snack is very high in omega- 3 fatty acids that are great for managing inflammation imbalance. Omega- 3 fatty acids are good for protecting the body against many chronic health-related issues.

Additionally, the trail mix snack contains 11 milligrams of sodium, which helps in enhancing the low blood pressure levels. Sodium is also necessary for nerve impulses conduction and muscle health.

Trail Mix is are high in HDL and contains good cholesterol.

The nuts in Trail Mix are a very good source of calories and are necessary for maintaining heartbeat and lung health.

The iron and calcium present in the Trail Mix snack help in increasing the hemoglobin levels and improving blood circulation. On the other hand, calcium is responsible for increasing bone density and maintaining bone health.
Final Words
As noted above, it is clear that the Trail Mix snack is an outstanding blend of taste and health. This mixture is a great snack choice full of nuts and nutrition rather than other snacks. This article notes all the nourishment facts that make this snack the right snack.