Amazing Goldfish Nutrition Facts 
Who doesn't love snacking on Goldfish crackers? People of all ages love these iconic crackers, and the variety of flavours the company offers keeps bringing in new customers to this brand time and again. However, it is not just the flavour of these delicious crackers that make it a fan favourite. Its adorable smiling fish shape is also universally appreciated.
Even though it has many flavours, the original cheddar one will always reign supreme. Its cheesy yellow tinge brings a smile to everyone's face. The best part about this snack is that unlike most cheesy snack options in the market, the goldfish crackers are not as calorie-dense. This makes it a good snack option that you can indulge in without feeling guilty. Also, these crackers are only made with plant-based ingredients, making them a good choice for snack lovers. Those goldfish crackers are baked and not fried and also add to it being a healthy snack option.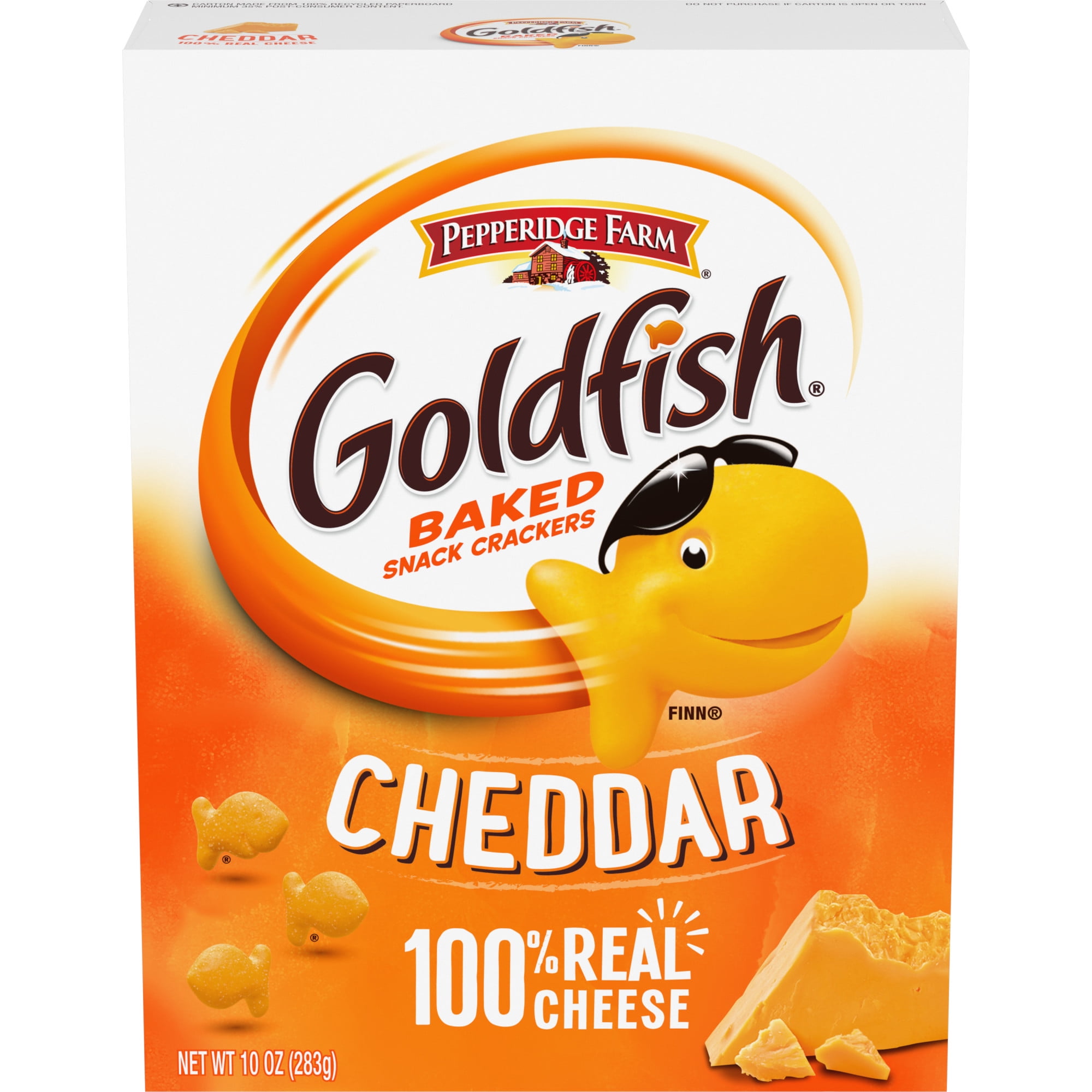 The nutritional content of 0.75 ounces of Goldfish Crackers
Of course, there are numerous goldfish crackers flavours, but the top one is the cheddar flavour. The nutritional fact of these cheddar goldfish crackers for one serving size, which is one pouch of 0.75 oz cracker, are as follows: 
Calories 100

Total fat 3.5 g

Cholesterol 5 mg

Sodium 180 mg

Total carbohydrate 14 g

Protein 2 grams
The goldfish crackers contain milk and wheat; therefore, lactose intolerant individuals and people with a gluten allergy should be aware of these ingredients. In addition, the nutritional content of all kinds of goldfish crackers is available on their website; therefore, before purchasing a quick look through the nutritional facts of the type of goldfish crackers, you fancy would be the best thing to do.
Let us take a look at some incredible nutrition facts about goldfish crackers
.
No artificial ingredients are used to create the amazingly delicious baked goldfish crackers. Unlike many people, no artificial food colouring gives the delicious snacks bright hues. Just take the example of the red hackers here. Its red tinge comes from nothing but a mix of paprika extracted from sweet red peppers and beet juice. The green one comes from the juice extracted from watermelon and Quito, a South American fruit. 

Unlike most cheese-flavoured snacks available in the market, goldfish crackers use the real deal. Most cheese-flavoured snacks available in the market use flavouring rather than real cheese. These artificially flavoured cheese snacks are not suitable for your health because they use a lot of additives to give them artificial flavoured and large shelf life. These artificially flavoured snacks also contain a lot of food colouring that is not good for the stomach. This is why the goldfish crackers became such a popular snack because once you taste them, you will understand the difference. After all, it contains real cheddar cheese. 

Goldfish are more than just a cheddar-flavoured snack. If one has a sweet tooth, one can go for their s'mores or pretzel options. All of these flavours use natural ingredients; therefore, a wide variety of snacks flavours are available that can be consumed without feeling any guilt. 

The snacks contain small amounts of niacin, reduced iron, thiamine, vitamin b1, riboflavin, and folic acid, which is good for health. 

One goldfish cracker has about 2.5 cal; therefore, even if you start snacking on these crackers by popping one after the other in your mouth, the overall calorie intake remains relatively low. Just think about a generous serving of around 55 crackers which will be only 140 cal. You will hardly find any snack in the market as popular as goldfish crackers offering such a low-cal snackable option. 

The goldfish crackers are also low in saturated fat because they are baked and not fried like most other snacks available in the market.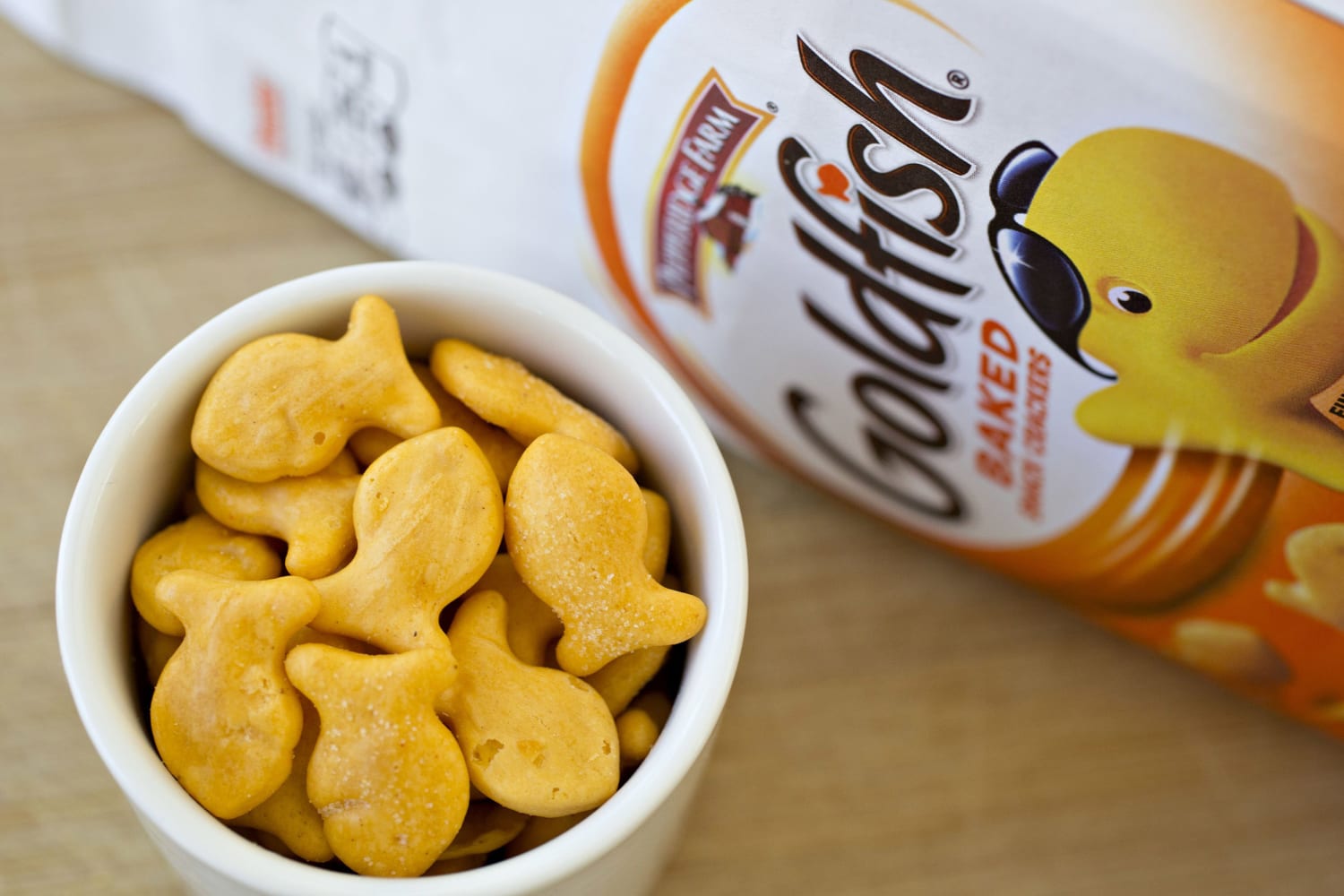 Some additional amazing facts
about Goldfish Crackers
So, what kind of goldfish crackers do you fancy? It doesn't matter which packet you get for yourself; they all promise to pack a punch of flavour while keeping the overall calorie intake low. 
Culinary legend Julia Child even enjoyed the goldfish crackers as an appetizer. 

The signature smile and eye of the goldfish cracker are only found in about 40% of pirates in a packet. 

If you check the ingredients list, you will find a surprising ingredient made with smiles.' 

These legendary crackers have even been to space onboard the space shuttle Discovery launched in 1988. 

The name of the smiling Goldfish with sunglasses on the packaging of every goldfish cracker is Finn. 

Goldfish crackers are shaped like fish because the creator's wife's star sign was Pisces. 
Take care of the facts given below
.
Choose what kind of goldfish crackers will be perfect for you based on your dietary requirements. You can get goldfish crackers in almost all convenience stores and even online. There are innumerable options, ranging from savoury to sweet, to fit all taste buds.
Just read about the nutritional facts about the kind of Goldfish you purchase. Then, now that you know about its low-calorie content go ahead and get yourself one, and snack on this baked delight with a smile! 
We hope you liked our Goldfish Nutrition Facts. For more such information, follow our Blog, foodiewish.com.