Kit Kat Nutrition Facts
Kitkat is a chocolate wafer bar created by Rowntree's of York, United Kingdom, and currently produced and distributed all over the globe by Nestle, which acquired Rowntree in 1988. Except in the United States, it is made under the brand name H.B. Reese Candy Company, a part of the famous Hershey's chocolate brand. 
A Kit Kat bar is available in two or four pieces of a three-layered wafer, separated and covered with chocolate in the outer layer. Each wafer finger is snapped separately from the bar to consume and enjoy the delicious taste.
The KitKat wafer bar has added many flavours including, milk, white and dark chocolate.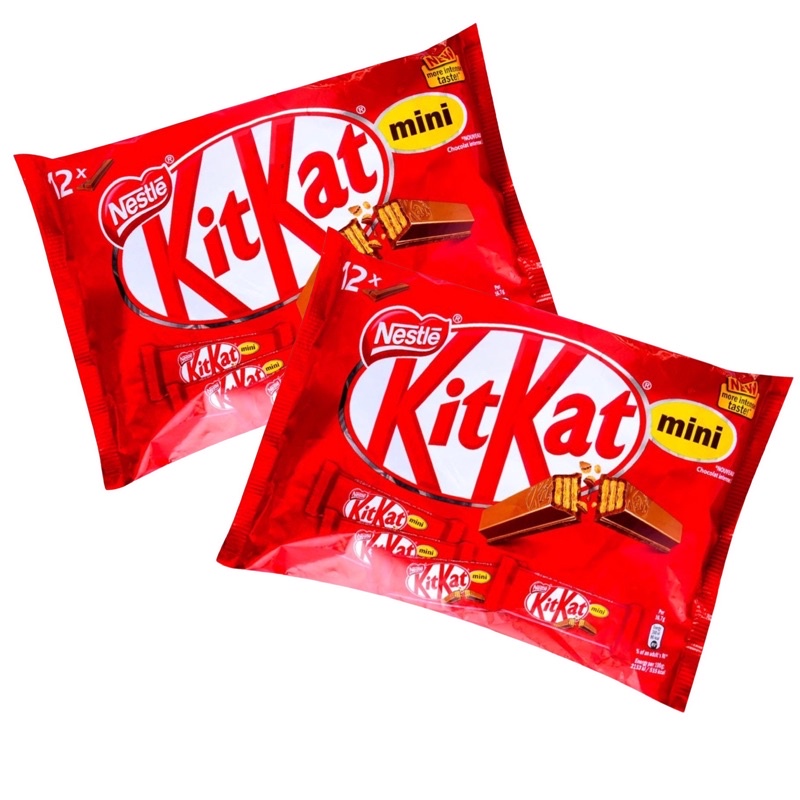 Nutrition facts for serving size of 1 KitKat bar – 42g
Calories -218

Total Fat – 11g

Saturated fat – 7.5g

Trans fat – 0

Polyunsaturated fat – 0.4g

Monounsaturated fat – 2.5g

Cholesterol – 4.6mg

Sodium – 23mg

Carbohydrates – 27g

Dietary Fiber – 0.4g

Sugars – 20g

Protein – 2.7g

Vitamin D – 0

Calcium – 52mg

Iron – 0mg

Potassium – 97mg

Caffeine – 5.9mg
The key ingredients used in the manufacturing of KitKat bars: sugar, milk ingredients, cocoa butter, cocoa mass, whey powder, lactose, soy lecithin, polyglycerol polyricinoleate, wheat flour, sugar, modified palm oil, cocoa, sodium bicarbonate, yeast and natural flavour.
In 2006, the company stated that the KitKat bar contained 233 dietary calories and 975 kilojoules. In 2009, the two-piece wafer bar carried 107 calories.
KitKat is a popular chocolate bar among children and adults; it makes a good addition for decorating puddings, cakes, biscuits, homemade chocolates and cookies. They are also used as toppings on ice creams in most ice cream parlours.
Every chocolate bar has its pros and cons for health. So KitKat wafer bars have their health benefits as well as downsides.
So, how healthy is a KitKat bar?
In the KitKat wafer bar, the milk chocolate ingredients used have carbohydrates in them. The type of carbohydrates available in the milk chocolate KitKat bar is fibre. It is a form of complex carbohydrates essential for healthy digestion and bowel movements. Fibre plays a vital role in improving blood sugar levels in people with hypoglycemia. It is a quick source of carbohydrates and helps you get rid of hunger. Since it has high calories and sugar content, eating more can cause a dental issue.
A KitKat bar contains micronutrients that help to enable fats, proteins and sugars to support a good healthy life. Having micronutrients in the chocolate bar help maintain healthy bones and contribute to energy creation and boost the immune system. It also provides support in the reduction of tiredness and fatigue.
Ingredients present in KitKat bars that are not of concern are: 
Milk solids

wheat flour 

cocoa solids

soy lecithin

yeast

improver

nutrients
Kitkat bar tastes good but might be adverse for some of you
KitKat is a 75-year-old chocolate bar loved all across the globe. The use of hydrogenated vegetable fat makes it unhealthy. Hydrogenated vegetable fats are the source of trans fatty acids, which increase high cholesterol levels that are harmful to the heart and increase the chance of stroke.

Although KitKat bar contains milk solids, it can't be considered a wholesome food and used as a meal replacement due to its high sugar content at 48.7gm per 100gm serving. Consuming too much can lead to type 2 diabetes and various health issues.

Containing artificially added flavours in the bar can cause adverse side effects, which is not suitable for infants, pregnant women or people who are allergic to the added flavours. 

A KitKat bar has high sodium content, which is the primary cause of hypertension, heart disease and stroke. The daily recommended salt intake is around 1-3 grams per day.

Several other healthy chocolate bars are available, which are more beneficial than the KitKat chocolate wafer. 
Wrapping up
Kitkat bar is a quick source of carbohydrates and helps you ward off hunger. It is also good to have a one or two-finger bar once in a while to keep yourself healthy. KitKat bars are high in calories and sugar contents, which should be eaten in moderation and cause some health issues.
Nestle's have been producing dark KitKat chocolate, which provides a wealth of healthy benefits. You can buy the dark KitKat bar that's linked to improving cardiovascular health and helps control glucose levels.
If you are not fond of dark chocolate bars, you can buy other protein-rich chocolate bars that offer a variety of health benefits with added beneficial minerals and antioxidants.
We hope you liked our Kit Kat Nutrition Facts. For more such information, follow our Blog, foodiewish.com.