Twisted Tea Nutrition Facts
Tea is one of the most beloved beverages consumed across the globe. If you are a tea lover, you may want to explore and experiment with various options available in the market. Twisted tea, as the name suggests, is a twist given to your regular iced tea, blended with multiple flavoured ingredients along with 4-5% alcohol by volume. 
With a vibrant orange hue, this beverage comes in various flavours and is inexpensive compared to wine and beer. You can get refreshingly smooth lemon iced tea, half portion brewed tea, half portion lemonade, and malt alcohol. In addition to this, you can get various flavours like berries, mango, cinnamon, peach, etc.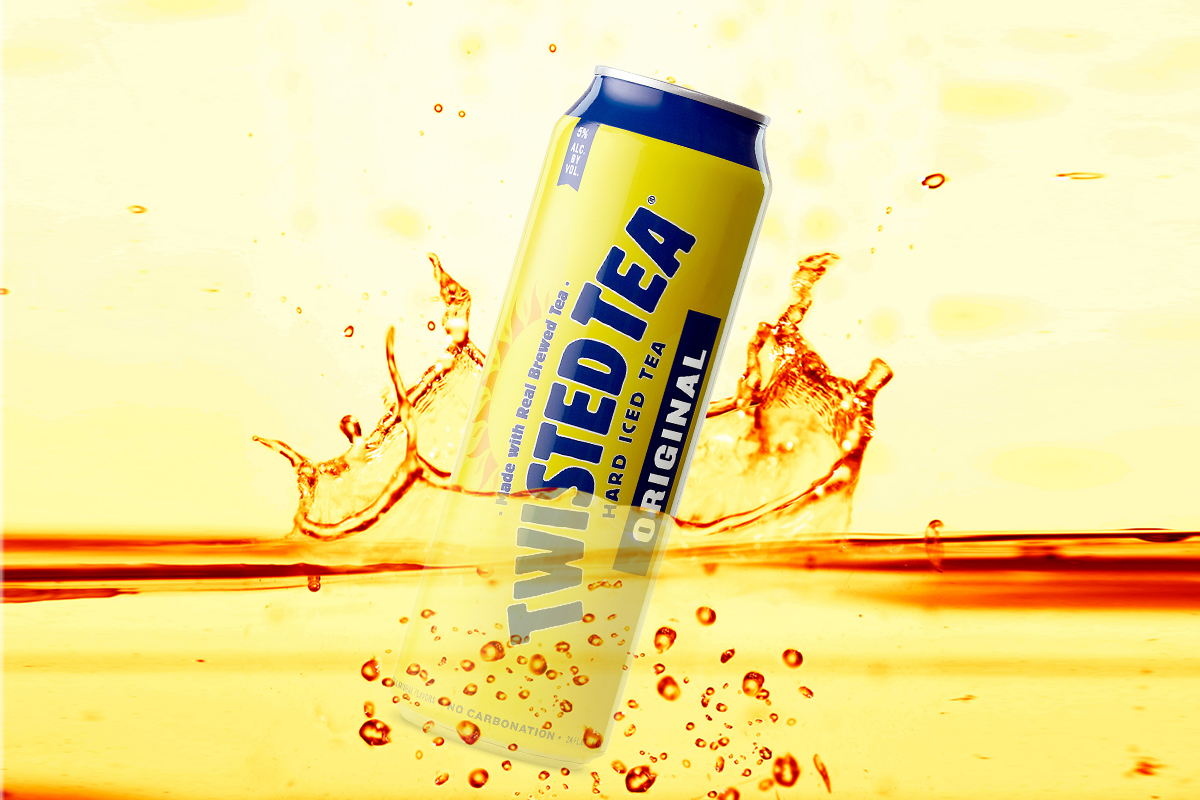 The Nutrition Content of one serving of twisted tea
Nutrition Facts for a Serving Size of 12 oz (100 ml)
Calories 194

Calories from Fat 0 (0%)

Sodium 8.1mg

1%

Potassium 271mg

6%

Carbohydrates 25.9g

–

Net carbs 25.9g

–

Sugar 23.3g

–

Vitamin C 2.8mg

5%

Calcium 2.6mg

1%
If you want to unwind with twisted tea, there are various twisted Tea available in the market for you to gulp down and quench your thirst. Read on to know more about different flavoured twisted tea:
Twisted Tea Original Flavour:
Original twisted tea is a mix of real brewed tea and lemonade. This refreshing drink has the original flavour and is good to share with friends. Alcohol by volume varies between 4-5%. 12 OZ of original flavour twisted tea provides you 194 calories and 25.9 g carbs. This crisp and refreshing flavour can always be shared with your pals as a welcome drink.
Twisted Tea Half and Half Hard:
If you want that extra punch in your twisted tea, then half and half-hard are for you. It contains half iced tea and half lemonade and has a more spicy taste than the original flavour. It is loaded with 215 calories and 30.5 g carbs.
Twisted Tea Blueberry Flavour:
Blueberry twisted tea comes with a blueberry flavour blended with extra smooth filtered alcohol. The tartness of the brewed tea and hints of blueberry make you ask for more. This refreshing combination of blueberry flavour, tea, and alcohol make a smooth beverage that goes well on your palate. This flavour is loaded with 205 calories and 28.2 carbs.
Twisted Tea Peach Flavour:
If you want to give your taste buds a refreshing cooler, twisted peach tea is for you. This amber-coloured is crafted using brewed tea and a natural peach flavour. Its refreshing flavour will make you ask for another glass. It will go well with your choice of starters.
Twisted Tea Mango Flavour:
If you are a mango lover who likes tea, then mango-flavoured twisted tea will make you fall on your knees. With every sip, you get the incredibly refreshing sweet flavour of the mango, yet it is a tea. This mango fruit twisted, more relaxed drink will make you ask for more. This wonderful beverage is loaded with 195 calories.
Twisted Tea Cinnamon Flavour:
Cinnamon twisted tea is enriched with cinnamon flavours and provides you 450 calories 45g of carbs. You get that fragrant cinnamon flavour blended in iced tea and malted alcohol. 
Twisted Tea Raspberry Flavour:
This great-tasting twisted tea is a symbol of compassion. One sip of this beautiful blend will make your pals ask for more. The fruity aroma will remind you of summer. The perfect combination of alcohol, brewed tea, and a splash of raspberry makes an ideal drink for any occasion. A typical serving of raspberry twisted tea comes with 209 calories.
Twisted Tea BlackBerry Flavour:
This non-carbonated and naturally sweetened is made with brewed black tea and a hint of natural blackberry flavour. If you want to go for a wild adventure, this heated fruit beverage is a perfect drink to carry along. 12 OZ of this drink is loaded with 205 calories.
Twisted Tea Passion Fruit Flavour:
This refreshing and smooth cooler is blended with iced tea, natural sweetener, and twisted with genuine passion fruit flavour with a tropical twist.
Important Information:
Excessive consumption of alcohol is harmful to health. A pregnant woman should not drink alcohol as it could lead to congenital disabilities. Drinking and driving are a lethal combination that could endanger not just your life but the life of others too. Excessive consumption can cause nausea, headache, and dehydration.
We hope you liked our Twisted Tea Nutrition Facts. For more such information, follow our Blog, foodiewish.com.