Sandwiches are comfort food for many. One such popular sandwich franchise is Potbelly Sandwich Shops located all over the country. With various options to choose from, and breakfast, lunch, and dinner menus sorted, Potbelly sandwiches are a popular option when it comes to sandwiches. Served warm, and toasted, Potbelly shops have always appealed to their customers with customized options also.
Potbelly Sandwich Nutrition Facts
If you are worried about your allergies, are on a diet, or even if you prefer gluten-free alternatives, then Potbelly Sandwich Shops have a lot to offer. There are options for skinny sandwiches, half sandwiches, vegetarian soups, and sandwiches too. Also, if you do not want to have sandwiches, you have other options too like salads, soups, and chili. There are a lot of options available when it comes to beverages as well.
Now, let's have a look at the amazing Potbelly Sandwich nutrition facts in detail.
Potbelly Sandwich Calories – (1 Turkey Breast Sandwich from Potbelly)
How many calories are in a Potbelly Sandwich? The precise values may be seen below. Let's try to understand the calorie content in grams in these tasty sandwiches.
Calories – 440

Fat – 10g

Cholesterol – 65mg

Carbohydrates – 60g

Sodium – 1590mg

Protein – 34g
Here's a more detailed chart on Potbelly Sandwich nutrition facts for reference.
Interesting Potbelly Sandwich Nutrition Facts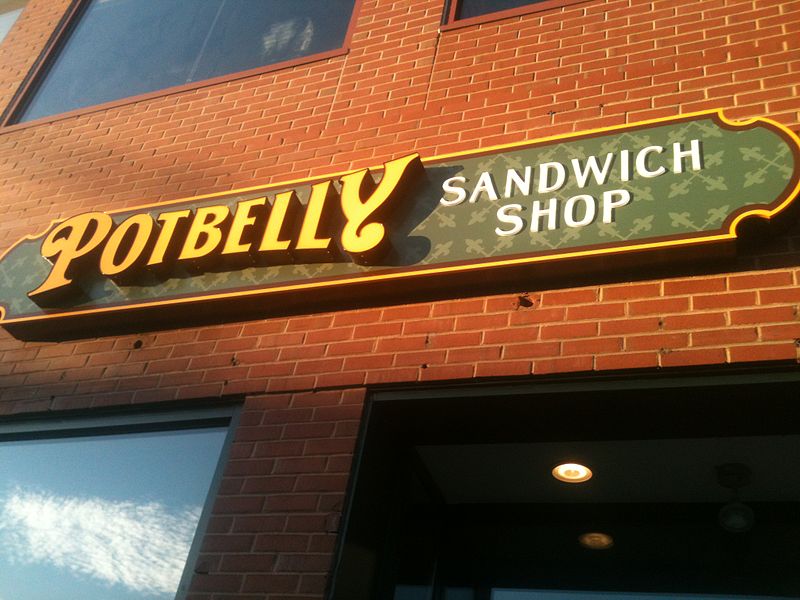 If you are opting for a nutritious vegetarian Potbelly sandwich, then you will consume almost all the essential things that your body needs for its proper growth and development. The vegetarian options in Potbelly are comparatively low on calories, and also are low on sodium. These sandwiches are nutritious and you can choose to customize them as per your liking.

The garden vegetable soup is considered to be the most nutritious and healthy when it comes to food from Potbelly Sandwich Shop. The soup has no fat, and also is devoid of any allergens.

Potbelly subway sandwiches have multi-grain bread and have lettuce, mayo, and tomato as their toppings. So, if you are on a strict diet then also you have the basic sandwiches which are low in fat, and sodium. These are good for maintaining a balanced diet, and if you want, you can opt to add vitamin-rich toppings to your sandwich.

As for salads, you have options for taking salads with proteins like chicken even. There are vegetarian options available for salads too which you can opt for. You can use the vinaigrette dressing or you can even opt for non-fat vinaigrette dressing. You can also order salads as sides to your sandwich order at Potbelly Sandwich Shop.
As for soups, there are nutritious and healthy for you. You get several options you can go for when you are choosing soups from Potbelly Sandwich Shop. Do not forget to check out their low fat, and rich in protein soup options. They are also low on calories. Such soups are good for your health and can help you maintain a proper and healthy diet.

Potbelly Sandwich Shop also provides you with options where you can have sandwiches that are rich in proteins, and low in sodium. Proteins are good for the rebuilding of muscles and provide you with energy. As for sodium, when taken in a controlled amount, it can be good for your heart also. Potbelly sandwiches provide you with the option to have a healthy alternative when it comes to sandwiches.

Potbelly Sandwiches give you the option to select the food you want. If you are allergic to any item, then you can inform about the allergen-specific requirements and can save yourself from any health-related issues.

Potbelly Sandwiches also provide you with options for milkshakes and drinks. There are various options to opt for the healthier version of milkshakes and drinks available in the shop. Such drinks are rich in calcium, and vitamins, and also help in building energy, and provide you with healthy alternatives.

Fried chips are never a healthy alternative. While you are at Potbelly Sandwich Shop, you cannot escape from the smell and taste of fried chips. However, you will be glad to know that Potbelly offers Baked Lays which are low on fats and calories when compared with other fried chips available in the market. So, you need not worry when you order chips along with your sandwich, your salad, or any other alternatives available. The chips are healthier, lighter, and tastier when compared with other chips available in the market.
Bottom Line
Potbelly Sandwiches are much more than just food. You can opt for low-calorie, low fats, high on protein sandwiches, shakes, salads, and even soups. Sandwiches can be eaten during breakfast, lunch, and dinner. Such a variety of sandwiches are offered in Potbelly that you will never be short of options. You can always go for items which go well with your diet, and your lifestyle choices. It doesn't matter if you are a vegetarian, have allergies to food, or are vegan, and want to opt for only gluten-free food, Potbelly Sandwiches are never low on anything.