Skyrim Sweet Roll Recipe
Skyrim sweet roll recipe is the perfect after-dinner dessert and can even be eaten as a light evening snack.
What is a Skyrim sweet roll?
A Skyrim sweet roll is a dish that is featured in the iconic Skyrim: Elder Scrolls video game that came out in 2011 and became an instant hit. It is a virtual open-world role-playing game where the hero known as Dragonborn has to stop dragons from destroying the land of Skyrim. These delicious sweet rolls are a source of nourishment for the characters in the video game and these tasty treats are available in all the inns, kitchens, and taverns in Skyrim. In the video game, a sweet roll is a kind of golden brown colored sweet bread that is covered by a white icing or glaze over it and it looks similar to a mini bundt cake. This dish along with the other dishes that are frequently featured in this video game gained so much popularity that it inspired the creation of an official Skyrim Elder Scrolls cookbook.
Ingredients:
For the sweet rolls
Unsalted butter 1 cup

Granulated sugar 1 ⅔ cup

All-purpose flour 2 cups

Eggs 5

Salt ½ tsp

Baking powder 1 tsp

Vanilla extract 2 tsp

Heavy cream ¼ cup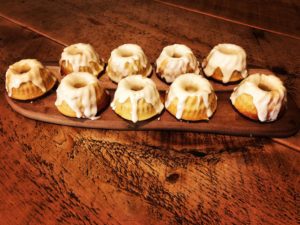 For the glaze
Unsalted butter 4 tbsp

Milk 2 tbsp

Powdered sugar 2 cups

Vanilla extract 1 tsp
Equipment needed:
Stand mixer

Mini bundt pan

Non-stick spray
Directions:
To make the sweet rolls
Start by preheating the oven to 350 degrees F.

Put the sugar and butter in a bowl and mix them together using the paddle attachment of the stand mixer.

Mix them together for at least 5 mins until the mixture becomes pale and fluffy.

Now add in the eggs one at a time while continuing to mix until it is all well combined.

Then add in the heavy cream and mix well and scrape the sides of the bowl if needed to ensure that everything is well incorporated.

Now add in the flour, vanilla extract, baking powder, and salt and mix gently until combined.

Now grease the mini bundt pan using non-stick spray and spoon the batter evenly into it.

Bake for at least 20 mins or until it turns golden brown.

Once it is done, allow it to rest for 5 mins and then transfer to a wire rack to cool.

To make the icing, place the butter in a bowl and melt it in the microwave.

Once the butter has melted, add in the milk and mix well.

Now add in the powdered sugar and vanilla extract and mix it well until a smooth glaze is produced.

Now pour this glaze over the cooled sweet rolls and enjoy!
Notes:
This recipe is really simple to make and if the instructions are followed correctly, it should take you no longer than 45 mins.

It is very important to grease the mini bundt pan to prevent the sweet rolls from sticking to it. Use a non-stick spray, butter, or shortening to achieve this.

If heavy cream is not available, you can use whole milk in the same quantity.

Test if your sweet roll is done by sticking a toothpick into it. If it comes out clean, the sweet roll is ready.

Use a tbsp of cream cheese in the icing to prepare a thicker glaze.

Test the thickness of your glaze by inserting a clean and dry spoon into it. the glaze should not run off the spoon easily.

Give your glaze a modern citrusy twist by adding in a little bit of lemon juice or orange zest.

The traditional Skyrim sweet rolls in the video game have a flat base, you can create the same effect by cutting off the rounded end of the bundt cake base and making it flat.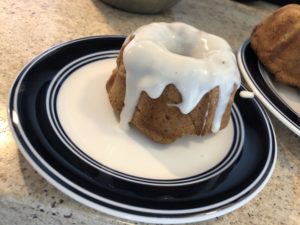 How to store the Skyrim sweet rolls?
These sweet rolls obviously taste the best when they are fresh out of the oven but in case you do have some leftover and have to store it, you can do so by placing them in an airtight container with some space between each sweet roll. They stay well in a refrigerator for at least 2-3 days.