The aguachile recipe is a cold and refreshing appetizer that is sure to be a hit at your next party. Aguachile recipe is a Mexican dish that originated in the Sinaloa region. It is a bold spicy cold appetizer where the shrimps are the main star of the dish. Literally translated, aguachile means chili water and it lives up to its name as these shrimp have been marinated in a spicy chili-lime juice and then served along with onions, cucumbers, avocados, and tostadas. The dish varies in its spice levels depending on the type of chili used. In Sinaloa, the aguachile recipe is commonly made using spicy chilies which are native to Sinaloa but serrano, jalapeno, and habanero are also used.
What is the difference between Ceviche and Aguachile Recipe?
Not too many people know the difference between these 2 delicious Mexican dishes. While the ingredients might be similar, they vary greatly in the marinating time. In ceviche, the seafood which mostly consists of shrimp, lobster, squid, or fish is marinated in lime juice for at least 20 mins. This is necessary for the seafood to cook itself by denaturation of proteins. In aguachile the seafood used is shrimp and this shrimp is quickly tossed in this chili water and served. There isn't a long marination process.
Classic Aguachile Recipe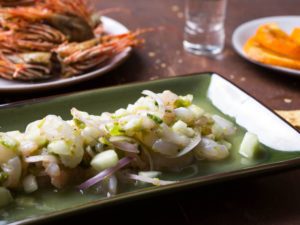 Ingredients to make Aguachile Recipe
Fresh shrimp 1 lb

Serrano chillis 2

Water 2 tbsp

Lime juice 4 tbsp

Red onion sliced fine ¼ cup

Cucumber finely diced 2 tbsp

Sea salt to taste

Black pepper to taste

Avocado for garnish

Tostadas to serve
How to make Aguachile Recipe?
Peel the shrimp and cut it into half lengthwise, remove the tail and devein the shrimp.

Place the shrimp on a plate and season with salt evenly.

Cover the plate with plastic wrap and place in a refrigerator for at least 2 hours.

Cut the chilies into ¼ inch pieces and set them aside.

Take a blender and transfer the chilies to it and sprinkle with salt and blend.

Add water slowly to the chili mixture while continuing to blend.

Once it is all well incorporated, add in the lime juice and season with pepper and a little bit of salt if needed.

Transfer the shrimp to a bowl and cover with the lime and chili marinade,

Now add in the red onion and cucumbers and season once more with salt and black pepper if necessary.

Garnish with the avocado and serve with tostadas immediately.
Mango Habanero Aguachile Recipe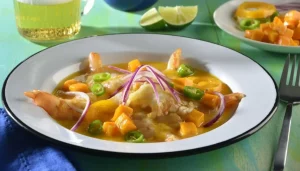 Ingredients for Mango Habanero Aguachile Recipe
For the aguachile
Fresh shrimp 7 oz

White vinegar 1 tbsp

Juice of 3 limes

Habanero pepper 1

Manila mango 1

Fresh ginger 1 tsp

Salt to taste

Black pepper powder to taste
For the garnish
Finely diced red onion ¼ cup

Finely diced green onion 1

Chopped cilantro ⅓ cup

Avocado oil

Chopped avocado
Other ingredients:
How to prepare Mango Habanero Aguachile Recipe?
Peel the shrimp and cut it into half lengthwise, remove the tail and devein the shrimp and set them aside.

In a blender, add in the vinegar, lime juice, habanero pepper, mango, ginger, and a little bit of salt and pepper and blend until you have a smooth sauce.

Pour the sauce into a bowl and add in the shrimp and mix well so that the shrimp are evenly coated with the marinade.

Place a pre-made tostada on a plate and add one of the marinated shrimp to it.

Garnish with the red onion, green onion, chopped cilantro, and a bit of the avocado oil, and serve.
Things to Remember for Making Mango Habanero Aguachile Recipe
Since this dish uses raw shrimp, it is necessary to use the freshest shrimp possible. Try to avoid using frozen shrimp.

Use store-bought tortilla chips or tostadas in these recipes.

You can also make your own tostadas from the recipe below.
Tostadas Recipe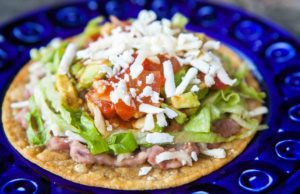 Ingredients for Tostadas Recipe
Corn flour masa harina 3.5 oz

Lard 1 tsp

Warm water 102.5 oz
How to Prepare Tostadas Recipe?
Start by preheating the oven to 400 degrees F.

Take a clean bowl and add in the flour, lard, and warm water.

Mix well until a smooth dough is produced.

Roll into small balls and form into round tortillas.

Now grease a baking tray with cooking spray.

Lightly spray both sides of the tortilla with the cooking spray and place them on the baking tray.

Bake them for 5 mins and then flip them over and bake for another 5 mins.

Remove from oven and let them cool.
Summary
In conclusion, Tostadas are a delicious and versatile dish that are easy to make at home. With a crispy tostada shell, topped with your favorite ingredients such as beans, cheese, meat, salsa and more, the possibilities are endless.