When it comes to the invention of this dish, it is a little confusing with the Kapampangan people of Pampanga, the Bangsamoro people of Manila, and the Indians who settled in the Philippines all claiming to be the inventors of this dish, however, the fact remains that no Filipino event is complete without a steaming bowl of kare kare recipe.
Kare Kare Recipe
Kare Kare recipe is the perfect warm, hearty and delicious comfort food on a cold night.
What is Kare Kare Recipe?
Kare Kare recipe is a type of stew with origins in the Philippines. Essentially it is peanut butter and beef stew that is braised along with some annatto powder and a few choice vegetables for 2 hours or more resulting in a thick, rich, delicious, and well-balanced dish that is commonly served with white rice and a little bit of fermented shrimp paste.
Types of Kare Kare Recipe
Beef Kare Kare refers to the traditional kare kare recipe that uses beef. Commonly beef chuck and shank are used. You can even use the cartilage from the face to thicken the kare kare.
Seafood Kare Kare refers to the kare kare that is made using crab, mussels, shrimp, squid, and fish.
Pata Kare Kare refers to the kare kare that is prepared using pig. Usually, pork hock and leg are used. Pata Kare Kare recipe is quite popular as pork is a cheaper option as compared to beef.
Beef Kare Kare Recipe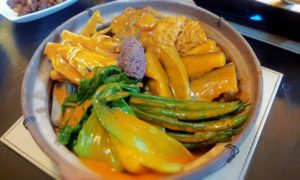 Ingredients for Beef Kare Kare Recipe
For the braise
2 tbsp vegetable oil

1 lb oxtail

1 lb beef shank

1 cup chopped yellow onion

1 tbsp minced garlic

12 cups water

1 tbsp salt
For the kare kare recipe base
1 tbsp vegetable oil

1 ½ cup chopped yellow onion

1 tbsp minced garlic

1 tbsp annatto powder

¼ cup smooth peanut butter

1 tbsp fish sauce

1 ¾ tsp salt

½ tsp black pepper
Other ingredients
½ cup unsalted peanuts

¼ cup white rice

2 eggplants cut into 1-inch pieces

1 banana heart cut into 1-inch pieces

1 ½ cup chopped string beans

3 cups bok choy cut into 2-inch pieces

3 cups braising liquid

Fermented shrimp paste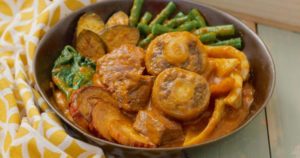 How to make Beef Kare Kare Recipe
To make the braise, take a large stockpot and pour in the vegetable oil, and place over medium-high heat.

Now add in the beef shank and oxtail and sear until it browns on each side flipping it in between.

Once the beef is done, transfer it to a plate and add the chopped onion to the pot and saute until it is translucent then add in the garlic and saute for at least 30 secs.

Pour 2 cups of water into the pot and deglaze the bottom of the pot.

Now pour in the rest of the water, add in the seared meat and the salt and bring it to a boil.

Cover the pot with a lid and reduce to low heat and allow to braise for 3 hours until the meat is tender.

Take the unsalted peanuts and grind them well in a blender for at least 10 secs and set it aside.

Take the white rice in a small pan and place it on medium heat and toast the rice for at least 1 min and then allow the rice to cool.

Once the rice has cooled, transfer to a blender and blend until a fine powder is produced.

Clean and cut all the vegetables and boil them in hot water until they are tender.

To make the kare kare base, place a pot over medium heat and add in the vegetable oil and onions and saute until they are translucent.

Now add in the garlic and saute for another 30 secs.

Add in the braising liquid, annatto powder, and peanut butter and stir until it is well combined.

Now add the peanut powder and the toasted rice powder and the fish sauce and mix well.

Now add in the meat and season with salt and pepper and let it simmer for at least 15 mins until it thickens.

Once the stew has thickened, add in the cooked vegetables and let it cook for a few minutes more.

Serve along with some steamed white rice and the fermented shrimp paste and enjoy!
Summary
Kare Kare is a delicious and hearty Filipino stew that's enjoyed by families all over the world. With its rich and flavorful peanut-based sauce, combined with its tender meats and vegetables, Kare Kare is a true taste sensation. Whether you're serving it for dinner or for a special occasion, Kare Kare is sure to impress. So why not try this Kare Kare recipe today and discover the amazing flavors of Filipino cuisine for yourself? Your taste buds will thank you!