Strawberry Surf Rider is one of the popular smoothies picked up at Jamba Juice.  This strawberry surf rider recipe will give you a smoothie that is very similar to the one sold there.  The slight tartness of the strawberry mixed in with the sweetness of the plums gives this smoothie its characteristic flavour.
Strawberry Surf Rider Recipe
The famous outlet Jamba Juice, now known only as Jamba, is a chain of stores in the United States that sells fresh fruit or vegetable juices and smoothies.  They have a number of healthy and delicious products for consumption.  The strawberry surf rider is a popular choice among them.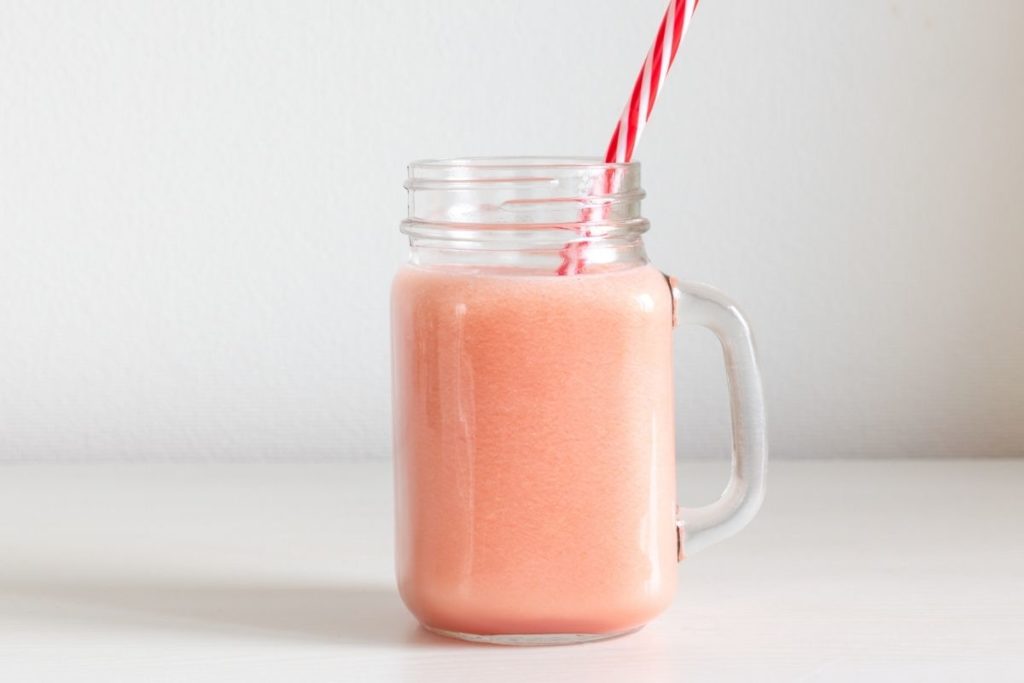 Why Should You Choose The Strawberry Surf Rider?
This is a great breakfast or brunch drink that you can serve to your family or friends.
It is not too sweet, so it pairs well with finger foods and sandwiches.
It is appropriate for both kids and adults.
It is a healthy option as opposed to the regular sweetened carbonated drinks available.
It can be easily mutated into different versions.
How To Pick The Best Strawberries 
One of the major factors that are going to affect the flavor of the drink is the kind of strawberries that you pick.  Since they are the main component of the drink, they tend to kind of dominate the flavor palate here.  Keep these few pointers in mind the next time you go strawberry picking:
Strawberries stop growing once they are picked, so if they are a greenish-yellow, they will remain that way and not ripen with time.  So make sure to pick only the bright red ones.
Strawberries that are red at the bottom are the ones that are fully ripened and will be sweeter.
The ones with bright green leaves on them are generally fresher.
Younger berries are plump and juicy.  The older the strawberries get, the more shriveled they will be.
Moldy berries are the ones you want to totally avoid as they are starting to go bad.
What To Do If You Don't Find Fresh Fruit
The amazing thing about this drink is that it is possible to make it any time of the year, owing to the availability of frozen fruits and berries.  Get a pack of frozen berries from the supermarket and leave it out to defrost.  Blitz them along with the other ingredients in a blender, and you will have this healthy smoothie ready in no time.
Ingredients Used for Strawberry Surf Rider Recipe
½ cup peaches
1 cup strawberries
1 cup lemonade
½ cup lime sherbet
1 cup ice
Method of Preparation Of Strawberry Surf Rider Recipe
Place the strawberries and peaches in a blender and pulse them to a smooth puree.  If you are using fresh fruit, you can skip adding water, but if you're using frozen fruit, you would need to add about half a cup of water.
Add the lemonade, lime sherbet, and ice.
Begin with blending at a low speed and slowly increase the speed of the blender.  Pulse till it turns into a pink smooth pasty consistency.
This drink is best served immediately.
Tips To Keep In Mind While Making Strawberry Surf Rider Recipe
This drink is mainly sweet with slight tardiness to add a tangy aftertaste, so use the lemonade sparingly.
The ice can be left out if you want a smoother and richer taste.
Passing the drink through a sieve will give you a runny form of the smoothie and you can use the pulp for something else.
Make sure not to store the drink too long once it is made as the fruits might sour or go bad.
Some common variations of the Strawberry Surf Rider
Strawberry lemonade rider is a common variant that can be made by excluding peach and increasing the quantity of lime in the drink.
Berry rider is another variant that includes other berries like blueberries in the drink.
Strawberry banana smoothies can be made by adding a frozen banana to the mix.  This drink is heavier but just as delicious.
Strawberry and peach milkshakes can be created by leaving out the lime and adding a bit of chilled milk to the mix.
Loaded strawberry cocktails are the ones in which you can sneak in a bit of booze.  Vodka, white rum, or tequila pair well with the drink.
For many more such copycat recipes visit our website foodiewish.com.  We have unique and exotic recipes with which you can take a trip around the world while still being in your kitchen.
We hope you liked our Strawberry Surf Rider Recipe. For more such recipes information, follow our Blog, foodiewish.com.