Tik Tok Ramen Recipe – As its name suggests, this Tik Tok ramen recipe went viral on Tik Tok. Everyone seems to know and love Ramen noodles. Most Asian countries have their own variations of it. This recipe seems to be one of those easy variations that can be thrown together in a pan in no time. It is something that kids and adults can enjoy because everyone loves noodles at the end of the day.
Why Is Tik Tok Ramen Recipe So Popular?
The ingredients are all pantry-based. Everything that goes into this recipe can be easily found in your kitchen. It is especially convenient on one of those nights when you're out of stuff and have no time to go grocery shopping.
It is a simple recipe that almost anyone can put together in the kitchen. From bachelors to those who have never seen the inside of a pantry, they can all whip up this spicy dish in no time.
It is a good combination of flavours. The sweet and spicy balance out each other perfectly to give you an amazing plate on your table.
It is relatively cheap, with no gourmet ingredients that will burn a hole in your pocket.
Ingredients for Tik Tok Ramen Recipe
1 packet Ramen
Few cloves of garlic
Soy sauce
2 tsp brown sugar
1 tbsp chutney (any chutney of your choice)
1 egg
Toppings of your choice (scallions, cilantro, parsley, sesame seeds, roasted peanuts, etc.)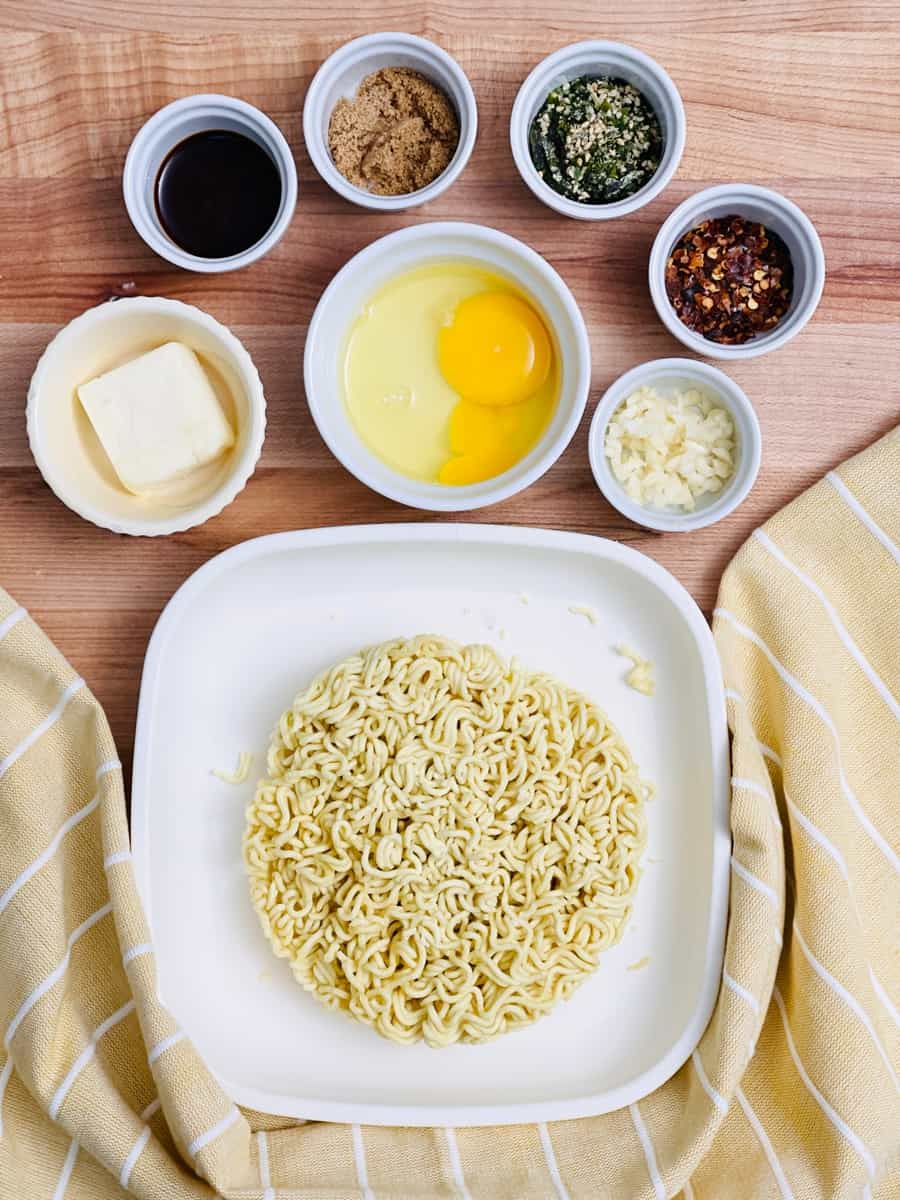 Method of Preparation for Tik Tok Ramen Recipe
Cook the Ramen according to the instructions on the packet. Make sure that they do not overcook, as they need to be heated again.
Reserve the water in which the noodles have been boiled.
Heat oil in a separate pan or wok.
Add chopped garlic and saute until the raw smell goes. This might take around 30 seconds.
Add soy sauce, chutney, and brown sugar to the pan. Simmer on a medium flame for a few seconds until the sugar has completely melted.
Once the mixture has blended well, add the semi-boiled noodles. Swirl them around in the pan so that they absorb as much flavour as possible.
Add the leftover water from the noodles and cook till most of the water has evaporated and only a thick sauce is left to coat the noodles.
Shift the noodles to the side and crack an egg in the same pan. Scramble the egg and mix it in with the noodles.
Dish out the noodles while they are still hot and serve with whatever you like. Fresh scallions and toasted sesame seeds are some popular choices.
Tips for the best Sauteed Ramen recipe
Keep the noodles on the raw side. Al Dante or slightly under that would be perfect. Raw noodles will pick up the flavours from the pan better, while the overcooked ones will turn mushy in the pan's heat.
Be careful with the garlic because minced garlic burns easily. Burnt garlic will completely alter the flavour and leave the noodles with a bitter residue.
The chutney can be replaced with any other condiment of your choice, e.g., sriracha, green chilli paste, etc.
Ramen noodles can easily be substituted with Maggi, but Maggi tends to get mushy very easily.
The best way to boil the noodles is to add only a little bit of water and keep the flame high while the noodles boil.
Variations To The Tik Tok Ramen Recipe
With a few replacements or additions, you can cook up numerous forms of this dish because it is versatile. A few ideas are listed below to get you started on your Ramen recipe collection. Mix and match your ingredients and invent new dishes.
Add some boneless shredded chicken bits to the recipe, and you will have a good protein addition to the dish, not to mention the boost in flavour from the chicken bits.
Devein some shrimp and add them in after the brown sugar has melted. Drizzle some butter over it and squeeze some lemon juice on it before serving.
Saute a few bits of tofu in a pan before adding them to the Ramen. Be careful when handling this dish because tofu might break when it is heated on high heat.
Summary
In conclusion, Tik Tok Ramen is a quick and delicious recipe that is perfect for busy weeknights. With its bold flavors and simple ingredients, this dish is a great way to elevate your basic ramen noodle package. Whether you're a fan of spicy, savory, or umami flavors, this recipe is sure to satisfy. So, gather your ingredients and give this Tik Tok Ramen recipe a try. You won't be disappointed!