Hot Honey Recipe
The hot honey recipe is no new condiment; a literal 'hot' in a foodie's dictionary. If you are a hothead, here is your MVP; if you shy away from spicy food, do not worry, this will mellow and smooth your taste buds. Whether having a savory or dessert, close your eyes and just add a drizzle of this sweet with heat syrup to it, nothing can go wrong here. The flavors are wondrous, irrespective. In the reviews for hot honey, you find people recommending it to be added to chocolate cake and coffees, taking things up a notch.
The story: share the love.
Mike Kurtz was just the usual college student with a huge appetite for pizza.  He was studying abroad in Brazil and discovered this sweet and spicy honey. After a hike in Bahia, he stumbled upon this pizzeria that offered its customers jars of whole chili submerged in honey. Kurtz experienced a wave of euphoria. Upon returning to New York, he went ahead with his music career while trying out ways to bring alive the taste of that exotic sauce in his kitchen. He would gift people small bottles of hot honey on birthdays and other occasions. In 2010, he came across a Brooklyn Pizzeria by Paulie Gee. He joined the pizzeria as an apprentice after being amazed by the quality. A few months later, he introduced the honey to the owner Paulie Giannone, who took an instant liking too. Kurtz began preparing it for the restaurant. 
Thus, the Hellboy Pie was born, it was decked with mozzarella, tomato, soppressata Picante, Parmigiano- Reggiano, and the star Mike's Hot Honey, drizzled on the fresh and sizzling hot pie. 
The heat in the sweet is just perfect to cut down the fats. Hence, it can be paired with just about anything. From the customers' opinions, it goes well with fried chicken, waffles, even roasted vegetables. The hot honey is also well famed among bartenders. Honey chile Rider: a gin, passion fruit, fresh lemon juice, and hot honey mix. The infamous, Spicy Bees Knees that mix ingredients like gin, fresh lemon, ancho chile liqueur, and of course, the hot honey; gives the drink a perfect spicy and sour blend. Some even add it to plain water with a dash of lemon. 
The hot recipe: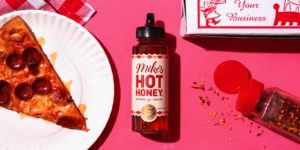 Ingredients:
1 cup honey

2 tsp red pepper flakes (2 tsp roughly cut chilies)

1 tbsp apple cider vinegar (optional)

1 tsp dried thyme (optional)
Directions:
Add the red pepper flakes/ roughly cut chilies to the honey in a shallow pan. 

Heat the honey on a medium flame and simmer for about 5 minutes. 

Set aside to cool down before enjoying it. 
Side notes: 
Other ingredients that go well are orange peel, rosemary.

You can choose fresh or dried chilies.

If you do not want the chilies in your honey, sieve it.
The best peppers for this recipe
There's a variety of peppers out there, so which one do you use? This depends on one's preferences. Make it mild with jalapenos, cayennes, or serranos. To increase the spice level a bit, use habanero peppers. For some real spice, involve fresh or dried ghost peppers, 7 pot peppers, scorpion peppers, or even Carolina Reaper. Dried guajillo will yield a smokier flavor. You can use fresh or dry pepper or even a combination of both. But what really matters is the quantity. How much pepper? The amount of pepper used can be adjusted as per your choice. Make it spicy but adding or reducing the number of peppers in the dish.
Way to enjoy hot honey: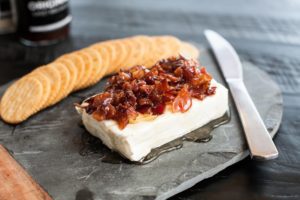 Drizzle the sauce over your favorite fried chicken or chicken tenders.

Dip or pour over your waffles

Pork or beef; especially spare pork ribs.

Seafood; hot honey glazed shrimps or fish fillet and some potato, fried or mashed. Try it with boiled squids.

Add it to roasted or grilled vegetables.

Ice creams with drizzled hot honey or scones/ biscuits with it.

Hot honey and spicy mustard are a true pair.

Combine with your protein shake, make it about health gains.

Make tea, and add a few drops of lemon and hot honey.

It makes perfect pizza toppings.

Baked brie and hot honey are a must-try. 

It would sit well on your Charcuterie boards.

 Add to cocktails like spicy bee's knees, blueberry margarita.

Pair it with Whiskey or tequila or gin.