Amazing Baked Beans Nutrition Facts You Won't Like To Miss!
Whether you enjoy them on toast or as a jackpot-potato topping, there's a little question here –  do you love baked beans? But how much do you know about them? Baked beans are a reliable store cupboard for beans in a thick and flavorful tomato sauce. They may usually be purchased in a tin from the grocery.
The variety of beans available means that if you've ever questioned what's inside the tin of baked beans, you're in good company.
Navy beans, a haricot bean variety, are used in baked beans. South American in origin, they were first brought to Europe in the 16th century. A conventional 415g can of beans typically contains 465 beans.
Let's have a look at the amazing baked beans nutrition facts in detail.
Baked Beans Nutrition Facts Chart
Calories: 119

Total fat: 0.5 grams

Total carbs: 27 grams

Fibre: 5 grams

Protein: 6 grams

Sodium: 19% of the Reference Daily Intake (RDI)

Potassium: 6% of the RDI

Iron: 8% of the RDI

Magnesium: 8% of the RDI

Zinc: 26% of the RDI
Here's a more detailed chart on baked beans nutrition facts for reference.
Also, you can try Bush's Best Baked Beans which is a perfect family recipe.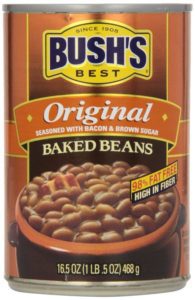 Some Interesting Baked Beans Nutrition Facts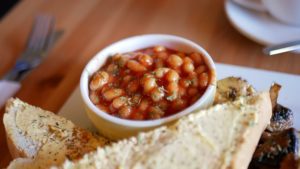 In 1901, Fortnum and Mason began selling baked beans as a luxury item in the United Kingdom. The cost of a big can was 9d (around £2.15 in today's money).

In 1928, the Heinz plant in Harlesden produced the first can of British-made Heinz Beanz.

Every week, 1,000 metric tonnes of dry beans are used in Wigan's Heinz Kitt Green facility, which began in 1959.

The Queen and the Duke of Edinburgh visited Heinz Beanz in 2009 after the Queen Mother visited the facility in 1959. It has already been 63 years since Heinz was awarded the Royal Warrant.

One of the most popular dishes in Britain is Heinz Beanz. The United Kingdom consumes more than one and a half million cans of Heinz Baked Beans per day. Over 540 million cans are sold each year.

In a regular 415g can of Heinz Beanz, there are around 465 beans. 

Heinz Beanz is made from various haricot beans known as 'Navy' beans, a little white. Another critical component is tomato puree, which comes from tomatoes produced in the Mediterranean.

Heinz Beanz beans are tested for colour and size before being put into a can.

Because the can is first filled with blanched beans, then the sauce, then the can is sealed with a cover, and finally the cooking starts, they were initially referred to as baked beans. The beans are cooked while still in the can since it is tightly sealed. The correct answer is yes, and it's inside the can, not before.

A unique mixture of spices is added to the tomato sauce to the signature Heinz flavour. 

This unique Heinz Beanz spice blend arrives at the plant in numbered, rather than labelled, bags so that the formula remains a closely guarded secret. It's a secret only three people know about.

The Heinz facility in Wigan receives 50,000 tonnes of navy beans from North America each year, which are sent in two-ton sacks to the ports in Liverpool.

If poor weather prevents beans from travelling over the Atlantic at ships, the factory has 36 hours' worth of beans on hand and 60 days' worth of beans on hand in Liverpool ports.

As part of the notorious British Antarctic Expedition that began in 1910, Scott brought containers of Heinz Beanz with him. Frederick John Hooper sat on a Heinz crate in a 1911 expedition shot eating from a can.

There used to be a lot of pork in the original recipe for Heinz Beanz, which was inspired by Boston beans. During WWII, the pork was removed, and the beans were offered as vegetarian beans. Since then, they've stayed the same.

The Ministry of Food designated Heinz Beanz as an "essential food" during World War II because of its high nutritional value.

The 1967 tagline "Beanz Meanz Heinz" was selected as the finest advertising slogan ever by a jury of advertising industry experts in the UK. The tagline has been inducted into an ad slogan hall of fame for the first time, obtaining the top spot.

Several celebrities are fans of Heinz Beanz, including Zayn Malik, Ellie Goulding, and Joss Stone.

In addition to Russia and China, Heinz Beanz is sold in more than 60 countries.

A big Heinz Beanz can be seen on the cover of The Who's 'Sell Out' record, with Roger Daltry embracing it.

In addition to being reduced in fat and sugars, Heinz Beanz is devoid of artificial colouring and preservatives.

A serving of baked beans on bread, followed by a glass of milk, provides more than a third of the required daily intake of iron, vitamins B1 and B2, and calcium.
Final Words
In the past, a Heinz UK salesperson would carry a hot flask filled with Heinz Beanies to provide samples to consumers. It was introduced in 2007 and provided personalized servings that can be prepared in the microwave for one minute before being served, using Heinz Snap Pot.
This tiny microwave oven was explicitly designed to fit inside the Heinz Snap Pot and was unveiled by Heinz as a prototype in 2009. By simply putting the microwave into the USB port on their laptops, the Beanzawave provided employees around the nation with a much-needed helping hand in making some of their favourite hot foods, whether on the road or at their desks.
A swimming pool's worth of tomatoes is used by Heinz every day. A year's supply of Heinz's tomatoes would stretch from London to Southampton if all 15-ton trucks were positioned nose-to-tail. To make it easier for bean lovers to consume as much or as little as they like before they shut and put back in the fridge, Heinz introduced a resealable beans product in 2010 called Fridge Pack.
Trademark registration in the United Kingdom ensures that Heinz Beanz's trademarked turquoise colour is protected.
We hope you found this article on baked beans nutrition facts helpful.
For more such informational content on health and nutrition, do follow our blog foodiewish.com