Brownie Nutrition Facts – A chocolate brownie has one of the nutrients. It not only has the taste, but it is healthy for you for the chocolate content. So today, this article will encourage you to have some brownies. First, though, no one can resist a brownie.
Brownie Nutrition Facts You Should Know About
Brownie is a geometrically shaped baked confection with cocoa powder, milk, etc. Here are the ingredients used for making the perfect brownie –
Enriched Unbleached flour or you can use regular flour

Cocoa Powder

Egg

Baking powder

Palm oil

Baking cane sugar

Butter

Sugar

Salt (a pinch)
Brownie has evolved with progressing times. People make different preparations, but the scratch-base brownie preparation remains the same. So if you wonder about the combination of what to make on the weekend, get a spoon and have the hot fudge of a chocolate brownie.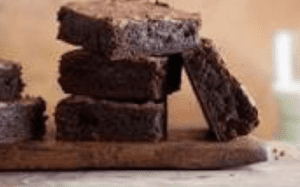 Brownie Nutrition Facts – Calorie Count
Hey, do not worry over the thought that you are just giving a treat to the tastebuds. You are providing more than that; due to the fantastic score of the brownie in the nutrients table, you got a nutritional table.
For you, let us see how much one ounce of brownie contains –
Total Calories – 132.1

Fat – 8.2g
Under Fat:
Saturated fat – 2.1g,

monounsaturated fat – 3.1g,

Polyunsaturated fat – 2.7g,

Cholesterol – 20.7mg,

Sodium – 97.2mg
Vitamin A – 49.9 micrograms (6%)

Vitamin B6 – 3%

Vitamin B12 – 2%

Vitamin C – 0.1(1%)

Calcium – 16.2 mg (2%)

Iron – 0.5 mg (7%)

Magnesium – 15 mg (5%)

Phosphorus – 37.4 mg (4%)

Zinc – 0.3mg (2%)

Copper – 0.1mg (6%)

Manganese – 0.2mg (9%)
In a nutshell, one ounce of brownie would contain about 14.2g Carbs, 8.2g Fat, and 1.8g Protein. Can you imagine how a brownie can help your health and maintain your taste buds? Unfortunately, not every meal can provide you with that.
But, wait; there are more interesting facts about a brownie. So, doesn't a brownie spark your interest?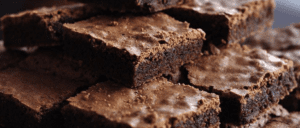 Some Fantastic Brownie Nutrition Facts
Grasp all the wonders of chocolate – Do you remember when our parents used to forbid us from eating chocolate? but not anymore! because of the fantastic health benefits of chocolate. Chocolate is known to have certain elements which promote our move, enable the release of Dopamine or the "Happy Hormones." Adding to that, most brownies are made from chocolate – it boosts your mood and makes you happy. Furthermore, brownies made from cocoa powder are also a good source of antioxidants.
The "Good Cholesterol"
Do not get scared by the term cholesterol. You will be surprised to know that there is a type of Cholesterol that is beneficial for your body. For example, brownies provide rise to a good cholesterol level.
Get Rid of the Inflammatory Diseases
If you make a brownie with dark chocolate, it helps mitigate any inflammatory diseases. But remember, consume with proper moderation and efficient control.
It makes the intestines happy.
Brownies are just a blank canvas. As already mentioned, you can make a brownie with nuts and fruits. You must have heard about a nutty brownie. And if you haven't, all you have to do is add some nuts, dried fruits into the base brownie. Doctors have said nut-brownies or fruit-brownies have a lot of fibers infused in them. Your intestine loves some fibers. This fiber-rich brownie will improve digestion.
Better Heart Health
With improved digestion, one will also have a great heart. A brownie will provide you with happy hormones, which keep your heart happy. Happy mind, happy body. The fiber-infused brownies would also pave away any heart diseases.
Energy Booster
As already mentioned, chocolate brownies are loaded with calories; they would provide you with a bundle of instant energy to be energetic throughout the day. Do you want to go running? Or maybe a workout, and a snack of brownie would activate your beast mode.
Brownie Nutrition Fun Facts
Brownie is tasted when it is hot.

Like pizza originated from Italy, there is no origin of brownie!

We also have brownie days!

For fudge lovers, brownies can be made into fudge brownies too. The fudge brownies can be done by inserting some chocolate chunks in between the brownies. When the brownie is cut, the hot chocolate oozes out.

A gym lover? Love protein powder, well, good news for you, brownies can be made using some protein powder. Try it out; it is delicious!
Summary
So, you agree that brownie will top the class Nutrition. Make your brownies, and you'll have the choice to deal with the substantial advantage of the treat. Override some or all of the oil in a standard equation with pureed natural items, similar to bananas, apples, or prunes, and cut how much sugar by one-fourth to one-half to extra lift the sustenance. Clear out the salt, too. So, grab a spoon and have a brownie without any guilt.