The Celsius energy drink is one of the famous energy drinks in the US, with various product lines added to its name. It is also a publicly listed company trading the Nasdaq as the "CELH." Celsius comes with a wide variety of nutritious and flavour ingredients. Celsius strives to offer the energy needed with a healthy touch. But, what exactly is Celsius made up of?
Amazing Celsius Nutrition Facts You Won't Like To Miss!
Is it beneficial to your diet as portrayed in the advertisement and claims? In this article, we will discuss everything about Celsius drinks. Can you clear your doubt about whether Celsius is healthy or not? Are you ready to get into the facts? Let's look at the nutritional facts of the Celsius energy drink.
Now, Let's have a look at the amazing Celsius nutrition facts chart in detail.
Celsius Calories
How many calories are in Celsius? The precise values may be seen below. You can get your Celsius drink at any grocery store or supermarket.
But let's know about the nutritional contents of a Celsius energy drink on your hand.
Fat: 0

Calories: 5

Carbs: 0

Protein: 0

Vitamin A: 0 per cent

Fibre: 0

Riboflavin (vitamin B2): 1.5mg
Here's a more detailed chart on Celsius nutrition facts for reference.
Also, you can try the Celsius sparkling energy drink which is low in sodium and contains zero sugar, no aspartame, and no artificial flavours, colours, or preservatives. It also includes guarana seed extract, ginger root for flavour and digestion, vitamin C to support your immune system, vitamin B for energy production, and chromium to help control hunger.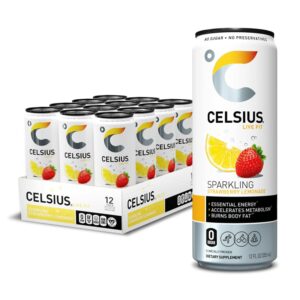 Interesting Celsius Nutrition Info And Facts
The Celsius energy drinks are full of Rick ingredients like calories, Vitamin B, caffeine, and Meta plus blend and many energy boosters designed to improve and increase your daily exercise capacity.

It also claims to possess a formula clinically proven which increases a person's metabolism rates, and it also helps to burn body fat percentage.

It doesn't include any preservatives, additives, flavours, and artificial colour that makes them lovely drinks to get energy for most people.

The drink is full of soy-free, and it can also be considered a low-calorie drink.

The energy drink has zero grams of sugar, and it uses artificial sweeteners like stevia, Erythritol, acesulfame potassium, and sucralose to make it sweet.

Sucralose is a calorie-free sweetener used in the Celsius original and Celsius heat.

The Celsius energy drink contains chromium, sodium, calcium, Vitamin C, and Vitamin B, essential for maintaining overall health.

The Celsius energy drink contains vitamin B, known for its direct impact on energy level, cell metabolism, and brain function. It is also suitable for Cardiovascular health, Healthy appetite, Good digestion, Good brain function, cell health, nerve function, and good eyesight.

It is also water-soluble, which means that this drink will not be stored in your body; that's why Vitamin B must be taken through beverages and food rich in Vitamin B.

The Celsius drink contains Vitamin C, known as the nutrient, which significantly boosts your immune system and helps you fight chronic diseases.

Minerals and vitamins in energy drinks like Celsius play a vital role in our body, such as strengthening and healing the immune systems.

The Celsius heat will have citrulline which is around 2000 milligrams. Citrulline is an amino acid that can also be found in fruit, such as cucumber and watermelon.

The Celsius drink has a calorie content that ranges from ten to fifteen, which is not very much for the daily intake of women and men. You will not fulfil your calorie count by only drinking Celsius drinks.

The caffeine content of Celsius ranges from around a hundred to three hundred mg, which is a perfect figure for most people.

Celsius drink is a pure gluten-free drink. There are zero barley, wheat traces, and other grains in Celsius. Drink ingredients that make it the safest addition to your gluten-free diet.
Some Lesser Known Facts about Celsius Nutrition
Drinking energy drinks on an empty stomach is always a bad idea. So that is why you must not drink the Celsius energy drink without having your snack or meal beforehand. It would help if you kept in your mind that energy drinks are not mealed replacements. No one can beat a healthy meal before having Celsius or other beverages.

Overall, the Celsius Drink is rich in ingredients that work with your body and give a rapid boost to your energy. Every element is filled with the perfect amount of Vitamin B, calories, caffeine, and various energy-boosting properties.

On the other hand, it is also not recommended as an everyday healthy drink, as it comes with some chemical-based ingredients, and it might not be suitable for you if you consume it daily.

You can have one Celsius drink per day, and if you feel like getting some extra boost to your body in this way, you will never overdose on caffeine.

The best way of enjoying Celsius and various energy drinks is to drink in a limited amount and always look at the back of a can for checking the facts of nutrients in the energy drinks. If you feel that Celsius is the perfect drink to go for, then you can get one for yourself now.
Summary
And that's a wrap on our examination of the nutrition information for Celsius energy drinks. We hope you found this information useful and informative. If you have any questions or feedback, please don't hesitate to reach out. Stay healthy and enjoy your next Celsius drink!