Cheez-It, a brand of cheese cracker by the "Kellogg Company" through their "Sunshine Biscuits" division, has been famous since its release. The shape of cheese crackers is almost square; however, to be precise, these are 26 by 24 millimetres. The manufacturers produced these famous crackers with wheat flour, vegetable oil, salt, spices, and cheese made from skim milk.
Amazing Cheez-It Nutrition Facts You Won't Like To Miss!
Previously "Green & Green" company owned this Cheez-it brand. Nowadays, "Kellogg Company" has been selling this famous cracker for two decades after acquiring them. As the name suggests, the manufacturers use actual cheese to make Cheez-It.
Now, Let's have a look at the amazing Cheez-It nutrition facts in detail.
Cheez-It Calories – (Nutrients Present in Cheez-It)
These crackers are one of the versatile foods. We can have packed this as school lunch, a party appetizer, and a snack while relaxing at home. Several flavours of Cheez-It available nowadays include the original cheddar cheese.
Serving amount
The serving size of Cheez-It is 27 crackers which amounts up to 30 g. While calculating the nutritional data on these crackers, we need to consider how many crackers we eat. While eating those from a box, we can easily consume many of them in one sitting.
Calories
One serving of Cheez-It can contain up to 150 calories, including the 70 calories we get from fat. Hence, if you consume 2000 calories a day, one serving of this cracker can result in 7.5 per cent of the total daily intake of calories.
Fat
The 27 – cracker serving of the Cheez-It contains around 8 g of fat. The total fat content equals 12 per cent of the daily intake as recommended. The Cheez-It also includes 2 g of saturated fat in the 8 g content. Thus, saturated fat is about 10% of the daily intake. In addition, it also contains 4 g and 2 g of polyunsaturated fat and monounsaturated fat, respectively.
Sodium
The manufacturers made the original Cheez-It crackers salted, adding sodium to your diet. Per serving of Cheez-It can contain up to 230 mg of sodium, about 10% of the maximum daily intake in our regular diet. The high salt and sodium diets can increase the risk of heart conditions like hypertension.
Carbohydrates
As one of the main ingredients of Cheez-it, enriched flour contains a good amount of carbohydrates. It has around 17 g per serving. This amount equals 6 g of the daily recommended intake.
The crackers also contain 1 g of dietary fibre, equal to 3 per cent of the intake as recommended.
Proteins
Cheez-It contains a good amount of protein per serving. The protein content amounts up to 3 g per serving.
Vitamins and Minerals
Cheez-It usually contains only a tiny amount of vitamins and minerals that we require in our body for surviving. For example, one serving of Cheez-It contains around 6 per cent of the recommended iron intake, 4 per cent of that of calcium. In addition, it contains vitamin A, which is about 2 per cent of the daily intake.
Here's a more detailed chart on Cheez-It nutrition facts for reference.
Also, you can try the Cheez-Its crackers which are light and crunchy bite-size snack crackers with genuine cheese and a salty sprinkling. Made with 100% genuine cheese that has been matured for a robust flavour; a classic, family-favourite snack that is suitable for both children and adults.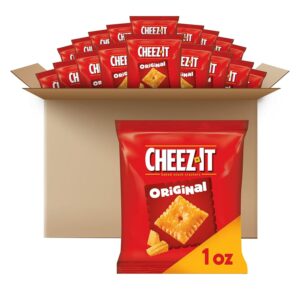 Interesting Cheez-It Nutrition Facts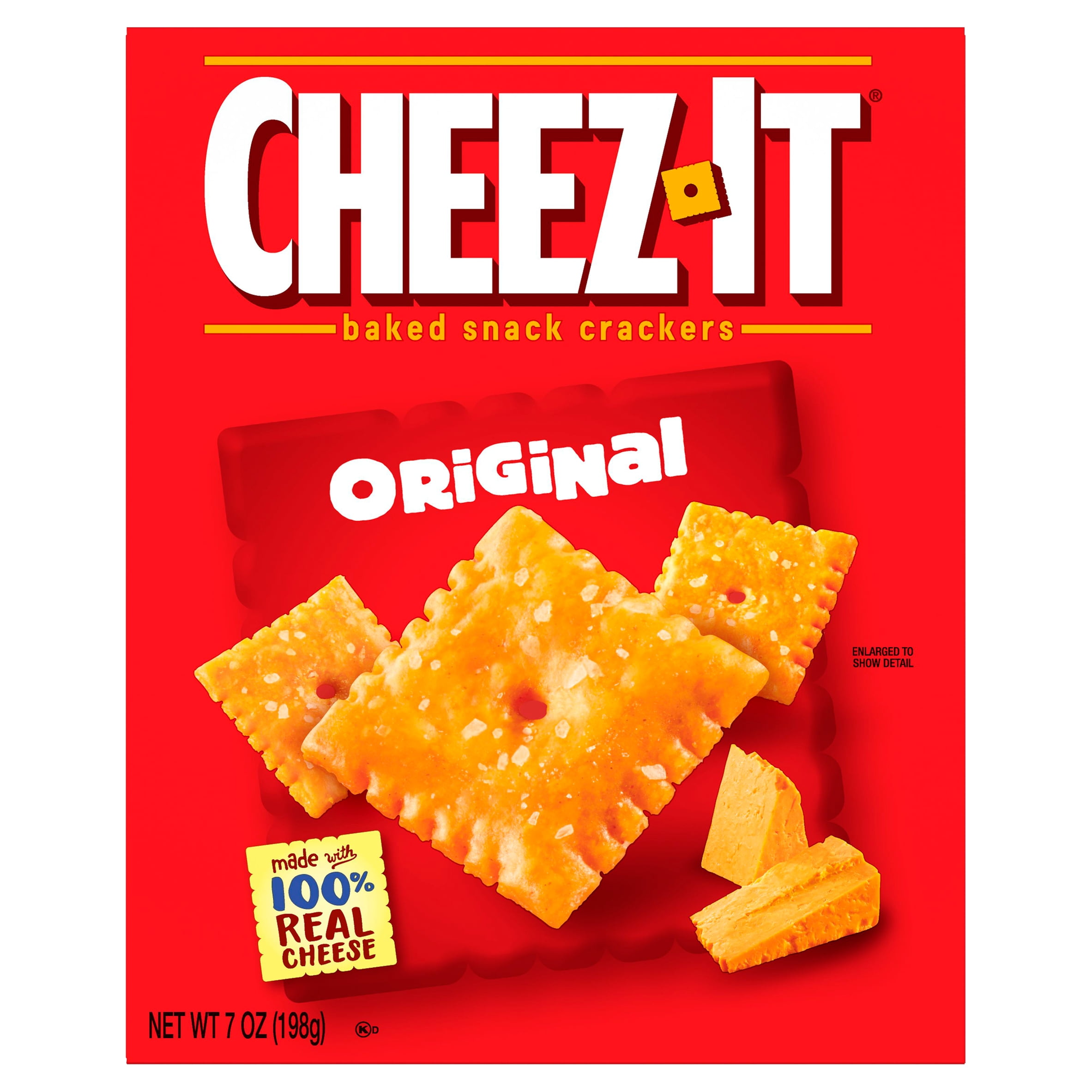 As Cheez-It contains a lot of cheese, wheat flour, vegetable oils, and many other essential ingredients necessary for our health and taste, it comes with many benefits.
Helps produce healthy cells
Every cell needs a proper amount of protein to build and repair. The high protein content in Cheez-It helps produce healthy cells in the body.
Improves bone health
Cheez-It contains a good amount of calcium that strengthens our bones. The bone density of our body increases up to the age of 30, and from there, it starts getting fragile. An inadequate calcium diet can develop Osteoporosis, a common disease in old age.

Balanced nutrition prevents Osteoporosis, and adding Cheez-It to the diet will only help prevent it. In addition, it also contains various vitamins and minerals.
Weight loss
The Cheez-It also helps to boost the fibre intake of our body. Foods rich in fibre help lose weight, enabling you to feel satisfied after snacking on them. Moreover, a diet including sufficient fibre helps prevent chronic diseases like diabetes and heart disease. Hence, adding Cheez-It will act as a plus point in our diet.
Helps in keeping healthy blood vessels
According to various studies, researchers found that cheese produces a good amount of glutathione. Therefore, it helps keep the brain cells in good posture and prevents age-related degeneration of neurons. Hence, consuming Cheez-It will only help the process, as the manufacturers made cheese.

In various studies, the researchers also concluded that the blood vessels of people who consume cheese regularly are very functional, and Cheez-It acts as a good source of cheese in our diet.
Bottom line
Cheez-it is very delicious and gives us salty satisfaction. These are also great in many ways in our diet. It comes with almost all kinds of cheese flavours so that Cheez-It lovers can enjoy them the way they like.