Chick-fil-a Sauce Nutrition Facts You Won't Like To Miss!
If you haven't tasted the original Chick-fil-a sauce, you have stepped in the right place. This extremely popular sauce is a mixture of three flavorings that you can easily make at home.
Fast food restaurants usually debut in the industry with a signature sauce. In the same way, chick-fil-a, the renowned American fast-food chain, is known for its delicious tangy chick-fil-a sauce. This sauce has become the favorite one of every American within a short span. If you want to know the craze behind this famous sauce, continue reading the informative guide.
Now, let's deep dive into the interesting Chick-fil-a sauce nutrition facts in detail.
Chick-fil-a Sauce Nutrition Facts Chart  – (One Ounce Of Chick-fil-a sauce) 
Whenever you come by the famous fast-food chain Chick-A-fil, you will be offered this sumptuous chick-fil-a sauce with fried food items, like burgers and sandwiches. A one-ounce packet of chick-fil-a sauce contains:
Calories: 160

Carbohydrates: 7gms

Fat: 14 gms

Protein: 0 gm

Sugar: 7gm

Sodium: 190mg

Cholesterol: 10mg

Saturated fat: 13% of the Daily Value (DV)
Here's a more detailed Chick-fil-a Sauce nutrition facts chart for your reference.
Also, you can purchase and check the reviews of this sauce here.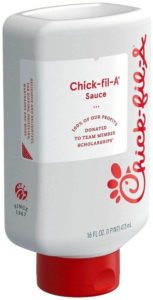 Chick-fil-a Sauce Nutrition Facts
This accidentally made sauce is not served for dipping only. You can have it with your breakfast items like sandwiches or use it for ketchup. 

The sauce is made in such a way that it holds its position in the fried food. Thus, you can taste it in every bite. 

People have a misconception that great things can't be tasted good. This is wrong for this dipping sauce. A packet of chick-fil-a sauce can provide you 140 calories with utmost deliciousness. 

A small packet of chick-fil-a sauce is packed with 190 mg of sodium, equivalent to the same quantity of salt in a small bacon piece.

This flavorful, tangy sauce can make your hamburger or dip-fried chicken taste better.
Some additional breathtaking facts
Chick-fil-a sauce was accidentally made by one of the team members of the chick-fill-a restaurant. Since 1980, this smoky sauce has changed the perception of people's likings for dipping sauce. 

Chick-fil-a sauce is the perfect mixture of barbeque sauce, honey, mustard, mayonnaise, lemon, and coleslaw dressing. The ingredients are easily available in your kitchen. Thus, you can make your own sauce at the comfort of your home instead of going to the Chick-fil-a restaurant.

Use the mouth-watering tangy flavored sauce in the sandwich topping, homemade chicken preparation, or chicken nuggets. 

How long does the chick-fil-a sauce last? To prevent its spoils, use it within a few months. This homemade sauce can be kept in a decorative bowl without the necessity of refrigeration. 
Final Words
If you want a healthy sauce for accompanying the fried foods, choosing chick-fil-a sauce will be the best option. Due to its zero fat and the addition of healthier condiments make this sweet and spicy sauce an easy solution for good eating. This incredible creamy sauce can make you crave more. The preparation is so simple that you can make this heavenly sauce in your pantry right away. Make fun and serve your family the greatest sauce with a favorite food. 
We hope you found this article on chick-fil-a sauce nutrition facts helpful.
For more such informational content on health and nutrition, do follow our blog foodiewish.com