Falafel Nutrition Facts – Falafel is a combination of both fibre and protein, which adds extra health benefits to your daily diet. Falafel is usually a Middle Eastern dish popular among vegetarians and vegans. It is said to have been introduced in Egypt when Christians needed alternatives for meat during their fasting periods like lent.
6 Amazing Falafel Nutrition Facts You Don't Want To Miss
Falafel cooked with chickpeas or fava beans as one of its main ingredients stands out as a popular starter for meatless eaters.
Falafel usually consists of chickpeas or fava beans or sometimes both. It's prepared by soaking with legumes and grinding them nicely- later mixing them with fresh herbs and spices then- shaping them into balls and deep-frying.
Although it's popular among vegans and packed with healthy ingredients, many people still wonder whether it's a healthy dish. So read on to find out how healthy Falafel can be.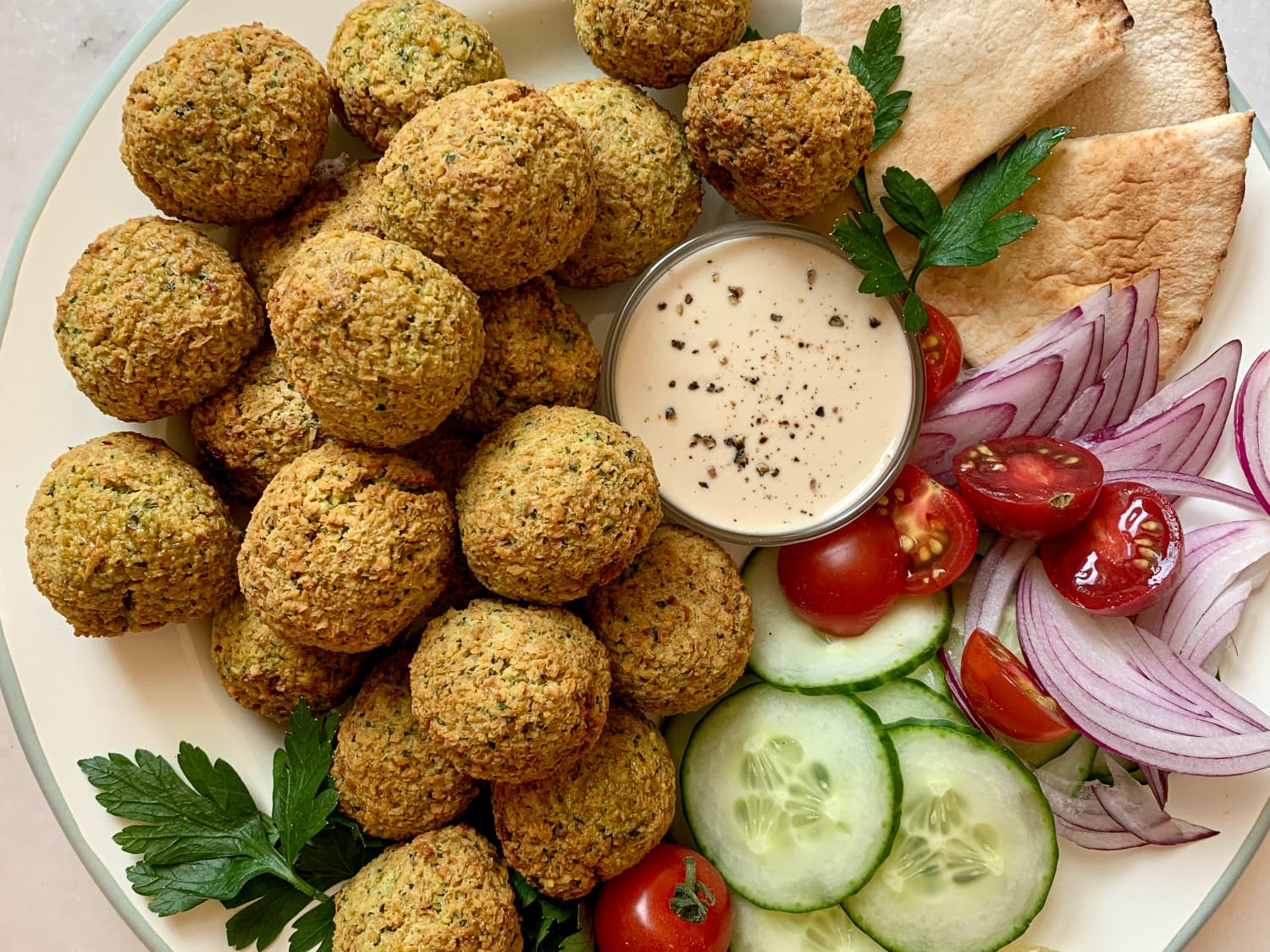 How Many Calories Are In A Falafel?
Following are the falafel nutritional facts:
Calories – 57

Fat – 3g

Carbohydrates – 5g

Protein – 2g

Fibre – 1-2g

Iron – 3% DV

Magnesium – 3% DV

Potassium – 3% DV

Folate – 4% DV

Sodium – 50mg

Calcium – 9.18mg

Vitamin B6 – 0.021mg
Here's a more detailed chart on Falafel nutrition facts for reference.
Many of us who have tasted Falafel already know how delicious it can be. But do you know it is packed with health benefits too?
It is a street food typical in Egypt and the Middle East. Since being cooked without meat, it has developed into a popular starter menu for vegetarians and vegan diets in most parts of the world.
Is Falafel Healthy?
A falafel patty or ball contains carbohydrates of little more than 5grams- the majority of the carbs come from chickpeas or fava beans. Falafel is high in carbs and soluble fibres that help lower LDL cholesterol and keep you healthy.
The research shows that chickpeas fibre helps manage sugar levels by slowing the absorption of carbs, which helps regulate sugar levels rather than spiking it.
Some studies suggest that chickpeas fibre is linked with improved bowel habits, lowering the risk of heart disease and colon cancer.
Falafel contains chickpeas and fava beans which provide rich plant-based protein, making it a nutritious protein for those preferring an alternative to meat. Falafel is a perfect protein-rich dish for vegans who need a high-protein diet in their daily meals.
Nutrients Found In A Home Prepared Falafel
Falafel contains calcium (54mg) which promotes bone health.

Falafel provides magnesium (82mg) which helps to regulate blood pressure.

It contains phosphorus (192mg), which helps keep your bones strong.

Consisting of Potassium (585mg) helps in fluid regulations

Having Folate (93mg) promotes the growth of the healthy cell.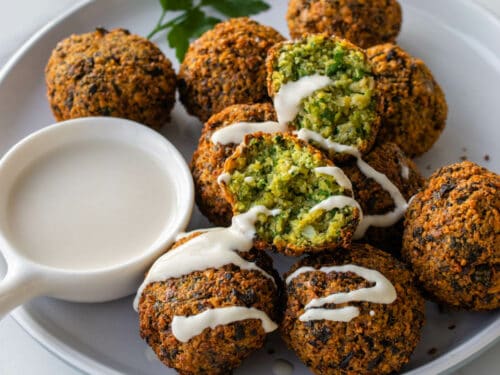 Health Benefits of Eating Falafel
Falafel contains high fibre and protein
Falafel contains chickpeas and fava beans. Like other lentils and beans, chickpeas and fava beans are rich in high fibre and protein, providing plenty of health benefits. It includes good cardiovascular health, muscle repair, weight management, digestive health, and more.
Falafel is loaded with vitamins and minerals.
Falafel made using chickpeas as main ingredients contains a wide range of minerals and vitamins, including calcium, iron, phosphorus, zinc, potassium, vitamin B6, and magnesium, which are crucial for healthy bodily function.
Falafel is low in calories.
Falafel is very low in calories compared to other fried foods. Similar dishes like kebab and keema balls contain high calories. Whereas Falafel provides a low-calorie count, which helps with weight control, improves mood, and fights against age-related diseases.
Falafel is rich in healthy fats.
Falafel is rich in "healthy fats" rather than trans fats or saturated fats which are unhealthy and increase the risk of developing high cholesterol. Falafel helps to regulate cholesterol levels and maintain good cardiovascular health.
Falafel is suitable for maintaining blood sugar levels
Foods that are high in fibre help you control your blood sugar level. Fibre slows down your digestion which lets sugar slowly enter your digestive tract into the bloodstream. Falafel contains high fibre, which makes it an ideal dish to regulate your glucose and insulin level. That is good for prediabetics and diabetic patients.
Falafel is low in salt that helps you maintain low sodium dietary intake, which is essential for regulating low blood pressure.
Closing Thoughts on Falafel Nutrition Facts
Falafel is a famous street dish in the Middle East typically prepared by combining chickpeas, herbs, onions, and dough. It contains high protein, fibre, and micronutrients with a lot of health benefits, due to which it has become a regular diet food for most vegetarians and vegans around the world.
Falafel contains healthy benefits but has its downside. It is a deep-fried dish, which increases the fat and calorie content. Baking falafel dough eliminates this issue and, you can enjoy the patty or balls without potentially thinking about your weight management.