Before creating KiX cereal, General Mills presented flaked cereals only while other brands offered rice or puffed wheat cereals, yet none as the KiX cereal. One such fundamental discovery led to the formation of KiX with several different cereal kinds.
11 Mindblowing Kix Nutritional Facts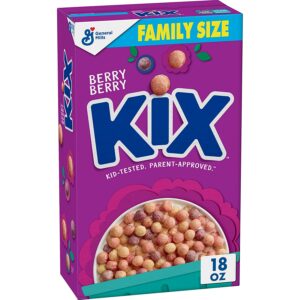 KiX is a sweet, puffy cereal for breakfast treat which was initiated in the year 1937. It is the favorite in the product line of General Mills and isn't the initial breakfast cereal created by the brand, yet it is the first of its type. Over time, General Mills included some Honey KiX and Berry Berry KiX variations.
KiX Nutritional Calorie Count
Below are the kix nutritional facts that are very important for everyone:
Calories: 86

Total Fat: 0.8 gram/ 1% of the Daily Value

Trans Fat: 0 gram

Saturated Fat: 0.1gram/ 1% of the Daily Value

Monounsaturated Fat: 0.2 gram

Polyunsaturated Fat: 0.3 gram

Potassium: 54 mg/ 2% of the Daily Value (DV)

Sodium: 143 mg/ 6% of the Daily Value

Cholesterol: 0 mg/ 0% of the DV

Protein: 1.8 gram

Total Carbs: 20 gram/ 7% of the DV

Sugar: 2.3 gram

Dietary Fiber: 2.1 gram/ 8% of the DV

Vitamin A: 15%

Vitamin C: 10%

Iron: 43%

Calcium: 11%
Here is the detailed chart for kix nutritional facts for better understanding.
Also, you can also try the best Kix for their nutritional facts for an amazing breakfast.
Incredible Kix Nutritional Facts
KiX cereal has zero artificial preservatives, flavors, and artificial colors. This cereal doesn't include high glucose-fructose; plus, all its varieties don't utilize artificial flavors.

KiX contains 86 calories per one cup or 24-gram serving. It holds 7.5 calories from fat without monounsaturated, polyunsaturated, trans, saturated fat, and zero cholesterol.

As KiX contains low saturated, polyunsaturated and monounsaturated plus zero trans fat and cholesterol, it doesn't have a possibility of heart disease. Furthermore, most of the food you consume usually contains monounsaturated and polyunsaturated fats like those seen in nuts, vegetable oils, and fish.

KiX offers twenty-gram carbs and around two grams of sugar and two grams of dietary fiber, with sixteen grams of other carbs. Food containing additional sugar presents some essential nutrients with empty calories; thus, consuming food with low sugar content is better.

It is advisable to have food containing at least three-gram fibers each serving. So, KiX includes two grams of it which lets you feel full after lunch and aids your digestive health.

KiX can be unhealthy as it has high sugar content in its ingredients list. However, with only two grams each serving, it's much less than different breakfast cereals, especially those designed for kids.

KiX offers Vitamin A ten percent of the Daily Value, C fifteen percent of the daily value, while calcium eleven percent of the Daily Value. It further presents zinc, Vitamin B12 and B6, niacin, riboflavin, and thiamine.

It even presents folic acid fifty percent of the Daily Value and iron forty-five percent of the daily value. Compared to other breakfast cereals, KiX is healthy as it contains a lower sugar amount.

Moreover, KiX comprises cornmeal, whole grain corn, brown sugar syrup, salt, corn bran, and sugar, including Vitamin E and tocopherols plus trisodium phosphate to preserve freshness. As per USDA, it is recommended to pick food containing wild rice, wheat or rye, whole oats, whole-grain corn, oatmeal, bulgur, or brown rice as the primary ingredients.

Even though KiX doesn't hold any such wheat constituents, it might still contain gluten through other ingredients. Moreover, if the facility created a gluten-bearing product, trace gluten amounts might be there in this cereal.

KiX is produced using whole grain corns. As a result, this cereal is strengthened with minerals and vitamins, turning it into a fantastic iron source and a quality Vitamin D and C, fiber, and calcium.
Additional Interesting Kix Nutritional Facts
The Original KiX still is true to the seventy-year-old wholesome grain such as the whole-grain corn recipe. Ages later, children are still fond of it and have parents' approval.

One of its flavors, Honey KiX, has healthy original KiX goodness and honey's touch direct from the beehive. At the same time, Berry Berry KiX has Original KiX wholesome goodness with a touch of berry flavor's touch.

General Mills brought in KiX in the form of 'corn bubbles' in 1938, spotlighting Shirley Temple, a child star in advertising. KiX joined Wheaties and Cheerios in the cereal line-up of General Mills in 1941.

KiX has less exciting and beige-colored packaging without any flashy mascot, which came up as a more incredible natural option.

General Mills introduced a slogan for KiX in 1978, which turned out to be successful and was utilized for decades, and that recognizable expression was – ' Kid Tested. Mother Approved.'
Summary
General Mills has been placing advertisements for the KiX cereal while kid's show and making children their target for marketing along with a message that it's a healthy choice with excellent taste, without any considerable sugar which various cereals hold. This puffy corn breakfast cereal can be marketed to children and is also a nutritious choice for the entire family. It's the earliest cereal in the line-up of puffed ones and presently Lucky Charms, Cocoa Puffs, and Trix through General Mills. Yet, there is a transparent difference between the nutritious KiX and the bloated brethren.