Liquid IV is a series of electrolyte powders that may be added to water to improve hydration and address particular health problems, including sleep and energy. As a former athlete, Brandin Cohen was well aware of how harmful many hydration drinks can be.
Now, Let's have a look at the amazing Liquid IV nutrition facts chart in detail.
Liquid IV Calories
How many calories are in Liquid IV? The precise values may be seen below. Let's try to understand the calorie content in grams in this hydration pack.
Calories- 45

Total Fat- 0.00g

Total Carbohydrate- 11.00g

Potassium- 370mg

Vitamin C- 76.0mg
Here's a more detailed chart on Liquid IV nutrition facts for reference.
Also, you can try the Liquid IV hydration packet which contains 5 essential vitamins including Vitamins B3, B5, B6, B12 and Vitamin C. It's also gluten-free, soy-free, and dairy-free.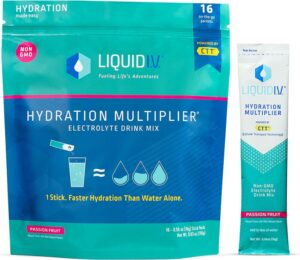 Interesting Liquid IV Nutrition Info And Facts
Several flavours and kinds of Liquid IV are available to meet the needs of a wide range of patients: hydration, sleep, energy, and immune support. Each package includes the CTT supplemented with additional components for a particular health benefit, as stated in the label.

To combat dehydration in underdeveloped nations and the United States, the firm has contributed more than 500,000 servings of its products to organizations that support these causes.

It has been widely investigated and used for more than 40 years after the World Health Organization first advocated oral rehydration treatment (ORT) for children with diarrhoea and dehydration.

Osmolarity measures how quickly a liquid may enter the body, and ORT drinks include a precise mix of sodium chloride, glucose, and potassium to achieve this.

By increasing hydration and rehydration, the objective is to avoid generating any imbalances. Because of this treatment, many children in underdeveloped nations have recovered from ailments like cholera or dysentery.

They renamed their product Liquid IV to appeal to health-conscious customers and athletes.

According to their claims, their patented CTT boosts the hydration capability of water by 2–3 times. However, there is a substantial study on its capacity to swiftly and safely treat dehydration.

The CTT, L-theanine, Melatonin, and valerian root extract are included in the Liquid IV Sleep Multiplier. The Sleep Multiplier contains 50 mg of L-theanine.

To aid in relaxing, L-theanine, an amino acid present in tea, is compelling. L-theanine has been shown to increase sleep quality.

Take 300–600 mg of valerian root before bed for results. On the other hand, the Sleep Multiplier includes just 175 mg, which is less than optimal.

"Sleep hormone" Melatonin helps us fall asleep. It has been observed that taking melatonin supplements before bedtime may aid in falling and staying asleep.

Anywhere between 0.5 to 10 milligrams of Melatonin per day is ideal. There are three milligrams in Sleep Multiplier, which is a standard serving size for nutritional supplements.
Some Additional Liquid IV Nutrition Facts You Must Know
As a result of its beta-glucan content, Wellmune is a patented component that has been shown to boost immunological health. The amount of Wellmune in the product remains a mystery. The beta-glucan dose has yet to be defined.
Research has shown that Liquid IV is an excellent option for oral rehydration treatment.

Despite the claim that it is 2–3 times more hydrating than water, we believe it will assist you in rehydrating or maintaining your hydration.

Additionally, the Liquid IV product line has excellent data to back claims of improving sleep, energy, and immune system function.

504 mg of Vitamin C is over the RDA for this vitamin but not close to its maximum limit in terms of daily intake. In addition to its involvement in immunological function, zinc is an essential mineral. There is 10.4 mg of zinc in the Immune Support, 90 per cent of the RDA for men, but over the RDA for females.

CTT, vitamin C, zinc, and a unique compound called Wellmune are included in the Immune Support solution. It defeats free radicals, aids in making white blood cells, and may even protect against the common cold.
Bottom Line
If you're searching for a method to keep hydrated or rehydrate, Liquid IV is an excellent option. Sugar and salt are their main drawbacks. So, you should see your doctor before using Liquid IV if you are worried.