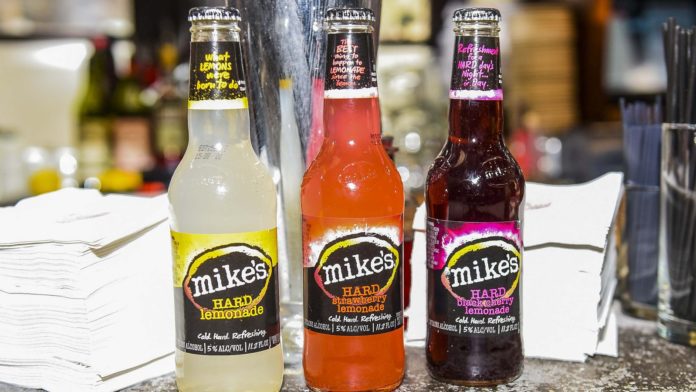 If you've ever drunk a cool Mike's Hard Lemonade on a hot day, you've probably checked the bottle for a nutrition label to figure out where that delicious flavour comes from and how many calories to enter into your food diary. Because the malted beverage is legally categorized as beer, the manufacturer isn't required to label the bottles with ingredients or nutritional information.
Mike's Hard Lemonade Nutrition Facts
The firm decides not to share what's in Mike's Hard Lemonade due to highly guarded proprietary components and formulae.
Now, Let's have a look at the amazing Mike's hard lemonade nutrition facts chart in detail.
Mike's Hard Lemonade Calories
How many calories are in Mike's hard lemonade? The precise values may be seen below. Let's try to understand the calorie content in grams in Mike's hard lemonade.
228 calories

0 grams of fat

33 grams of carbohydrates

0-gram protein
Here's a more detailed chart on Mike's hard lemonade nutrition facts for reference.
Interesting Facts about Mike's Hard Lemonade Nutrition 
According to the USDA's National Nutrient Database, an 11-ounce bottle of "hard lemonade malt beer alcoholic beverage" has 228 calories. The USDA does not identify any companies. However, Nutritionix calculates Mike's caloric content to be 220 calories. The lite form of the product has a substantially lower calorie count, about 100.

The original form of the product has 33 carbohydrates, with 32 of them coming from sugar. If you go light, you'll only have 4 grams of carbohydrates and sugars, which is something to think about if you're on a keto or other low-carb, low-sugar diet.

But be wary of going "Harder." Mike's Harder Black Cherry Flavor packs a whopping 400 calories and 46 grams of sugar into an 11-ounce container. If you want that taste, go for the lighter, stricter version, which has just 150 calories, 13 grams of sugar, and 15 grams of carbohydrates.

So, what's in Mike's Lemonade Hard? Even though Mike's Hard Lemonade maintains its ingredient list as a trade secret, they're glad to provide a list of items it doesn't include for people who are allergic to gluten or have other food sensitivities.

There are no allergies to the product commonly encountered in the food and beverage sector. Mike claims that their product is devoid of wheat, rye, oats, soy, peanuts, almonds, and eggs, frequently used as brewing grains. You'll also be glad to learn that no additional allergies, such as fish, shrimp, or other shellfish, may be found in that pleasant yellow beverage.

The product starts with yeast-fermented malt grains. Malt grains are mainly derived from barley in the brewing business, although they may also be derived from wheat, rice, or maize.

Lemon juice, lemon zest, and natural sugars are added to the mix after the grains have been turned to alcohol and filtered to eliminate gluten and other contaminants. Mike's offers a variety of tastes, including watermelon, mango, peach, berry varieties, and more. According to Mike's website, each bite is derived from natural fruits.

You may contact the manufacturer and inquire about a specific component you're worried about — for example if you have wheat or corn allergies — and they'll be pleased to let you know whether there's anything you should be concerned about while sipping a cold one.

Mike's Hard Lemonade, a sweet, malt-based alcoholic beverage fighting for a position among an expanding category of goods known as "malternatives," was created in 1999 by Mike's Hard Lemonade Company, a Lakewood, Colorado-based subsidiary of Vancouver's Mark Anthony Group Inc. Malternatives, or ready-to-drink alcoholic beverages that taste like sodas and other sweet nonalcoholic beverages, were designed for young people who desired the sensation and cachet of drinking alcohol but didn't like the taste of beer, wine, or complex whiskey. Mike's Hard Lemonade recruited Cliff Freeman and Partners, a New York-based ad agency renowned for creating edgy, unusual work. It began a campaign named "Hard Day" in 2001 to build a distinct brand image in the face of rising competition.

The "Hard Day" campaign consisted of three television spots in 2001 and three more in 2002, with a two-year budget of $30 million. It produced a particularly beer-like, manly product image while mocking traditional ideals of masculinity as shown in older beer advertising. 

After being impaled by construction equipment or losing limbs, blue-collar employees cared more about their after-work Mike's Hard Lemonade than their ailments in the first year's commercials. The slapstick execution continued in the second year, but it was adapted to horror-movie scenes and was used to promote a new product, Mike's Hard Iced Tea.
Additional Facts About Mike's Hard Lemonade
Among a rush of new malternative goods, Mike's Hard Lemonade established itself as one of the few companies in the category with a distinct personality due mainly to the "Hard Day" campaign. As a result, it survived the first flurry of heightened competition in the market and remained the number two malternative while other brands floundered.

In the late 1990s, a new category of beer-like drinks appeared on the market in the United States. The beverages were malt-based (like beer and whiskey) but considerably sweeter than standard alcoholic drinks. They were dubbed "malternatives" by supporters and "alcopops" by opponents who claimed they attracted mainly teenage consumers. 

A lemonade-like drink named Hooper's Hooch, popular in Australia and came to America in 1996, was among the initial wave of similar items. Mike's Hard Lemonade, which debuted in 1999, was one of many rival citrus-flavoured products that arose in fast succession.
We hope you liked our Mike's Hard Lemonade Nutrition Facts. For more such information, follow our Blog, foodiewish.com.