Shakeology is one of the most premium superfood shakes you will find in the market. It is jam-packed with nutrients that will give your body a boost of energy and improve overall health. This nutritional beverage is often a favourite among those looking for a healthy alternative for snacking cravings.
Amazing Shakeology Nutrition
It can provide the daily dose of nutrients required in the body because every beverage serving will contain proteins, phytonutrients, antioxidants, minerals, vitamins, bacillus coagulant, and fibre. This makes it the perfect accompaniment to any balanced meal. People can choose from various flavours as Shakeology comes in vanilla, strawberry, chocolate, cafe latte, and Greenberry.
Vegan people can enjoy Shakeology because they have unique flavours for the vegan diet. The vegan Shakeology flavours include tropical strawberry, cafe latte, cookies and cream, and vanilla. The company offers many seasonal flavours as well, like Peppermint Mocha. Therefore, it is not just some boarding superfood shake but a lip-smacking healthy drink that will make living fit fun!
Now, Let's have a look at the amazing Shakeology nutrition facts chart in detail.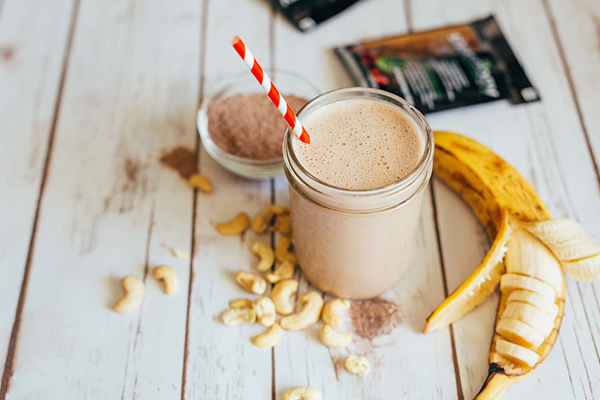 Shakeology Calories – (The Nutritional Content of an Ounce of Shakeology)
How many calories are in a Shakeology? There are many different flavours, and each one will have its nutrition label. The nutrition information of one serving of every Shakeology mix is available on their official website. The most popular Shakeology flavour is the Chocolate Whey one. The serving size of this mix is one scoop which is 42g; which contains the following:
Calories: 160g

Total fat: 2.5 g

Cholesterol: 10 mg

Total carbohydrate: 18g

Protein: 17 g

Vitamin A: 315 mcg RAE

Vitamin C: 180 mg

Vitamin D: 20 mcg

Vitamin E: 5.25 mg TE

Vitamin K2: 42 mcg

Thiamine: 0.42 mg

Riboflavin: 0.46 mg

Calcium: 260 mg
Here's a more detailed chart on Shakeology nutrition facts for reference.
Interesting Facts about Shakeology Nutrition
Each Shakeology mix contains a healthy blend of superfood ingredients that are uncooked and unprocessed.

This drink is a perfect supplement for people trying to lose weight because it contains whole foods known to improve health and wellness.

The Shakeology mix is high in magnesium, iron, and niacin. It also is a good source of zinc.

If a person switches their one meal with a Shakeology shake, they can cut down a significant amount of calories. Each shake is only about 160 calories, whereas a typical meal can range from 400 to 700 calories.

Studies have found that consuming whole foods help satiate a person's hunger more than other food items. Therefore, the Shakeology mix helps build healthy eating habits.

The Shakeology mix supports healthy digestion and aids in a healthy bowel movement. This is because prebiotics is essential to maximizing the nutritional gut benefits from probiotics, which are both contained in the formula of this mix. Along with prebiotics and probiotics, healthy digestive enzymes, soluble fibres, and insoluble fibres are all present to support digestion.

Shakeology mixes go through over 1900 tests on every batch to ensure that every blend is jam-packed with superfood nutrition. This ensures that from the collection of the raw ingredients to the finished product, the highest quality standards are there, and the formula's potency is not diminished.

Shakeology has antioxidant properties that help fight the free radicals present in trace amounts in the healthiest food due to pollution and environmental chemicals present in the air.
Shakeology comes with a money-back guarantee. If any customer does not notice in their body or does not feel 100% satisfied for any reason, they can return an empty bag of Shakeology mix within 30 days for a full refund of the price they had paid to get it.
Some Additional Shakeology Nutrition Facts
So, what flavour of Shakeology Mix would you like to try, or do you already have a favourite one?
Do you love the flavour of chocolate, but do you want to change your diet to a vegan one? Just try out the vegan version of the Shakeology whey protein and get the same nutritional value as the non-vegan one.

Do you want to make a smoothie but a guilt-free one? Just use the Shakeology mix powder with some fat-free milk/plant-based milk or even yoghurt to enjoy a chilled glass of smoothie.

Do you want to take your Shakeology mix as a pre-workout or post-workout drink? It is possible; you can also buy a premium Shakeology shaker cup from the company website.

Do you suffer from the headache of your supplement powder getting hard from exposure to air? Do not worry; you can purchase a home storage canister airtight and durable for shakeology. It has been designed specially to hold an entire bag of Shakeology mix. The part is that it is BPA-free.
Bottom Line for Shakeology Nutrition Facts
According to your dietary requirements, choose what kind of Shakeology mix is right for you. You can drink it by mixing it with water or milk or yoghurt as your requirement. Always read the expiry date of your Shakeology mix before consumption and never use it past its shelf life.