Traditional Hyderabadi Mutton Dum Biryani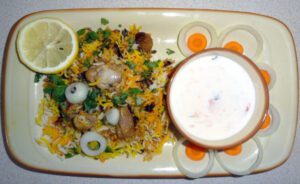 Hyderabadi Mutton Dum Biryani is one of the most popular and traditional Indian recipe. In this recipe, we are cooking mutton along with rice
Type: Hyderabadi Mutton Dum Biryani Recipe, Hyderabadi Biryani Recipe, Indian Food, Traditional Food
Cuisine: Hyderabadi Mutton Dum Biryani Recipe, Hyderabadi Biryani Recipe, Indian Food, Traditional Food
Keywords: hyderabadi mutton dum biryani, mutton dum biryani, hyderabadi mutton biryani recipe
Preparation Time: PT20M
Cooking Time: PT1H15M
Total Time: PT1H35M
Recipe Ingredients:
Hyderabadi Mutton Dum Biryani is one of the most popular and traditional Indian recipe. In this recipe, we are cooking mutton alongwith rice at very low flame, and the cooking utensil is kept on top of heavy bottom tawa/griddle. So the rice gets very nice flavors of all spices and mutton.
Preparation time: 25 mins (excluding marination time which is 7-8 hours)
Cooking time: 60 mins
Serves: 3
Hyderabadi Mutton Dum Biryani Recipe Ingredients: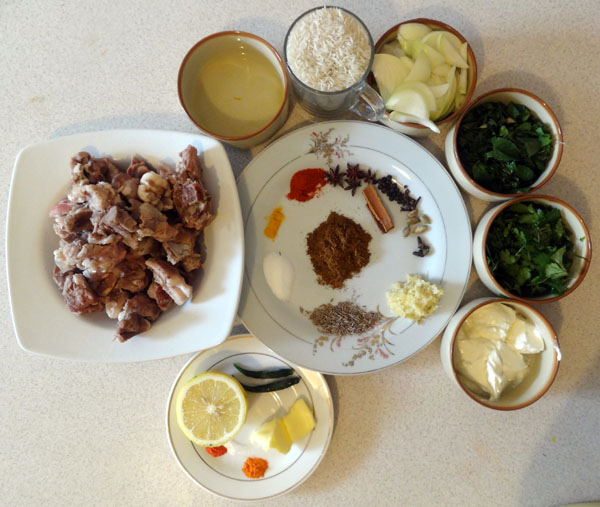 150 ml oil
3 onions, sliced
350 grams mutton (cut in to medium size pieces)
3/4 cup thick yogurt
1 1/2 tsp red chili powder
A pinch of turmeric powder
4 star anise
2″ cinnamon
6 cloves
10-15 black pepper
5 green cardamoms
2 tsp cumin seeds
2 tsp ginger garlic paste
2 big cloves
Salt to taste
3 tsp biryani masala
1/2 lemon
2 green chilies chopped
3/4 cup of chopped coriander leaves
3/4 cup of chopped mint leaves
2 tsp butter
350 grams basmati rice
A pinch of kesar
A pinch of lemon yellow food color
Hyderabadi Mutton Dum Biryani Recipe Preparation:
1. First fry the onions in butter and oil until it gets nice brown color and keep them aside.
2. Now wash the mutton thoroughly and marinate the mutton with yogurt, red chili powder, turmeric powder, 2 star anise, 3 cloves, half of the black pepper, 3 green cardamoms, 1 tsp of cumin seeds, ginger-garlic paste, big cloves, salt, biryani masala, lemon juice, chopped green chilies, half of the fried onions, butter, half of the mint and coriander leaves then mix all the ingredients and marinate for atleast 7-8 hours in the refrigerator.
3. Now soak the rice for 30 mins. Then in a big pot bring water to a boil, and add all the remaining spices, oil and salt. When water is boiling add your soaked rice and continue to cook until the rice is 80 percent done. Drain water from the rice and keep it aside.
4. Now take a deep bottomed vessel and apply butter or oil. Then add marinated mutton in the bottom and spread it evenly, then add 80 percent cooked rice on top of it.
5. Now add remaining coriander leaves, mint leaves, fried onions on top of it. Then take 1 tsp of water and mix kesar color and sprinkle on top of the Biryani. Repeat the same process with lemon yellow color.
6. Then cover it with air tight lid and cook for 20 mins in medium low flame.
7. Now take a heavy bottom tawa and put on the stove. Place the biryani bowl on top of the tawa and cook it for another 40 mins in low flame. In this process you avoid burning the biryani.
Now your Mutton Dum biryani is ready to serve.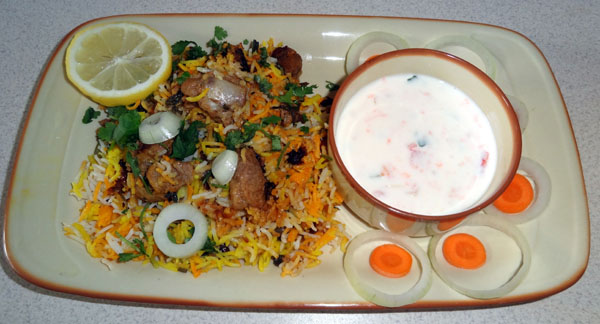 Serving Instructions:
Serve hot with mirchi ka salan or raita.